Alumni Spotlight: Chris Weigel
---
Posted on September 1, 2020 by Josie Albin
Josie Albin
---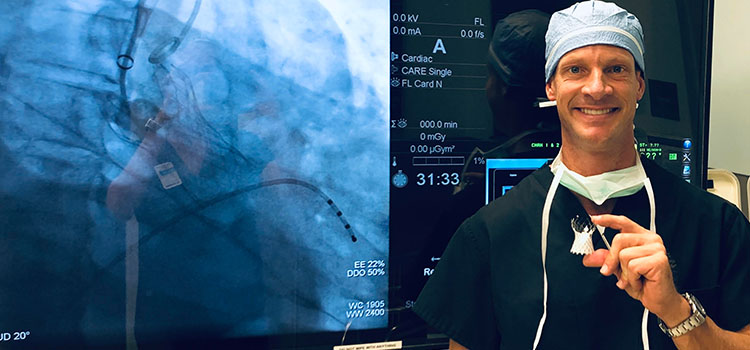 Alumni Spotlight: Chris Weigel
---
When Mobile native, Chris Weigel, chose to attend the University of South Alabama as a business student in 1995, he knew a degree from the Mitchell College of Business would be a sound investment in his future. The business program's excellent reputation, combined with the affordable cost of tuition, compelled him to pursue higher education in his hometown. What Chris did not anticipate, however, was how his hard-earned four years at South would translate into a professional reserve of networking ability, resilience and adaptability.
After arriving on campus, Chris quickly found that the culture within the Mitchell College of Business empowered him to excel. "My experience at the University was excellent. The courses were very realistic to real-world business situations. I enjoyed the variety and specialty of classes like real estate, banking and business communication," he states. As a business student, he not only enjoyed a variety of challenging coursework, but also consistent mentorship from his professors and encouraging support from his peers. "South means community to me. I knew my professors and they knew me. The personal attention from the professors was second to none."
Though motivated by the academic rigor and community at South Alabama, Chris's educational experience was anything but traditional. Accepting the responsibility of paying for the entirety of his education, Weigel lived at home and worked full-time during his four years at South. Despite working full-time, he managed to participate in many of South's diverse campus involvement opportunities, such as Kappa Alpha Fraternity and Beta Alpha Psi. He reflects, "I never felt like I missed out on anything and I wouldn't trade my experience at USA for any other. I graduated prepared and ready... I owe that to South." Weigel's dedication and resilience served him well; he walked off the stage in 1999 Magna Cum Laude with a B.A. in Finance both debt and regret-free. Weigel remains involved with the Mitchell College of Business. In 2016, he started the Christopher J. Weigel Finance Scholarship, which is awarded each spring to a MCOB finance major who works while attending school.
Since graduating with vital life-skills and a South Alabama degree, Chris has leveraged his education and adaptability to excel in the business sector. Initially accepting a construction project management position for the Mitchell Company, he was forced to "explore other options" when the real estate industry began to collapse as the economy steeply declined prior to the the 2008 recession. "I got into pharmaceutical sales which has led me into a more specialized pathway in medical devices. I have found a career which allows me to help people and earn an above average income," says Chris. He now serves as a structural heart sales consultant providing surgical support for Medtronic in Tampa, Florida. Chris's story serves as an encouragement to adapt and persist. Leaving students and alumni with a final piece of advice, he shares, "Absorb all the resources that are made available to you. Secure internships in areas of interest and, above all, network. Your talents will allow you to excel, but it will be the 'connections' that will provide you the opportunity."
---
---