Alumni Spotlight: Madison Douville
---
Posted on October 11, 2020 by MCOB Outreach
MCOB Outreach
---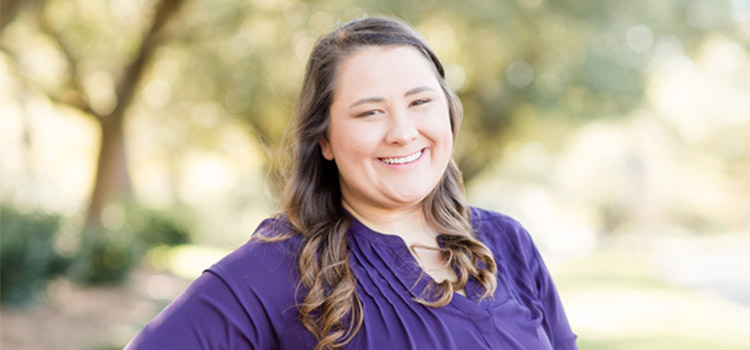 ---
When Satsuma, Alabama native and recent USA Mitchell College of Business graduate Madison Douville first chose to pursue a degree in higher education at the University of South Alabama, she never could have anticipated the opportunities that would come her way over the next five years. Originally entering MCOB with advertising ambitions, Douville's plans quickly evolved after receiving an internship that drastically transformed the trajectory of her time as a student. Today, Maddie is enjoying a burgeoning career at Austal, USA headquarters, located in Mobile, Alabama.
Douville's role as a sourcing specialist has developed significantly since her internship. She reflects on the opportunities she was extended at the University of South Alabama."To me, South means opportunity and exploring learning. Without MCOB encouraging internships, I wouldn't have the experience or job I have today."
Shortly after getting to campus, Maddie realized that it wouldn't be a matter of whether or not there would be opportunities to engage, learn, and grow, but rather a matter of choosing which offers to pursue. "Every teacher was willing to help me be successful in my academic career and later in life. The connections you create here with other students, professors and through internships create new opportunities and paths in your future," she remarked. While remaining engaged at South as a full-time student and Mitchell Scholar, Maddie accepted a supply-chain internship position with Austal, USA, focusing on micro-level details and creating purchase orders. In combination with Maddie's hard work, dedicated teaching successfully prepared her to excel in the workplace; Douville blended her work and education while applying skills she was currently learning in classes to on-the-job projects. Following the internship, Maddie knew Austal was where she wanted to begin her professional career.
Since graduating in December of 2018 with a degree in marketing, Madison has thrived at Austal, expanding on the detail-driven skills she acquired during her internship to take on a collaborative macro-level role. A testament to life-long learning, she is now looking forward to potentially pursuing a graduate education within the next few years. The Mitchell College anticipates continued partnership with Austal, USA and will continue to facilitate opportunities for students like Maddie who eagerly rise to the challenge.
To submit Student Spotlight recommendations click here.
---
---