Alumni Spotlight: Mark Spivey
---
Posted on November 23, 2020 by MCOB Outreach
MCOB Outreach
---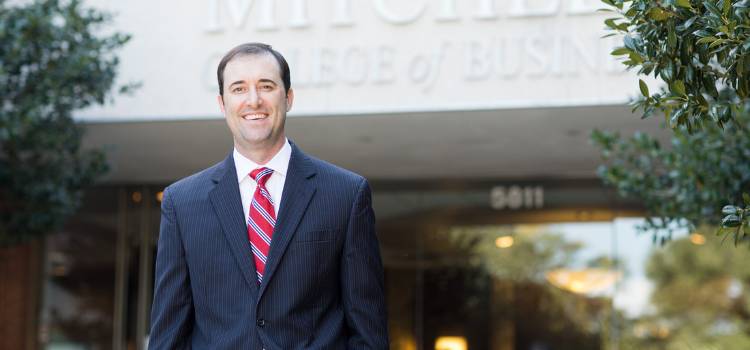 ---
Highly educated and selflessly invested in his community, Mitchell College of Business alum Mark Spivey continues to exceed traditional standards of professional and personal success. He also stands as a role model and inspiration for current students as he continues to redefine the ceiling of potential for University of South Alabama graduates. Since receiving both a Bachelor of Business Administration with double majors in Finance and Banking in 2002 and a Master of Business Administration degree in 2005, Spivey has enjoyed a rewarding professional career in commercial banking. He has and worked diligently for the betterment of the Mobile community where he, his wife, Kristina, and daughter, Catherine, reside.
While in high school, Spivey would travel from Montgomery, Alabama to visit his older brother who also attended South. During his visits he, "fell in love with the campus and the City of Mobile as a whole," and began to explore the possibility of attending USA. After completing thorough research, Mark made the decision to attend South where he later became a member of the inaugural class of Mitchell Scholars. Not one to pass up an opportunity to get involved, he enthusiastically joined Sigma Chi Fraternity, SGA, Southerners, and intramural sports. Spivey reminisced, "South was the platform that allowed me to grow as a person, as a student, and as a leader. Even more important, so many of my long-standing friendships are a direct result of my undergraduate years at USA."
Following undergraduate graduation, Spivey transitioned professionally into his field of study as a credit analyst while beginning work on South's MBA program. "The curriculum that is afforded to MCOB students prepares you for the workforce. My ability to secure my first job was due in large part to the relationships I had cultivated, but more importantly to the classes I had taken… They directly correlated to my ability to immediately contribute in the workplace," said Spivey. His career blossomed after obtaining his master's degree in 2005, as Spivey had acquired all the hard skills and intrapersonal ability to succeed. He has since worked in commercial banking for the past eighteen years and currently serves as Vice President for the Commercial Banking Department at BB&T (now Truist).
Equally impressive are Mark's leadership and service contributions outside of the workplace. Having donated countless hours of his time and energy, Spivey has not stopped seeking ways to serve others and improve the community; he has volunteered with civic organizations including the Sunrise Rotary Club, Mobile Area Chamber of Commerce, United Way, Junior Achievement, United Cerebral Palsy Board of Directors, Victory Health Partners, and Mobile United. Furthermore, Mark maintains his dedication to educational initiatives, serving as President of the Board of Directors for the Mobile Area Education Foundation, University of South Alabama College of Education and The Mitchell College board of advisors, and an integral partner in creating Alabama's first charter school, with which he now serves on the board. He and his family are also active members of Covenant Presbyterian Church. No matter the role, Mark Spivey has chosen to not only pursue excellence, but also to give back to the community of Mobile.
Back to Mitchell Report | November 2020
---
---