Alumni Spotlight: Quinterria Holifield
---
Posted on March 30, 2021 by MCOB Outreach
MCOB Outreach
---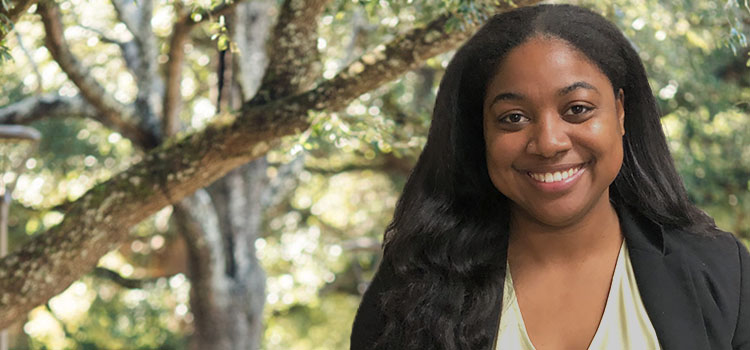 ---
Quinterria Holifield, an impressive recent graduate of the Mitchell College of Business, is leveraging her passion for helping others as a Human Resources Generalist for Goodwill Industries of South Mississippi.
Originally from Moundville, Alabama, Holifield initially chose to attend the University of South Alabama because of the size of the university. After her first few semesters, she began to see value beyond population, size or degree. "South is my alma mater. It is a place where you will discover yourself and find your career path and your passion for what you do. The thing I liked best about MCOB were the tools that they gave you."
During her time as a business student, Holifield knew she was more than just a number. She focused on building mentoring relationships with professors and received job offers prior to graduation. "My last year, I was referred to several employers because my professors knew I was looking."
Since graduating in December of 2019, Holifield has fearlessly pursued her career interests. Her rapidly evolving career has been, in part, a result of her willingness to accept challenges and new pathways. Regarding professional pursuits, Holifield advises, "My advice to the students is do the internships! I think that has been a game-changer for my career. I had accepted a job a month before I graduated and have not had any problem switching jobs if needed! Nothing to lose,- only more to gain."
Shortly before graduation, she accepted a position with Chick-Fil-A in Mobile as HR Director, where she worked for a year before accepting another opportunity. Quin is now balancing a full- time work schedule with Goodwill while pursuing her Master of Business Administration at Louisiana State University Shreveport.
Quin's academic and professional diligence continues to serve her as she begins to turn her attention to the future. "I see my career developing pretty well. I have been an HR Director and am now a lead. I hope to get on an executive board with a company." Just over one year following graduation, Holifield exemplifies the drive and work ethic necessary to excel in corporate environments.
---
---