Dr. Hair's Newest Publication
---
Posted on March 22, 2021 by MCOB Outreach
MCOB Outreach
---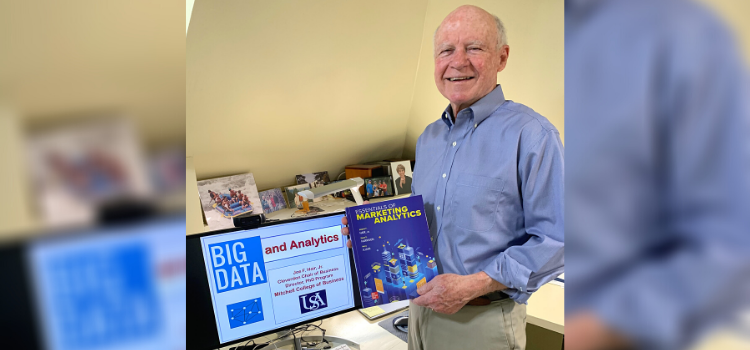 ---
The University of South Alabama's Mitchell College of Business is thrilled to recognize Dr. Joe Hair's latest publication, Essentials of Marketing Analytics, co-authored by Dana Harrison and Haya Ajjan. This textbook will be used by students to gain insights into the most frequently applied marketing analytics techniques in today's changing business landscapes.
Over the last three years, Dr. Joe Hair, Professor of Marketing, Cleverdon Chair of Business, and Director of the Mitchell College of Business PhD degree program, has been recognized as a Highly Cited Researcher by Clarivate. This recognition is given to the top 0.1% of the world's researchers in 21 research fields. Joining Dr. Hair on this publication are co-authors Dana Harrison and Haya Ajjan. Harrison serves as Assistant Professor of Marketing and the Stanley P. Williams Faculty Fellow at East Tennessee State University. Ajjan is an Associate Professor of Management Information Systems, the Sheldon and Christine Gordon Professor in Entrepreneurship, and the Director of the Center for Organizational Analytics at Elon University.
With this new book, Hair, Harrison and Ajjan, seek to help marketing students grasp the complex and ever-evolving field of Big Data and data analytics. Over the past decade, the marketing analytics realm has faced exponential growth, creating a need for experts in the field. From the interviews with marketing analytics experts, coverage of leading-edge analytics methodologies, case studies, current examples, and online learning content, this book enables students to actively engage with the content. Essentials of Marketing Analytics is the first comprehensive textbook on this exciting emerging topic and provides 12 chapters of thorough information ranging from data visualization techniques to cognitive analytics and social network analysis.
The authors are quoted with saying, "Our book, Essentials of Marketing Analytics, is the first comprehensive textbook available to introduce marketing students to a new and essential competency in a rapidly growing field that, with many emerging jobs for college graduates, is a
required skill to enter the workforce."
Please join us in congratulating Dr. Hair and his co-authors on this accomplishment. The book is available for purchase here.
---
---