Ethics Seminar 2020: Aaron Beam
---
Posted on October 16, 2020 by MCOB Outreach
MCOB Outreach
---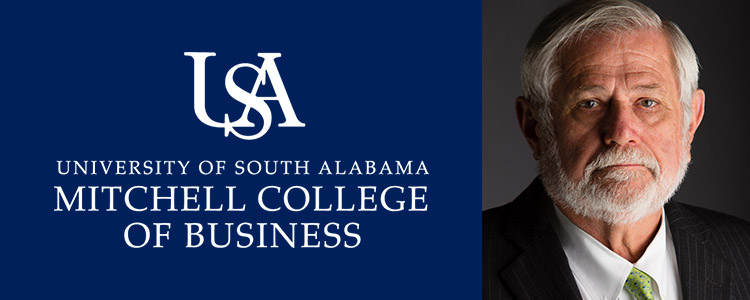 ---
Though this fall semester looks drastically different than previous years, the Mitchell College of Business has remained dedicated to providing opportunities for students to engage with and learn from business professionals. On September 29, approximately 300 students and local professionals connected via Zoom with Aaron Beam, a founder and former CFO of HealthSouth. Beam kicked off his personal story with a warning to young professionals about the consequences of failing to make ethical decisions in the professional setting.

Known for a massive business accounting fraud scandal and heated court cases, HealthSouth was founded in 1984 by Richard Scrushy, Aaron Beam, and others. From day-one of his time with HealthSouth, Beam was confronted with the "grey areas" of ethical decision-making. Beam admitted failing to correct Scrushy's first unethical request, opening the door to let the truth be pushed aside.

By the mid-1990s, HealthSouth's rapid initial growth began to stall. Beam faced increasing pressure to manipulate numbers in hopes of presenting HealthSouth as a worthwhile investment. Following Beam's departure from the company, the fraud continued until 2003, when the Securities Exchange Commission delisted HealthSouth on the stock market, raided headquarters, and launched a formal investigation into the company. Mr. Beam later served jail time for his involvement years prior and continues to face the professional consequences of being an ex-convict.

As Beam vulnerably addressed his wrong decisions throughout the virtual seminar, Beam encouraged students to prepare themselves for the professional workplace and the inevitability of tough situations that will require strength of character and courage to maintain ethical behavior. Beam and his story reinforce the importance of doing the right thing, even-- and especially-- when no one else seems to be watching.
Back to Mitchell Report
---
---