Investing in the Classroom
---
Posted on January 14, 2021 by Mitchell Magazine
Mitchell Magazine
---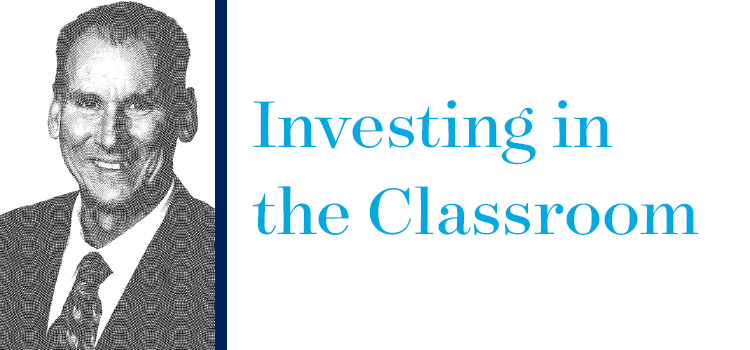 ---
At 54 years old, Larry Goehrig and his wife were looking forward to retirement. After a lifetime of savings and investing the couple planned to spend the rest of their days enjoying like and traveling the world together.
Goehrig has over 21 years of experience in residential lending and in recent years was working with a business college at a south Florida university. But having spent many years in Fort Lauderdale, Fla., they were ready for a change.
After completing some research on the cost of health benefits, it quickly became apparent to Goehrig that early retirement was going to be more costly than he had hoped. Knowing there was still time for a change, Goehrig reached out to several professors at the university where he was working. Having been in the finance industry for so many years, he was not familiar with the world of academia.
After speaking with the professors, all of whom were well aware of his involvement in the business college, Goehrig received an unanimous recommendation. "The consensus after speaking to four professors was to pursue my PhD degree. They all were convinced I would be a natural in the classroom based on my experience, knowledge, and charisma."
Wanting to pursue his PhD without quitting his job and also not wanting to move to a major university, sent Goehrig on yet another research journey. One of the first individuals he contacted was Dr. John Riggs, who suggested he contact Joe Hair, a professor with a reputation of helping working professionals obtain their PhD without uprooting their lives. Goehrig shared, "After looking up several universities, I decided to Google Joe Hair. I found out he was at the University of South Alabama in Mobile, Ala. I decided to send an email to him. My phone rang within fifteen minutes later, and I fell out of my chair when I realized it was Dr. Hair personally calling me."
Goehrig and Dr. Hair spoke extensively about his situation and goals for the future. "He elaborated on what academic life is like, and the option of doing consulting and research while also teaching in the classroom. The research part intrigued him as he did a lot of that in the banking and finance industry." Several professors, including Dr. Riggs who had previously studied under Dr. Hair, helped Goehrig to dig deeper into the PhD in Business Administration program at the South Alabama, Mitchell College of Business. "The professors researched University of South Alabama to learn about the faculty and curriculum. To their astonishment, they were amazed and stunned at the quality and level of academic programs and professors that were there. They began to explain and show me the quality of talented individuals that were there, and how to research the faculty to assess the quality." This sealed the deal for Goehrig.
"I contacted Dr. Hair again and explained I was willing to do this. I went to Mobile and met him and toured the University. We saw several other faculty members who all invited me with open arms and hoped I would apply." After some hard work and dedication, Goehrig was accepted into the program.
Knowing this was a big change that would come with a learning curve, Goehrig and his wife purchased a town home close to campus. "This was a huge benefit as I would be able to keep my school materials there and have a comfortable space to spread out and study — as opposed to a hotel room." The townhouse also served as a gathering location for his PhD cohort — the fellow students he has spent the last two and a half years with. "This decision definitely contributed to my success and ability to succeed in this program. During the weekends of in-person class, our cohort was one big family. We would meet at night for dinner after finishing class. We also had social outings together. Often one or two cohort mates would stay at the townhouse regularly on weekends, and we would study together."
Goehrig still remains amazed by the committed faculty at the University of South Alabama. "The constant communication and support is something I have never seen in my life. I would look forward to these weekends so much that I would go to Mobile early just to spend time with faculty members and seek assistance on Thursdays before classes started on Fridays."
"The level of support, positive reinforcement, and pushing to do better was like nothing I have ever experienced in my career. Several professors, for me, never gave up and were always there to help, especially Joe Hair. But Matt Howard, Bill Gillis, Craig Pearce, Ron Eastburn, and Mickey Smith were always there as well to assist me, help with my writing and work, and never once said they did not have time for me."
Looking back on the time, Goehrig reflects on his journey, "Now that I have passed my comps, achieved ABD status, and am working on my dissertation, I look back on this journey and am amazed it went this fast. However, I know I could not have done this at another university. I will forever be grateful to Dr. Hair, the faculty, Dean Bob Wood, and Roxanne Bates. But more so to have my cohort mates to take the journey with, provide support, become individual to collaborate with and become lifelong friends."
Read More from Mitchell Magazine Fall 2020
---
---