Accountant Lands 'Pretty Cool' Job
---
Posted on June 7, 2021 by Thomas Becnal
Thomas Becnal
---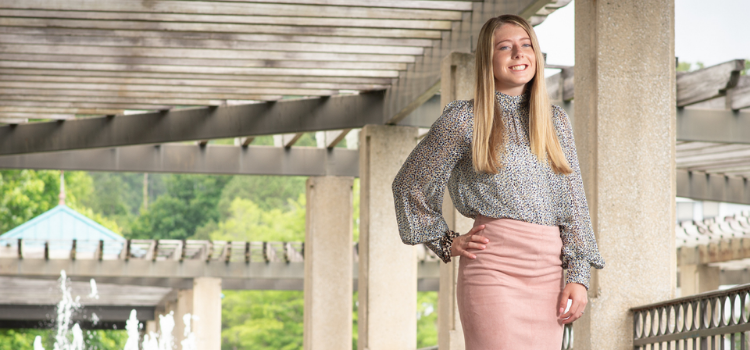 Katelyn Cowie said an entry level accounting course, along with an internship at Horton, Lee, Burnett, Peacock, Cleveland and Grainger, helped launch the course of her professional career.
---
#MyFirstJob is a series focused on University of South Alabama graduates who are beginning their careers.
Katelyn Cowie knows exactly when things changed, her life came into focus, and she chose a career at South.
"I took Accounting 211 with Professor Ellen Madden," she said. "When she was going over credits and debits, everything clicked, and it all flowed together. I was instantly hooked."
Cowie, who grew up near Birmingham, found a home in the Mitchell College of Business. She was named outstanding student in her major and won the Frank R. Urbancic Scholarship in Accounting.
During her junior year, she looked for an internship in her hometown. There was Horton, Lee, Burnett, Peacock, Cleveland and Grainger. The company didn't really have a summer program for students, but she sent a letter, anyway.
"I reached out to them," Cowie said. "They thought that was interesting."
Cowie interned that summer and did well. She continued working remotely for the firm after returning to Mobile, then was hired full-time. In June, she began going to the company office, which was less quiet and more social.
"It's a shocker – accountants aren't supposed to be funny – but the people at my firm are hilarious," she said. "I'm going to like being back in a work environment."
For the last year, Cowie has been doing audit tests of companies throughout Alabama. This will continue to be one of her main responsibilities. The analytical part of the job suits her.
"It's basically investigation work," she said. "I'm looking at different forms and matching up what we have in the audit with the books. If there's a difference, I need to figure out why. I'm the kind of person, I like being able to figure things out and understand the information."
Numbers Run in the Family
Cowie's family is from Warrior, a small city just north of Birmingham. She knows of at least one certified public accountant.
"My grandmother was actually a CPA a long time ago," she said, laughing. "So it runs in the family."
Cowie was never tall – she stands 5-foot-3 – but she always had fast feet.
"I'm like a bunny when I'm running," she said. "I started running in the seventh grade, and I started competing in high school."
At South, she walked on to the cross country team. Her best distance was the 1,500 meters. Her best time was 5 minutes, 26 seconds.
Her fiancé also ran for the Jaguar cross country team. He's from Birmingham, too.
Cowie kept busy during her time at South. She joined the Alpha Gamma Delta sorority. She worked as a tutor in the Center for Academic Excellence. She belonged to several service clubs and honor societies.
"I like doing everything," she said. "In college, I figured I might as well try everything I could. It's really hard for me not to like something."
Staying home during the coronavirus pandemic meant there were few distractions. She could concentrate on her studies and remote work.
"I lived by myself for the last year, so it was pretty isolating," she said. "I got a lot more done."
Homeward Bound
With a job already lined up in Birmingham, Cowie didn't have to worry about searching for employment. She could relax for a bit. After graduation, she and her mother made a senior road trip.
"We started off in Covington, Georgia, because I really like 'The Vampire Diaries,' and that's where it was filmed," she said. "Then we went to Savannah for a couple of days, and Beaufort and a couple of towns in North and South Carolina."
Now she's back in Warrior. She pronounces it "Woyer." It feels right.
"I kind of like being home," she said. "I got a master bedroom at my grandparents' house."
Cowie still runs for fun. She enjoys shopping for both running shoes and high heels.
Later this year, she will begin studying for her CPA exams. It's the next step in an accounting career. She's following in grandma's footsteps.
At the Birmingham firm, Cowie is one of five young accountants working with older members.
She spends weeks or even months working on a single audit. She enjoys the feeling of completing an assignment. Then she moves on to the next.
"I think it's pretty cool," she said. "I like it a lot."
---
---