2022 Graduating Mitchell Ambassadors
---
Posted on January 19, 2023 by MCOB
MCOB
---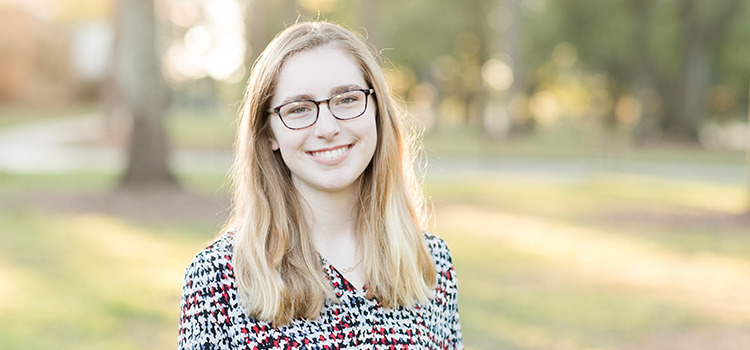 Amber Walker
Major: International Business
Hometown: Ardmore, Alabama
Unique Fact: "I've driven a 1925 race car."
Hobbies: Travel, photography, listening to music/going to concerts
Amber Walker, a Mitchell Scholar from Ardmore, Alabama, is ready to take on the music industry from an international perspective. In addition to spending last summer working in artists and repertoire at a music label in Nashville, she credits a study abroad program in France as a pivotal point in her academic career. "Having the opportunity to tour businesses and hear the perspectives of business leaders in another country further solidified my choice to study international business," Walker said.
Walker said the Mitchell College has a "students-first" culture, which she has immersed herself in as an Ambassador. "My experience has allowed me to be even more involved and to share what I love about the College with prospective students."
Walker plans to secure a marketing role in the music industry.
---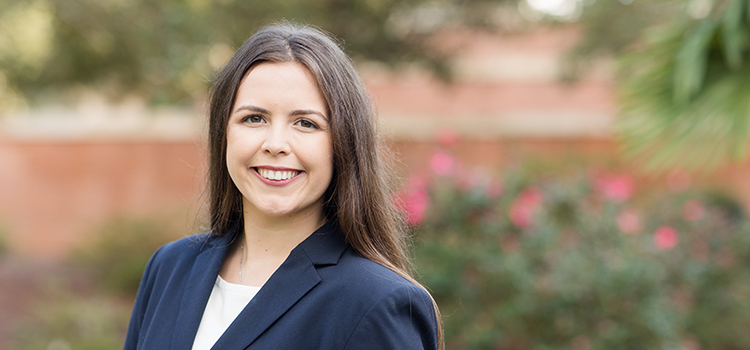 Savannah Stephens
Major: Accounting with a minor in Spanish and management
Hometown: Arab, Alabama
Unique Fact: "I am extremely picky. I don't eat meat or vegetables."
Hobbies: Reading – particularly romance novels – playing intramurals, disc golf and
spending time with friends and her dog
Savannah Stephens dedicated her time as an undergraduate to serving students at the Mitchell College of Business. She worked in the College's Office of Student Services under the leadership of David Potter for all four years of her academic career. "He taught me how to be professional in the workplace by always looking for teaching moments. I aspire to be a boss like him one day," she said.
Stephens' diligence and service continued throughout her time as an Ambassador. "Being a part of the Mitchell Ambassadors has been an amazing experience for me. I have always called the Mitchell College my second home, and getting to show my love for it by being an ambassador has been incredibly fulfilling," she said.
Stephens plans to use her accounting degree to work for a local CPA firm.
---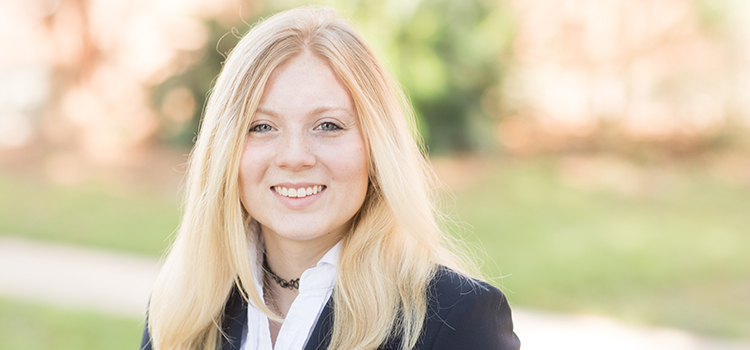 Caroline Long
Major: Economics with a minor in marine sciences
Hometown: Hartselle, Alabama
Unique Fact: "I used to live in the Middle East and Europe."
Hobbies: Reading
Hailing from Hartselle, Alabama, Caroline Long entered the Mitchell College of Business her freshman year as a Mitchell Scholarship recipient and dedicated her time on campus as an Ambassador and student assistant in the College's Joseph and Rebecca Mitchell Resource Center. Long joined the Ambassador team in her sophomore year and enjoyed the benefits of involvement – confidence, leadership, community and more. "My experience has been great! I have made so many impactful connections to students, faculty and administration," she said. Being an Ambassador has helped me come out of my comfort zone and really brought me out of my shell," Long said. Outside of the College, she was involved in SGA as Mitchell College senator in the Student Government Association and was acting vice
president.
Long plans to pursue a graduate degree in library and information studies.
---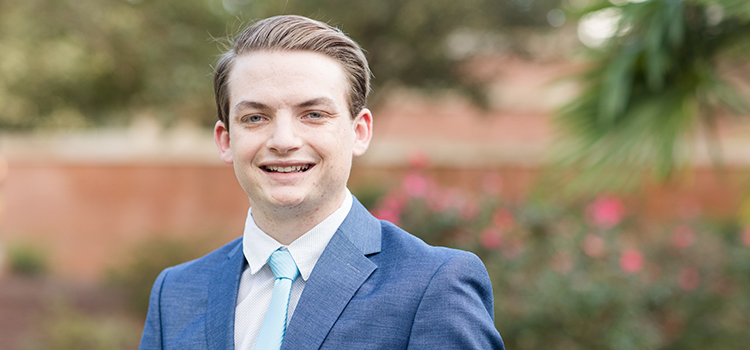 Blake Batchelor
Major: International Business / French
Hometown: Madison, Alabama
Unique Fact: "When I was younger I was a featured extra in five movies!"
Hobbies: Spending time with family, watching and playing golf, making music and practicing French
Blake Batchelor, an international business and French double major, developed a vision for his career while seeking out leadership opportunities at South. In addition to his role as a Mitchell Ambassador, Batchelor worked for the Office of Admissions as a South Guide and with the Office of Student Academic Success's First Year Experience (FYE) program, along with serving as an associate justice on the Supreme Court for the Student Government Association.
"My experience as an Ambassador has been nothing but positive," he said. "It is one of the things that has shown me that I wish to continue to serve in leadership roles moving forward. I have enjoyed the opportunity to and help give back to a place that has given me so many opportunities!"
Batchelor was particularly influenced by Dr. Misty Sabol, an instructor of marketing and quantitative methods. "I have taken two courses with her and her dedication to her students as well as the welcoming atmosphere in her classroom has always inspired me to strive to do my best."
Batchelor plans to pursue a master's degree in higher educational leadership at the University of South Alabama.
---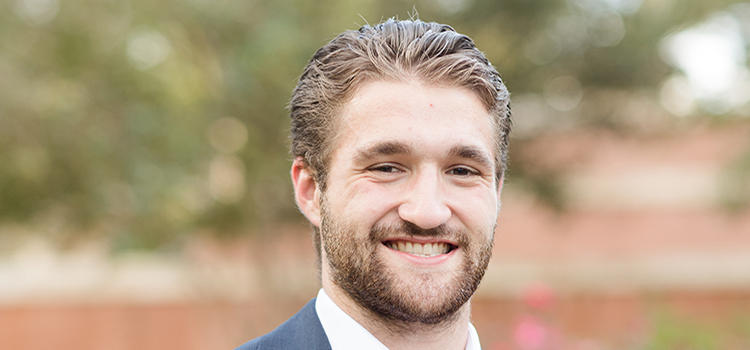 Sam Penque
Major: Finance
Hometown: Trussville, Alabama
Unique Fact: "I have five dogs. Their names are Daisy, Duke, Sugar, Bear and Roxie."
Hobbies: Writing, reading, fishing, hunting and outdoor activities
Mitchell Scholar Sam Penque of Trussville, Alabama, devoted time as an undergraduate finance major and Ambassador to staying involved. During the past four years, he was a resident assistant, member of Mortar Board, member of Pi Kappa Phi and student analyst in the Jaguar Investment Fund.
Penque said instructor and Pi Kappa Phi advisor Jay Hunt is both a role model and mentor. "Continuously, more than anyone else at South Alabama, he has pushed me out of my comfort zone," Penque said. "He has encouraged me to join the fraternity that I am proudly a part of now. Mr. Hunt has continually given me sound advice when it comes to my future career and my time here at South Alabama."
During Penque's time as an Ambassador, "I have had the pleasure of getting to meet business leaders in Mobile and throughout the United States, which includes the CEOs of Fortune 500 companies. It has allowed me to give back to a college that has given me so much."
Penque plans to pursue both medical and MBA degrees.
---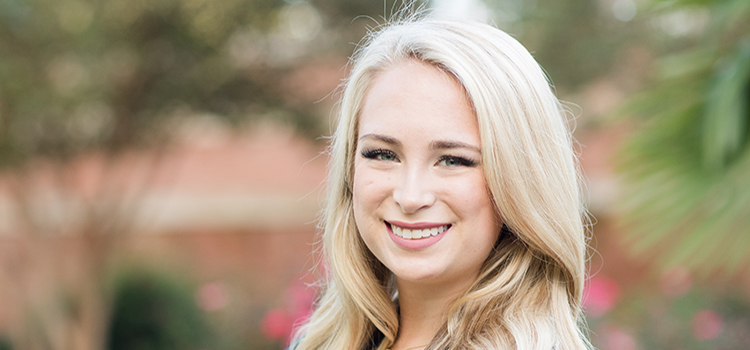 Caitlin Crownover
Major: Marketing
Hometown: Satsuma, Alabama
Unique Fact: "I lead high school girls in a Bible study group at my church each Sunday."
Hobbies: Painting, hiking, traveling, road trips and listening to music
When Caitlin Crownover was recruited to the Mitchell College of Business as a Mitchell Scholar, she didn't anticipate the richness of the culture and community she would be joining. The efforts of staff and faculty within the college motivated Crownover to serve. "It was not until becoming an Ambassador that I truly saw the care and intentions behind the faculty and staff. I know that the investments made with students are genuine and the efforts made to help students pursue their passions are real and evident," she said. "Being an Ambassador has given me a new appreciation for those involved in my path to success. I have since gotten to serve the College of Business and give back to an organization that has given me incredible opportunities."
Crownover capitalized on internship opportunities and was exposed to her career field prior to graduation. She accepted an offer to the Birmingham Briarwood Fellows program, a gap-year program designed for young Christian professionals, and plans to pursue a career in marketing or ministry.
---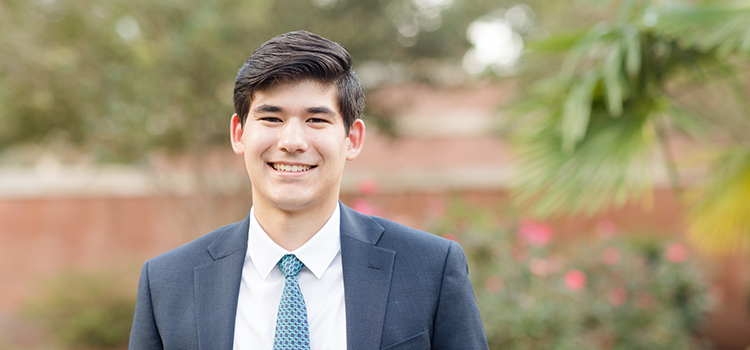 Andrew Hii
Major: Accounting
Hometown: Mobile
Unique Fact: "I can hold my breath from the beginning of the I-10 tunnel to the first speed limit sign."
Hobbies: Spending time with family and friends, playing with my his dog, watching or playing soccer, recreational shooting and yard work
When Mobile native Andrew Hii became a Mitchell College Ambassador, he discovered a sense of belonging. "I found a group of my peers who were exceptionally talented, intelligent, passionate and hungry for success. I have enjoyed getting to know my fellow Ambassadors," he said. "It has also been a special opportunity to connect with the faculty and staff at the Mitchell College. As an Ambassador, I have had the opportunity to serve the University and my professors, and partner with my other Ambassadors to host several on-campus events. My only regret is not applying sooner."
Hii, after initially being encouraged by his brother-in-law and a mentor to pursue a degree in business, found his academic home while taking an accounting course taught by Senior Instructor Ellen Madden. "I knew I wanted to major in accounting about midway through the class," he said. "It just made sense and clicked with me."
Hii plans to pursue a Master's in Accounting (MAcc) and sit for the CPA exam for the state of Alabama. His ultimate goal would be to move to Europe to work for a major soccer club.
---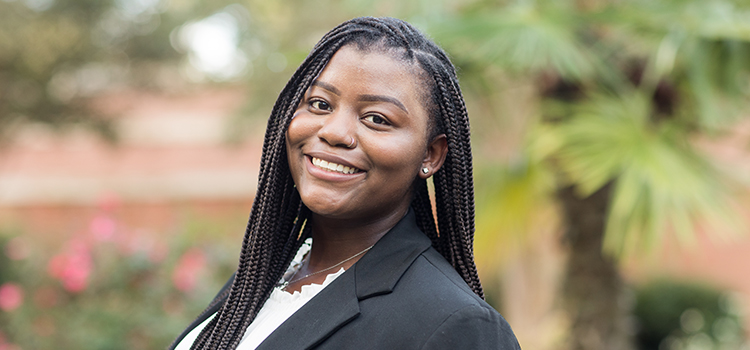 Qamya Richardson
Major: International Business
Hometown: Birmingham, Alabama
Unique Fact: "I cannot ride a bike or whistle"
Hobbies: Watching sports, hanging out with friends and family, shopping and learning how to crochet
Qamya Richardson initially came to South with plans to become an engineer, but she soon found that the Mitchell College offered coursework that better fit her interests and aptitudes. "I was trying to decide on a major and somehow I chose business, and it has been one of the best decisions I'd ever made," she said. "The moment I knew international business was for me was after meeting with Dr. Alvin Williams. I went to his office panicking about my schedule, no appointment and full of emotions. After speaking with him and getting everything sorted out, I knew I'd never change my major again, and the Mitchell College was 100 percent the right fit."
Richardson immersed herself in her peer community and excelled, becoming an Ambassador, attending a study abroad trip to Hawaii and managing both medical school prerequisites and the international business curriculum.
She plans to attend medical school and specialize in family or trauma medicine.
---
---