2021 Freshman Mitchell Scholars
---
Posted on June 14, 2022 by MCOB
MCOB
---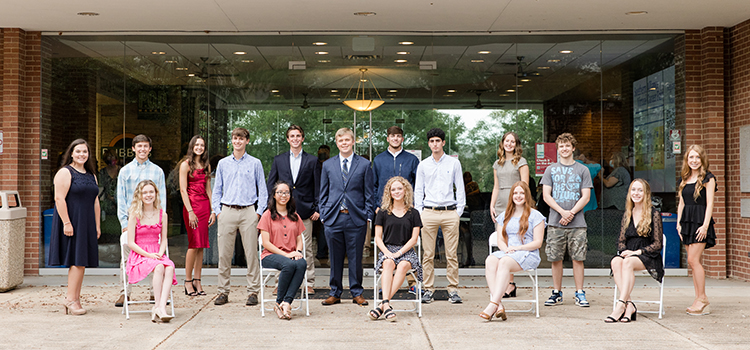 ---
Macy Adams
Major: Accounting
Unique Fact: Macy is a huge Taylor Swift fan and says she would spend her life savings to
see her perform.
Coming from a small town, Macy Adams initially wanted to move far away for college. However, after touring the South Alabama campus, she knew that South was the perfect fit. "When I found out I had been chosen as a Mitchell Scholar, it felt like everything fell into place," she said. "The scholarship meant that I could attend South without worrying about finances, and the additional opportunities the Mitchell Scholars program offered meant that I would get the best possible education." The valedictorian of the Edgewood Academy in Elmore, Alabama, was highly engaged in her high school's organizations. However, Adams's involvement in academic clubs and sports was not enough, she was also class president, was dually enrolled at Troy University and worked at a local accounting firm. After her graduation from South, Adams plans to get her Masters in Accounting and sit for the CPA exam. She aspires to work as an accountant in the music industry and travel the world.
---
C.C. Annulis
Major: Marketing and Real Estate
Unique Fact: C.C's full name is Cambre Catherine; she was named after her two
grandmothers.
The University of South Alabama's values, community impact and the business program's excellent reputation are only a few reasons C.C. Annulis decided to call South her new home. "When touring the College of Business and meeting faculty, I felt welcomed and at home," she said. "Their encouragement during this first meeting shows that support and mentoring are an integral part of the culture at South." She decided this kind of environment would be the perfect fit for her to grow and continue her education. Annulis has a passion for helping others. During her senior year, she earned over 100 hours of community service. The marketing and real estate major hopes to open her own real estate firm, as well as a non-profit organization where she can help young girls achieve their goals.
---
Luis Del Pozo
Major: Entrepreneurship
Unique Fact: Luis has skydived from 17,000 feet and will run his first marathon in
December.
Originally from Morelos, Mexico, Luis Del Pozo moved to the U.S. during his sophomore year in high school. "Moving to the U.S. has pushed me in unexpected ways," he said. "Learning to adapt to the culture and language was essential to continuing my education." After moving to Mobile, he immediately began looking for colleges. Del Pozo was impressed with the variety of academic and financial resources in the Mitchell College of Business. During high school, Luis participated in tennis and cross country. He also volunteered in the recovery efforts following Hurricanes Sally and Zeta by cutting and removing trees. Following graduation, the entrepreneurship major plans to open up his own coffee distribution business along the Gulf Coast.
---
Kiera Earls
Major: Economics
Unique Fact: Kiera has lived in eight states.
For Kiera Earls, the University of South Alabama had everything she needed to be home away from home. It's the right distance from her hometown, Robertsdale, Alabama, and offered her the opportunity to become a Mitchell Scholar. South provides the right academic and financial balance. Becoming a Mitchell Scholar, provides her with the opportunity to further her education without having to worry about her financial situation, but more than that, "being a Mitchell Scholar provides me with opportunities and connections that go above and beyond what I imagined." The graduate from Robertsdale High School was involved in the National Honor Society and cheerleading, all while taking advanced classes, earning 12 dual-enrollment credits, and maintaining a 4.0 GPA. Earls' vision for the future is clear. The economics major plans on earning a master's degree and Ph.D., while working as an economic research assistant.
---
Garrett Epps
Major: Business Administration and Marketing
Unique Fact: Garrett plays four instruments; guitar, clarinet, alto saxophone and tenor
saxophone.
Garrett Epps not only loves South's proximity to his grandma's house, But its wide selection of scholarships, events, amenities and its beautiful campus that motivated him to apply. He was also impressed with South's welcoming nature, "Out of all the colleges I visited," "South Alabama was by far the most welcoming and interactive." During his time at Sparkman High School in Huntsville, AL, Epps was an active member of various honor societies, sports teams and the Sparkman Wind Ensemble. He was also a participant in the prestigious Sparkman Medical Academy, and once built his own computer. Epps graduated early from high school with honors and an overall GPA of 4.6. Now at South, the marketing and business administration major hopes to find a good job in the marketing and advertising industry, before eventually starting his own company.
---
Jay Greene
Major: Finance
Unique Fact: Jay can drive a stick shift
Jay Greene, a Birmingham native, was immediately fascinated by the culture and environment of Mobile. "The beautiful landscape of coastal Alabama, the smiling faces of pedestrians, the pleasant faculty — all these things and more contributed to my fascination with what South seems to be all about – community," he said. Greene graduated from Briarwood Christian School with honors, while also being a member of multiple honor societies and organizations. He participated in varsity cross country, track and field and led the drum line as a co-captain in the marching band. Outside of school, Greene was classically trained on the piano and achieved the highest rating in the National Federation of Music Clubs Solo Festival for 12 consecutive years. In the future, the finance major hopes to attend law school to earn his Juris Doctorate to eventually become a financial or estate lawyer.
---
Stephanie Huynh
Major: Business Management
Unique Fact: Stephanie's senior superlative was "Most Likely to Quietly Take Over the
World."
Stephanie Huynh, a Mississippi native and Gautier High School valedictorian, was instantly drawn to South's location and appearance. However, it was at USA Day when she realized that South was the perfect fit. "The amount of certainty that the 'We Are' mantra holds is as encouraging as it is daunting, and it only furthers the sense of community that I felt on campus". While at Gautier High School, Huynh was heavily involved in all kinds of different activities, like the choir, yearbook staff, cross country team and Key Club. She earned recognition as an All-Mississippi Student Journalist, MEC Star Student, PEO Star Scholar, and DAR Good Citizen. Huynh is now pursuing a degree in Business Management, and hopes to further her education after graduation with a Masters in Business Administration. She aspires to open her own cafe or diner one day.
---
Bailey Jenkins
Major: Business Management
Unique Fact: Bailey's love for the show Dance Moms inspired her to become a competitive
dancer during middle and high school where she competed in 10 competitions.
South cares, and so does Bailey Jenkins. The Pensacola native earned 100 community service hours at Tate High School, while working at various part-time jobs and serving at her local church. By graduation, she passed five AP exams, acquired 36 credit hours and graduated with a 5.17 GPA. When touring South, Jenkins was immediately attracted to the welcoming and encouraging atmosphere and quality education. "During my first meeting with some of the faculty and staff at the Mitchell College of Business, I could tell they genuinely wanted to see their students succeed," she said. "I loved that the professors are highly qualified and experienced in their fields, and they are very dedicated to preparing us for our careers and life after graduation." After learning about the unique programs offered at the Mitchell College of Business, her decision to attend South was solidified. After graduation, the business management major hopes to manage a small business firm while giving back to the community through helping students with learning disabilities.
---
Jared Jones
Major: Economics and Finance
Unique Fact: Jared's favorite quote is: "All of our dreams can come true if we have the
courage to pursue them" - Walt Disney.
South accommodates every student's needs. For Jared Jones, they are the proximity to his hometown, Seminole, Alabama, and the compelling nature of Mobile. Jones graduated from Robertsdale High School with a 4.2 GPA and an ACT of 32. During his time at Robertsdale he was a member of the National Honor Society, vice president of Key Club, and a member of varsity sports teams as well as the arts club. Now at South, he is majoring in Economics and Finance with the goal of starting his own business in the future. Eventually, he wants to leave a positive effect on as many families as possible.
---
Brice Knotts
Major: General Business
Unique Fact: Brice has visited 35 of America's national parks.
Brice Knotts was born and raised in Mobile, Alabama, and was not immediately set on South. After touring the Mitchell College of Business, he learned about its unique programs and opportunities. "The other business schools could not compete with everything that MCOB had to offer," he said, "so it made my decision quite easy." At his high school, St. Luke's Episcopal School, Knotts was part of various organizations and amassed over 100 service hours. He also played varsity soccer and became the Wildcats' all-time leading goal scorer. He now coaches youth soccer and hopes to help kids grow and be successful in the sport. In the future, Knotts hopes to run his own business, such as a car dealership, or a business based around visiting national parks.
---
Charbel Mawad
Major: Accounting
Unique Fact: Charbel is fluent in three languages.
"I was unsure about USA, because I did not know much about the University or the Mitchell College of Business," said Charbel Mawad, "but that all changed once I took an on-campus tour". He is a native of Mobile who at first wanted to move as far away from home as possible. He realized what opportunities were available at the Mitchell College of Business and changed his mind. At McGill Toolen Catholic High School, Mawad was involved in various community service organizations, while earning 20 credit hours and a 31 score on the ACT. He was also voted by his classmates onto the Coming Home court his freshman year. Now, the Accounting major is planning on graduating from South before going to law school to become a tax lawyer.
---
Cade Meyers
Major: Finance
Unique Fact: Cade has exquisite pitch, which allows him to learn any song by ear.
Cade Meyers knew exactly what he wanted his college to look like. "I decided that I wanted college to give me the tools to succeed in my career goals, while allowing me to form lifelong friendships and connections with those around me," he said. "I believe that South has a unique and fantastic business program that sees my potential and invests in me. I do not intend to let this investment go to waste." Before attending South, he won four running state championships in high school, while maintaining a 4.0 GPA and scoring a 35 on his ACT. Meyers is also an Eagle Scout and loves stock trading. The finance major is interested in becoming a stockbroker. Before he graduates from South, Meyers hopes to start and maintain a successful business.
---
Ella Mims
Major: Marketing or Management
Unique Fact: Ella is the lead singer of a local band, The Azaleas.
Staying close to home for college was the best decision for Ella Mims. After graduating from Baker High School, the Mobile native saw South from a new perspective. "I have a huge support system down here," she said, "with friends and family who have already helped me a lot in adjusting to being in a new environment." Staying close to home also gives her the opportunity to pursue her music career. Receiving the Mitchell Scholarship was the final factor in her decision to attend South. During her time at Baker High School, Mims was involved in various choirs, as well as student organizations. She also volunteered for the Delta Dogs, a local non-profit organization that provides care for pet owners in need. In her spare time, Mims writes songs and performs at local venues. After graduating from South, she hopes to pursue a management or marketing career in the music industry.
---
Maddie Mitchell
Major: Finance
Unique Fact: Maddie served as the 2020-2021 Alabama FCCLA State Vice President of
STAR Events.
Maddie Mitchell discovered South through a Family, Career and Community Leaders of America project at Cold Springs High School, north of Birmingham. She became more and more interested in what the University has to offer. In the end, it was the amount of support and assistance, as well as the opportunity to become a Mitchell Scholar, that convinced her to attend South. "The opportunities the Mitchell College of Business had to offer and the Mitchell Scholarship," she said, "were the key factors that contributed to my decision to attend South." Now majoring in finance, Mitchell hopes to become a Certified Financial Planner and work as a financial advisor. At Cold Springs, Maddie Mitchell represented her school and community at several conferences, including the Electric Cooperative Montgomery Youth Tour and the National Leadership Conference for FCCLA. She was also a member of various honor societies and served as the FCCLA State Vice President.
---
Caroline Schafer
Major: Accounting
Unique Fact: Caroline's family has had four yellow labs, all of them named Bo.
"Like a family away from home," that is how Caroline Schafer describes South. After touring South for the first time, she was so delighted with the beauty of the campus, the close proximity to the beach and South's faculty, she decided to transfer from the University of Southern Mississippi. "I felt so welcomed and could see all that the college had to offer," she said. "It was clear to me that the professors would support and coach me." During her time in high school, at Our Lady Academy in Bay St. Louis, she was a member of various honor societies, while achieving a GPA of 4.24 and an ACT score of 31. Schafer is now an accounting major, working towards becoming a Certified Public Accountant. After graduation, she wants to earn a Masters in Accounting and work as a forensic accountant for the FBI.
---
Liz Ulrich
Major: International Business
Unique Fact: I have been to 37 states and nine countries
Coming all the way from Rockford, Illinois, Liz Ulrich was impressed by South's welcoming nature. Even though she always wanted to travel south for college, Mitchell College's staff and business program set it apart from other universities. "I knew I could be extremely successful with all the opportunities South presents to its students," she said. At Rockford Lutheran High School, Ulrich participated in sports teams and various social organizations. Outside of school, she spent her free time volunteering at the Rockford Food Pantry and Noah's Ark animal shelter. She also took dual enrollment classes at Concordia University, Chicago, and worked at a local insurance agency. Ulrich is now an international business major with plans to work as a management analyst for a large international business and travel the world.
---
Charlie Wine
Major: General Business
Unique Fact: Charlie is an Eagle Scout.
After touring South, Charlie Wine's mind was made up. "Knowing that I would not be just another student, like all the other universities I visited, was refreshing," he said. Wine accepted the invitation to become a Mitchell Scholar, which he sees as an honor. At Tate High School in Pensacola, Wine made his presence known in and out of the classroom. He played the trumpet in the band for eight years, while maintaining a 4.4 GPA. Outside of school, he spent 12 years with the Boy Scouts of America, earning the title of Eagle Scout. At South, he plans to continue his musical career as part of Jaguar Marching Band.
---
---