Student Spotlight: Sebastien Collard
---
Posted on October 31, 2022 by MCOB Outreach
MCOB Outreach
---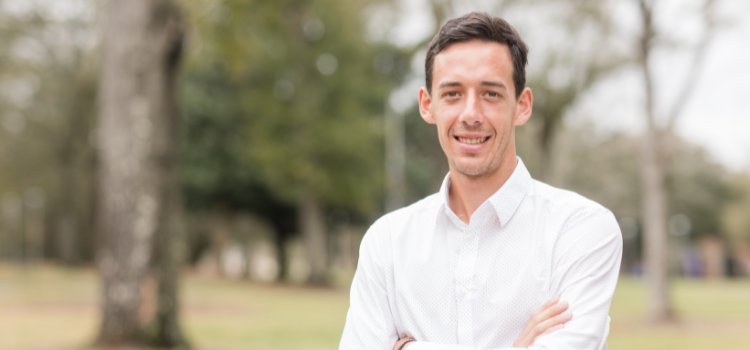 ---
Hey everyone! My name is Sebastien Collard, and I am a senior majoring in finance. I am an international student from Quebec, Canada. I came to South Alabama in the fall of 2019.
I found my passion for business towards the end of high school. At that time, I had no idea what I wanted to study in college. To help me figure out what career would interest me, my dad helped me set up a visit to one of his friend's offices, who was an investment counselor at a bank back home. That day, I realized that I had a passion for finance. As I started learning more about the different jobs in the industry, I became more and more confident that it was what I aspired to do.
As a resident of Quebec, Canada, I graduated high school in French. However, to be able to come to college in the United States, I had to do one more year of high school to have enough credits. Because I had already completed all the core courses, I was able to take multiple electives. That year I took my first two business classes, economics and accounting. That year helped me confirm that business was the way for me to go in college.
However, business is not the only thing that I am passionate about. Since I was a kid, I have been passionate about tennis. Tennis has significantly influenced my life for the last 15 years. I have been playing competitively for more than 12 years, allowing me to visit different countries and develop a lot as a person. Tennis is also why I was able to come study in the United States, as I am part of the tennis team here at South.
When I had to make the decision about where to go to college, tennis and my strong interest in business significantly impacted where I would go. When I came to visit the university, I remember how excited I was to tour the Mitchell College of business. I clearly remember how nice I thought the finance lab was. Fast forward four years, and I now have the opportunity to go in that room as I am part of the Jaguar Investment Fund. My years at the Mitchell College of Business have helped me develop many new skills and grow as a person. Pursuing my love for business at MCOB was the best decision I could have ever made.
As I look back to my time at South, I am grateful for everyone who helped me develop and supported me. Many people have been extremely generous towards me, from teachers to donors who have provided me with scholarships. As I approach the end of my college career, I will be ready to move on to the next chapter, which will be to pursue a master's degree. I will be forever grateful for everything that MCOB has brought to me in my time here at The University of South Alabama.
---
---