Student Spotlight: Dean Benton
---
Posted on June 29, 2020 by MCOB Outreach
MCOB Outreach
---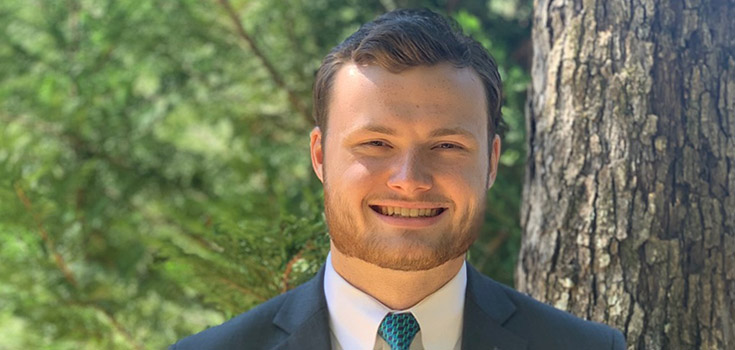 ---
My name is Dean Benton, and I am a senior majoring in General Management. I am from a small town near Birmingham, Alabama, called Helena. I come from a military family, so we have moved all around Alabama throughout my life. I was born in Montgomery, then moved to Mobile, and finally settled in Birmingham, where I graduated high school.
Why South? Since the time I lived there, I have always loved the city of Mobile. I have fond memories from my childhood growing up in this great city. When it came down to college tours, I was particularly excited to tour South. After the tour, it became clear that this was more than a college, it was a family. Everyone had a "Go Jags" attitude and showed they loved the school and wanted you to be a part of it.
The University of South Alabama has allowed me to be the leader I always wanted to be. They have continuously set up various opportunities for me to succeed and build my skills. I came in my freshman year as a Freshman Leadership Scholar. This allowed me to see first-hand the potential I had as a student at South to really make a difference on campus. One of the ways I felt I could give back to the University was to work various jobs which allowed me to pour myself into people. This led me to obtain a job as a New Student Orientation Leader, which gave me the opportunity to make meaningful connections with potential South students (giving them what past leaders gave to me).
Transitioning into my sophomore year, along with focusing more on my major in Business, I was hired as a student worker in the MCOB Dean's Office. On a funny note, I had to start using my first name (Bradley) to answer the phone, as it became quite confusing for people to call and hear, "Mitchell College of Business, Dean speaking, how may I help you?" On a serious note, this opportunity at MCOB has allowed me to make so many connections with the faculty and staff, as well as build relationships with other students. This has led to me to become incredibly involved in MCOB. It has been a pleasure working there for the past year and a half.
Another area of involvement is work with Christian organizations. My experience at South has been filled with organizations such as Baptist Campus Ministry and Campus Outreach. However, this past year I had the pleasure of establishing a whole new Christian organization from my church, Dayspring Baptist Church, called Dayspring University. Our mission statement for this organization is: "Dayspring U's sole purpose is to exist to reach campuses with the gospel, connect students to community and mobilize them for a life of mission." Having the pleasure of serving as President has been one of my proudest accomplishments at South.
I am very excited for my senior year as I will have the honor to serve as a an MCOB Mitchell Ambassador. I am thankful for all the opportunities this will give me to connect with businesses and students throughout MCOB. Most of all, I am just especially honored to represent my school in such great fashion.
My future plans after graduation are not set in stone yet. I have condensed my options to two different routes: One being that I stay in school and obtain my Master's in Business Administration and the other being that I start working immediately after I graduate.
In conclusion, I am so thankful for my experiences so far at South and especially at MCOB. I am stoked about my senior year and finishing out strong! God bless and Go Jags!
---
---