Student Spotlight: Ian Montes de Oca
---
Posted on October 20, 2021 by MCOB Outreach
MCOB Outreach
---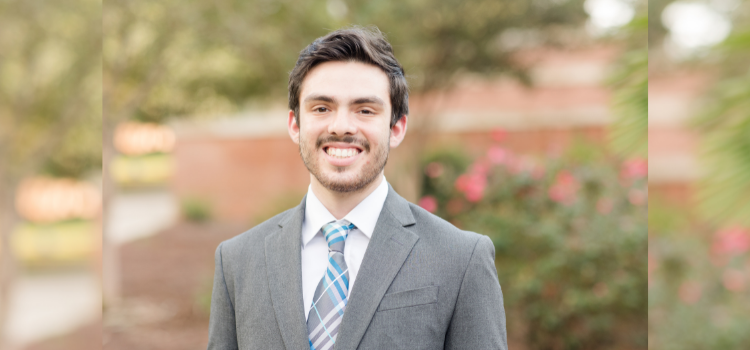 ---
Hey everyone! My name is Ian Montes de Oca and I am a second semester junior majoring in economics and minoring in spanish. After graduating from El Salvador's Escuela Americana in 2018, I began my undergraduate studies here at the University of South Alabama in the spring of 2019.
Although my last name might imply otherwise, I actually spent much of my childhood here in Mobile. My family moved from our home country of Bolivia in 2003 and I was able to spend 11 years in Mobile before moving to El Salvador in 2014. It was during this time that I would come to learn about South Alabama; whether I came to accompany my mom to the Marx library as an elementary-schooler or to participate in regional science fairs as a middle-schooler, I have fond memories of South from even before my enrollment.
During the summer of 2014, I moved with my family to El Salvador, where I would spend the next four years attending the American School of El Salvador. In retrospect, I can confidently say that this experience has made me the person that I am today. At the time, I was scared of leaving all of my friends behind and moving to a country I couldn't even place on a map (hint: it's the smallest country in Central America!). However, the opportunity to meet the people I have met there while learning of a culture I would have never gotten to experience otherwise is one that I would not trade for anything in the world.
My return to Mobile in 2019 to attend South has been a homecoming. It has also been a step forward. Since my enrollment, I have been a member of both CEO and FMA and have participated in a summer internship at the American Embassy in Lima, Peru. It is through these extracurricular activities and through the PREP program that I have been able to develop as a young professional. Additionally, since returning to campus after spending the entirety of 2020 with my family in Peru due to COVID-19, I have been able to become more involved within the Mitchell College of Business as an economics tutor and a Mitchell Ambassador. It is definitely refreshing to be back on campus, and after seeing how easily it can be taken away, I refuse to take my time here for granted.
In addition to being able to represent the Mitchell College of Business as an ambassador, this semester I am particularly excited about working with Dr. Jain to revive the Economics Club as its President. I am also helping start the Latin American Student Organization (LASO) here at South as its Vice President. Although I still have a year left until graduation, my plan after receiving my degree involves obtaining some professional experience somewhere in Latin America before pursuing a postgraduate education. No matter where my life may take me, I am thankful for the education and job preparation I am receiving here at the Mitchell College of Business.
---
---