Student Spotlight: Melanie Watson
---
Posted on September 26, 2022 by MCOB Outreach
MCOB Outreach
---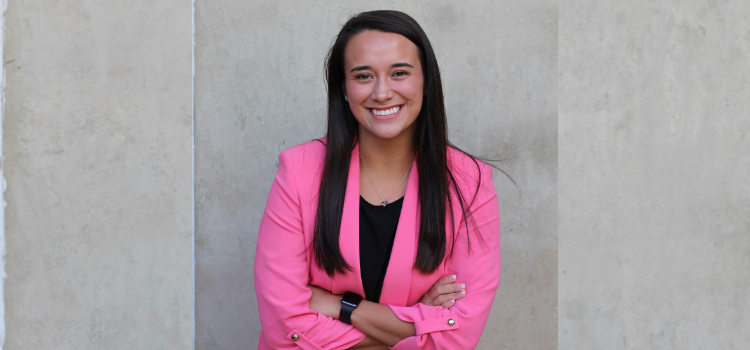 ---
Hey everyone! My name is Melanie Watson. I am a senior at the University of South Alabama majoring in general management with a minor in both marketing and air force studies.
I grew up in a smaller town a few hours north of Mobile called Helena, Alabama. Growing up, I always knew I wanted to serve in our great nation's military and wasn't sure if college was the right path for me out of high school. However, most of my friends were going to college and my parents encouraged me to attend college so I decided to attend South. When I got to campus, I joined the Air Force ROTC program, which has given me the opportunity to get my degree and join the service!
I initially chose the Mitchell College of Business because I wanted to learn more about management and leadership skills. Over time, the community within the MCOB and university, as well as the faculty's dedication to student success, have contributed to making my experience exceptional. Their willingness to help and mentor each student is invaluable and a mark of their leadership! The MCOB faculty provide us with so many great resources and opportunities to grow and strengthen the skills we need to be successful.
Getting involved outside of the classroom has been just as phenomenal. I've made fantastic connections by joining different organizations. I've had the opportunity to represent the university as a Southerner for three years, and have grown tremendously both personally and professionally. The position has taught me how to network with people, recruit, interview, fundraise, and lots more. As a Southerner, I've been able to put to practice some of the things I learned in my classes. I am also in Arnold Air Society, which has given me even more leadership training and community engagement opportunities. Through AAS, I've networked within the Air Force prior to active duty and created friendships that will help me throughout my military career.
Aside from being a fulltime student, I enjoy engaging in activities that push me outside of my comfort zone. I read to continue learning on my own outside of the things required of me through courses. Staying in shape is not only a priority to me in order to meet the Air Force standard but for physical health. I also regularly attend church in Mobile for spiritual growth and volunteer in the community by tutoring immigrant children, fostering animals, and participating in community clean ups.
After graduation, I plan to be an active duty Logistics Officer for the United States Air Force and look forward to applying what I've learned at the Mitchell College of Business. I'm not sure what the long-term future holds, but am confident that my education at the Mitchell College of Business has provided the skills to achieve my goals. Lastly, I would also like to thank all the professors and faculty that have helped guide me throughout this journey, specifically: Professor Leonardi, Professor Turnipseed, and Mr. Potter. I've learned so much from each of you as you've mentored me and helped me strive for excellence. Go Jags forever and always!
---
---