Catching up with Devin Epps
---
Posted on January 12, 2021 by MCOB Outreach
MCOB Outreach
---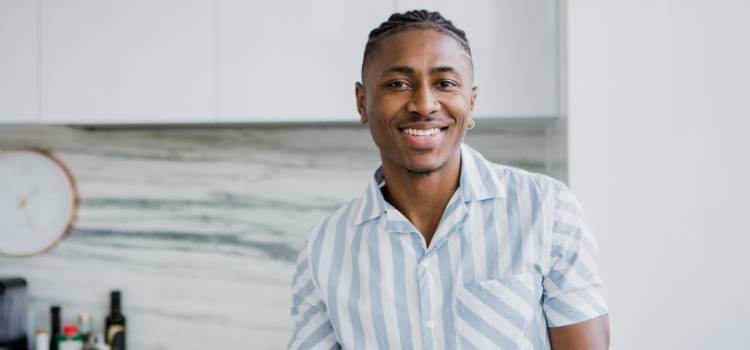 ---
Mitchell Magazine recently caught up with Devin Epps, an MCOB graduate, chef and entrepreneur. After interning with Food Network, the young chef is cooking up a brand for himself in Tennessee.

Tell us about Devin.
At my core, I'm a quirky goofball who loves people. I take a very different approach to what I think everyone wants in life and ultimately strive to have the freedom to live life on my own terms. I achieve this through my career work, which is culinary-based. Personally, I'm a very expressive, inquisitive and emotional individual; I care deeply about others and love to use food as a means to express myself.

Where are you from and where are you now?
I'm originally from Murfreesboro, Tenn., where I spent the majority of my childhood. After graduating from high school, I came to South to play basketball and pursue an undergraduate degree in marketing as a Mitchell Ambassador. While at South, I was known as "the shirtless chef" and opened my own food truck. In 2018, I received my degree and shortly afterward moved to New York for an internship with The Food Network. Due to COVID-19, I have since moved back to Murfreesboro and am in the process of building up my own business.

How did you acquire your passion for cooking?
I got my love of cooking from my mother. She had a very similar business — a catering company — and I worked alongside her from an early age. As I got older and started playing basketball in high school, my team would have 6 a.m. workouts and no one had time to eat breakfast beforehand. So, after every Friday morning workout, I brought my griddle and would cook breakfast for the team after we finished practice. There is something about being nourished and fed — you're not going to find someone who doesn't love having a plate of food brought to them. That experience fed a giving spirit within me that I hadn't even realized I possessed, and it continues to inspire me today.

What are you doing now?
I am a business owner and entrepreneur. I run a hospitality service business called Brown Sugar by Dev and offer services including private dining, catering and meal preparation. I started in April and am already seeing glimpses of what the future might hold in 2021.
What do your private dining, catering, and meal preparation services entail?
Private dining is the primary component of my business and is essentially a mini- restaurant experience in your home. I will spend the day before shopping at farmer's markets and preparing for your meal. The day of the private dinner, I come to your home with all of my supplies about two hours before the meal to set the table and cook. Meal prep is all-encompassing to the service and is very consistent and need- based. It keeps the revenue flowing. Each meal is fully prepared and ready to reheat. I personally deliver the fresh meals to each customer's front door.

Do you have a specialty?
My specialty is tablescapes. I love setting a beautiful table because I think it elevates the meal that much more. The setting is part of the experience of a meal and can be an unexpected surprise. I get my inspiration from Pinterest and the current season; right now, I am using a lot of earth tones and rich, warm colors. My culinary specialty is primarily classic Southern, and I also enjoy modern American.
What are you focused on now?
I'm currently on the cusp of getting back into food media. Over the past year, I have taken a break from food media after receiving feedback from mentors and professionals that indicated I needed to work on my hard skills. I knew that if I was going to call myself a competent chef, it was important to take that critical feedback. As hard as it was to hear that there was more work to be done, I had to eat those words and try to apply their advice to my work. Now moving into this next year, I am excited to be refocusing on food media. I want to start a video series that highlights local chefs and restaurants around Murfreesboro and Nashville. I also plan to write historical food articles about the inspiration that comes from the meshing of Southern culture, history, and food. I want to make sure we are looking at food in a way that is digestible, entertaining and worthwhile.
What is food media?
Food media is the applied marketing and outreach of the culinary arts. It is taking the art form, putting a camera to it and then sharing it with other people. My end goal with food media is to further educate myself and then be able to benefit communities with food and the culinary arts. I want to take tangible steps to make sure that our ecosystem is cared for by people who are educated about the power they have to actively pursue sustainable foods. Broadcasting that message to the world — whether in the form of a book, a cooking show or a news column — will hopefully excite people and encourage them to participate in changing the way we view food.
What influences you in your work?
I'm influenced by the situations I've been in and the things I have seen. While I'm not always consciously aware of it in the moment, every place I go, everything I look at and every person I talk to inspires me.

Tell me about your mentors and how you connected with them.
There are two individuals I want to highlight who have really changed the course of my professional career. First and foremost, Lazarus Lynch is my mentor and my big brother in the industry. I reached out to him via cold email prior to taking the internship opportunity in New York because I was excited about what he was doing. He got back to me and when we met up for the first time in Nashville, we hit it off. After I moved to New York, he would invite me over to his house almost every weekend; he introduced me to his family, cooked with me, shared stories and taught me the art form as well as professional skills required in the industry that no one else would have been able to teach me. Second, Alaina Bessler has played a similar role in my life but on the business side. She taught me how to pitch an idea, how to run a pop-up, and so much more. I would never have anticipated the roles they both would play in my life.

What trends do you see in your field?
I've noticed an increase in long-form content and documentary-style food shows. These really well-produced, detailed, cinematic food show projects are beautiful, and they're really taking over on Netflix and YouTube. This is exciting to see because, over the past five years, we've been commoditizing food. As more people are seeing the grit behind the glamour, they appreciate what they are consuming even more.

What does a typical week look like for you?
Beginning with Sundays, I prep and cook for my meal prep clients. Mondays and Tuesdays, I deliver meals. Wednesdays are my off days; I do administrative work and, as an entrepreneur, wear a lot of hats — marketing, accounting, general housekeeping. Thursdays, I typically am grocery shopping for bookings and prepping. Fridays and Saturdays, I usually have a brunch or a dinner booking before repeating it all over again!
Read More of the Fall 2020 Mitchell Magazine
---
---