With Tuition Paid, Students Turn Focus to Cyber Defense
---
Posted on November 1, 2016 by Alice Jackson
Alice Jackson
---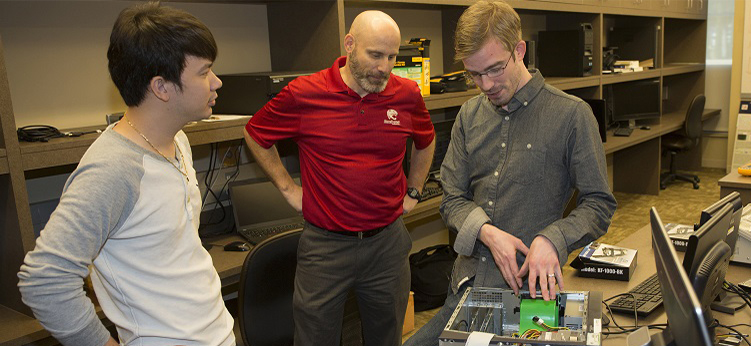 South students Thanh Nguyen, left, and Joel Dawson, right, meet with Dr. Todd Andel, professor of computing and principal investigator for a $4.1 million grant awarded to the School of Computing.
---
University of South Alabama students Thanh Nguyen, Kassy Seale and Joel Dawson all hold national security classifications for access to some of America's secrets.
That's because all three of the computer and information science majors received significant scholarships that pay for all tuition and related costs as well as internships to work inside some of America's top research laboratories before graduation.
"This scholarship has essentially given me much better connections than I ever would have had access to without it," said Nguyen, 24, a first-year graduate student from Mobile who interned last summer at the Sandia National Laboratories facility in Livermore, Calif. "My job options after graduation will be much greater because of it."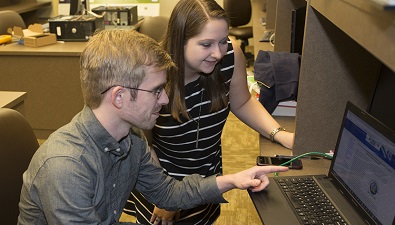 The scholarship program, "Cyber Scholars: Scholarships for Service," recently received a new $4.1 million National Science Foundation grant that will continue the scholarships through 2021 for highly qualified students in cyber security and information assurance studies. It provides two- and three-year scholarships for up to 23 undergraduate and graduate students. In return, those students must work in federal, state, local and tribal government agencies for a period of time equal to receiving the scholarship.
Joel Dawson, left, and Kassy Seale both spent their summer
working for federal research laboratories.
"These scholarships allow the School of Computing to attract quality students into our programs and to do research, especially in graduate school," said Dr. Todd Andel, professor of computing and principal investigator for the grant, the largest ever received by the School of Computing. "During their internships, these students are working on the leading edge of cyber security research inside the government."
Graduate student Kassy Seale of Daphne worked at the Sandia National Laboratories primary site in Albuquerque, N.M., on data from the U.S. Strategic Petroleum Reserve and cyber security risk assessment for nuclear power plants.
"It's great we have these opportunities from South," Seale said. "In the right environments, like these, you learn so much in a short amount of time on the job. That gives you the confidence to apply for a great job after graduation." She will receive her master's degree in May 2017.
The cyber security and information assurance curriculum includes security-oriented courses, which means cryptography, software vulnerabilities, hardware countermeasures, virus and malware defense, and forensics as well as cyber-focused research.
The scholarships provide academic year stipends of $22,500 for undergraduate students and $34,000 for master's degree students. Besides tuition, the scholarships cover education-related fees, a health insurance reimbursement allowance of up to $2,000 per year, a professional development allowance, a book allowance of $2,000 per academic year, plus funds for travel and professional certification.
Joel Dawson, 31, will graduate with a master's degree in computer science in May 2017. Last summer, he worked at the Idaho National Laboratory with a focus on malware analysis.
"It was fascinating to be able to do work at that level and to be exposed to co-workers at that level," Dawson said. He added that the experience has already led him to a successful job interview with a federal agency.
The scholarship program, co-sponsored by the Department of Homeland Security, is designed to increase and strengthen the number of federal information assurance professionals that protect the government's critical information infrastructure. The program mentors scholarship recipients in cyber security research and education, helps with summer internship opportunities and, ultimately, helps graduates find cyber security and information assurance positions in the government workforce. Students also participate in activities such as conferences, workshops and seminars. The program's overall aim is to develop a community of practice that will enhance students' individual and collective skills in areas increasingly important to the security of the United States.
Students interested in applying for the scholarships must be:
Enrolled in the final two years of a bachelor's or master's program; the final three years of a doctorate degree, or up to three years for combined programs.
Attending school on a full-time basis while receiving a scholarship under the SFS program.
A United States citizen or lawful permanent resident.
Eligible for federal employment.
Able to obtain a security clearance.
All three students are continuing to do work for their summer employers online, and they said their summer jobs helped them to realize they were as knowledgeable in their field as students from larger, older and better-known universities.
"It's great they get to work alongside students from other places and see they have learned just as much, or more, in our program as other students from other universities," Andel said. "That's a great compliment to what we're doing here."
---
---
Samuel Moore, a current PHD graduate assistant, recently attended the ...

University of South Alabama students Thanh Nguyen, Kassy Seale and Joe...

Researchers from three universities (Ben-Gurion University, University...

On September 24, 2016, for the fourth year in a row, computer science ...