DayZero Team Wins SECCDC Regional and Heads to National Collegiate Cyber Competition
---
Posted on April 10, 2017 by Aldyn Miller
Aldyn Miller
---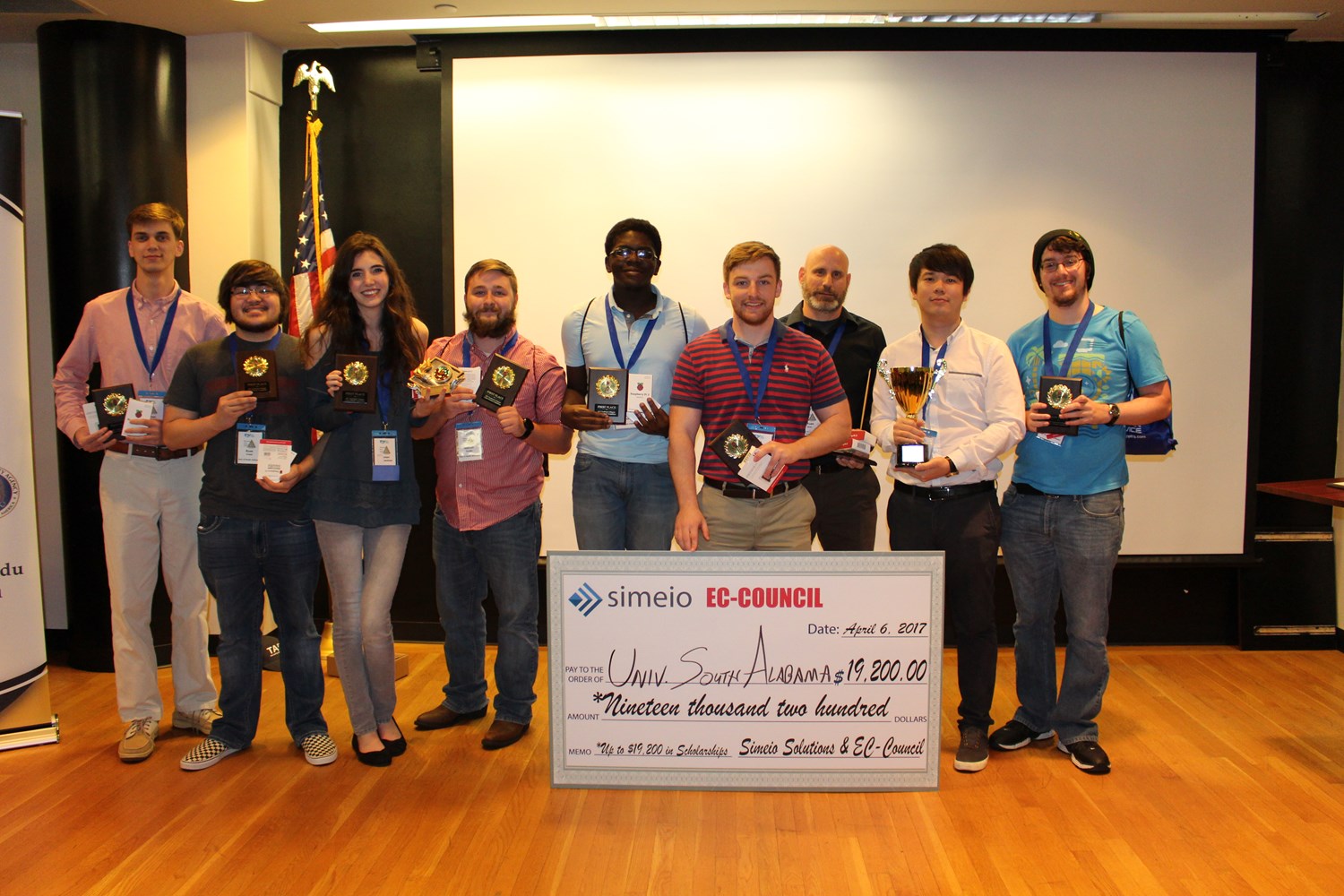 DayZero team members proudly display their award.
---
Recently, members of the DayZero cyber competition club emerged victorious at the Southeast Collegiate Cyber Defense Competition (SECCDC), which was held at Kennesaw State University on April 5th and 6th. The team earned the top spot among 8 teams from the Southeast region, which were selected from 33 universities covering Georgia, Alabama, Florida, Tennessee, South Carolina, and North Carolina. USA's DayZero team scored above several well-known teams in a very tight competition, including the University of Central Florida which has been the national champion several times. The team also won the Best in Business award among the other teams. The competition itself pits students who are managing real computer systems and networks in a corporate business environment against a red team of attackers that is trained to infiltrate those systems.
The team is now headed to the National Collegiate Cyber Defense Competition, which will be held in San Antonio, TX on 13-15 April. As winners of the regional competition, each team member received a plaque, a Raspberry PI model 3, and an all-expenses paid invitation to the national competition. As a result of the win, USA and the DayZero club also received a team trophy, a $500 check from Palo Alto, and $19,200 in training courses from EC-Council (partnered with Simeio Solutions). The DayZero advisors, Dr. Todd McDonald and Dr. Todd Andel, are extremely proud of the team's accomplishments and believe it represents the outstanding skill of our students as well as the growing maturity of the cyber security training and education opportunities offered by the School of Computing.
DayZero is a USA student organization dedicated to furthering cybersecurity knowledge and skills through participation in regional and international cyber competitions and capture the flag events. For more information about the club, see http://www.southalabama.edu/colleges/soc/dayzero.html.
USA SECCDC Team (L to R)
Nathan Herron
Ryan Creel
Tristen Higginbotham
Garrett Smith
DeMarcus Williams
Chris Patrick
Dr. Todd Andel (coach)
Thanh Nguyen
William Holder
---
---