From 'Willing Intern' to New Hire
---
Posted on June 22, 2021 by Keith Flynn
Keith Flynn
---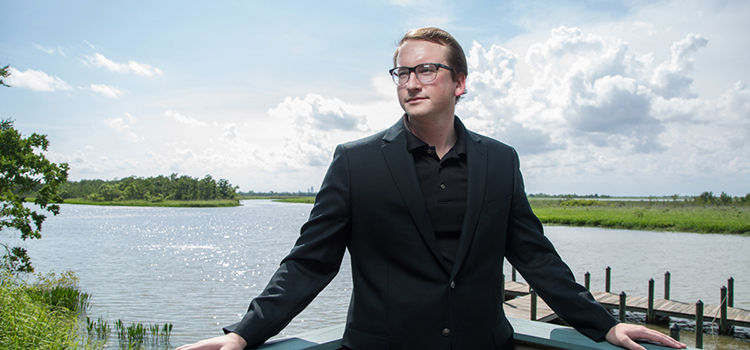 Taylor Dicker, a graduate of the University of South Alabama School of Computing, moved from an internship to full-time employment and now works from home, which he says fits his style. At his job at TruBridge, Dicker is getting a diversity of experience.
---
Before his senior year in computer science at the University of South Alabama, Taylor Dicker started an internship with TruBridge, a healthcare support company. Before graduating with a degree in information technology, he began working full-time as a system administrator.
During the coronavirus pandemic, especially, he volunteered for difficult jobs and showed versatility and grit.
"The most valuable thing I learned at South was not to be afraid to get my hands dirty in a new area," he said. "Being able to dive in and learn something new is important. I was always the willing intern. I was always the one with my hand up."
Dicker, 25, grew up in Spanish Fort and still lives on the Eastern Shore. TruBridge has an office in Mobile, but he rarely commutes. He works at home most days, starting with 8:15 a.m. Webex meetings.
In June, he and his boss made a business trip to Atlanta for the installation of new computer servers.
"I like the company, it's a growing company," he said. "Just in the time I've been here, we've grown to have equipment in data centers in Atlanta, Richmond and Santa Clara."
Dicker sometimes marvels at his smooth transition from college to internship and employment. He says it's been a good year for him. During commencement ceremonies at South, he was named outstanding undergraduate by the School of Computing.
"That was a surprising thing," he said. "I'm just a hard-working student, so I wasn't expecting any kind of recognition."
Work-life Balance
Dicker is tall — 6-foot-4 — so he built his own desk at home to create more leg room. He enjoys a relaxed work environment and nonexistent dress code. His cat, Moonlight, meows in the background of conference calls.
When he's not online, or on the phone, he's often running or working out.
"I'm a fitness guy, but not anything crazy," he said. "I just feel better when I'm doing stuff."
His father, who is about to retire, works as a lab technologist for Chevron in Pascagoula. His mother works as a medical technologist.
Growing up, Dicker made good grades in school, but didn't have many extracurricular activities. He enjoyed hanging out with friends. He was always interested in gaming and computers.
After graduating from Spanish Fort High School, he went to community college and thought about becoming a nurse. He became an overnight supervisor at Wal-Mart, unloading trucks and stocking merchandise. He worked from 9 p.m. to 8 a.m. four days a week.
"It wasn't horrible, but during that time of my life, I felt kind of like a zombie," he said. "On my days off, I'd try to reset my body clock."
In 2019, Dicker enrolled at South, taking four or five classes each semester. He got involved with Day Zero, a cybersecurity club which offers student competitions. He joined the campus chapter of ACM, the Association for Computing Machinery, and tutored classmates in coding courses.
He learned that there were always people who knew less than he did. And there were always people who knew more than he did.
While working at TruBridge, he's studying toward his Cisco networking certification.
"In this field, the learning never stops," he said. "Things change very rapidly."
Diversity of Experience
Dicker describes himself as "cheap." He's proud that he earned a college degree without going into debt. He likes the idea of managing his money.
He says the high cost of living in places like California is one of the things that would keep him from moving to a technology center. So would big-city traffic and congestion. He's more comfortable in South Alabama.
As an investment, he bought a wooded lot near Bayou La Batre that he's been clearing by hand. He goes fishing nearby when he gets a chance. Redfish and trout, mostly.
Dicker found he was able to manage the pandemic with few issues. Being able to focus on his work from home fit his style.
"As an IT major, it kind of made things easier for me," he said. "I could basically do everything from my bedroom. I didn't miss a beat, if I'm being honest. You have to be more of a self-motivator, and I always stay on top of what I need to handle. When I go into the office, I feel like I get less work done."
In Mobile, TruBridge offers business support for hundreds of healthcare organizations across the country. Dicker helps install systems, maintain servers and react to all sorts of problems. He works with other computer specialists, mostly, but also helps coach medical employees on their systems.
"I have my hand in a little of everything," he said. "The main thing is getting that diversity of experience."
---
---