Cybersecurity Technology Transfer to Practice (TTP)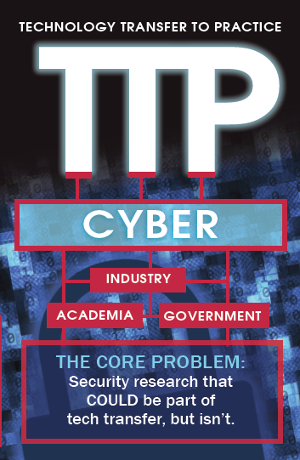 The School of Computing has a unique specialization in cybersecurity technology transfer to practice (TTP) thanks to a team of experienced investigators in the cybersecurity and startup fields, ranging from academia and government to the private sector.
Alec Yasinsac, former Professor at SoC, has 30 years' experience in computer software, application development, mainframe operating systems, and network engineering. He has published over seventy refereed workshop, conference, and journal papers on information security, and has participated as an investigator in proposals that have won over seven million dollars of competitive research funding. In addition, he has owned two small businesses.
Rebecca Gurley Bace, who passed away suddenly in March 2017, played a pivotal role in the creation of the workshops and ecosystem for Cybersecurity TTP. She served as Chief Strategist for our Center for Forensics, Information Technology, and Security, and was an internationally recognized expert in network security and intrusion detection. In addition to her work with CFITS, she was President/CEO of Infidel, Inc., a strategic consulting practice specializing in cybersecurity. She had extensive experience in both security research and venture capital arenas. You can read more about Becky's contributions to the field on both our In Memoriam page and the CSO website.
Michael Chambers, Vice President for Research Innovation at USA, has founded several successful healthcare industry startups. He was a co-author of the Commercialization portion of the Alabama Science & Technology Roadmap, commissioned by then Governor Bob Riley. He served as Chairman of the Mobile Area Chamber of Commerce in 2014. He co-founded 1702, an entrepreneurship and mentoring organization as was named "Start-Up Executive of the Year" in 2014 by Alabama LaunchPad.
An NSF-funded workshop series conducted in 2015 by SoC covered both commercial and non-profit target market offerings and included the full range of experts in critical aspects of TTP including senior academicians, entrepreneurs, financial and business experts, funding agency representatives, and legal practitioners.
With the workshop information in hand, the focus now shifts to promoting and facilitating TTP. SoC will conduct NSF-funded activities to encourage cybersecurity TTP for PIs with promising NSF-funded projects. Opportunities will include familiarization, education, mentoring, a best practices repository, and case studies.
Visit our TTP Resources page for more information.
Former Personnel
Ms. Rebecca Bace ✝
Chief Strategist CFITS