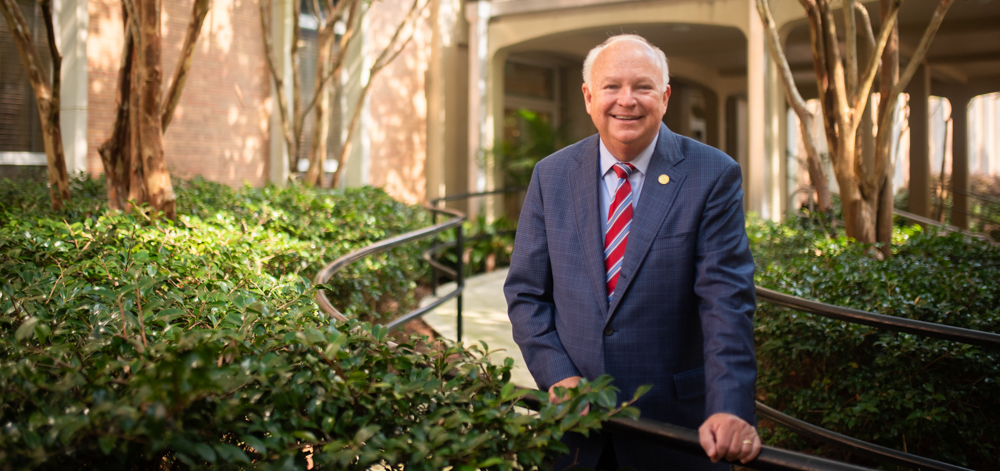 President Jo Bonner
Josiah (Jo) Robins Bonner, Jr. was selected the fourth president of the University of South Alabama in November 2021 with a commitment to establishing South as the Flagship of the Gulf Coast. Under his leadership, South has positioned itself as a top destination for a quality education and the region's fastest-growing academic medical system.
Bonner has visited with students, teachers and college counselors representing more than 100 high schools throughout Alabama and along the Mississippi Gulf Coast; he has helped tell South's story to more than 8,500 prospective students.
With a focus on engagement, Bonner initiated Jag Days, bringing high school students to campus on Jaguar Athletics buses for spirited VIP tours to see all South has to offer. His upbeat message builds on South's journey of progress and renews its promise to students and their families: A degree from the University of South Alabama is a first-class ticket to a brighter future.
Previously, Bonner served as chief of staff to Alabama Governor Kay Ivey. For more than a decade, he represented Alabama's First District in the U.S. House of Representatives, where he earned a reputation as a respected and influential voice of reason in both Alabama and Washington.
He was a member of the House Appropriations Committee and chaired the House Ethics Committee. During Bonner's time as chairman, the bi-partisan Ethics Committee always had a unanimous vote.
His crowning Congressional accomplishment came in 2012 when Airbus announced plans to build its first U.S. Final Assembly Line in Mobile. He secured a $2.8 billion contract for Austal to build 10 Littoral Combat Ships for the U.S. Navy.
President Bonner is an inductee to the Alabama Academy of Honor, the state's premiere recognition of 100 living Alabamians for their outstanding accomplishments and service. He is also a 2023 graduate of Leadership Alabama, where he serves on their board. In 2016, the Business Council of Alabama created the inaugural Congressman Jo Bonner Spirit of Leadership Award and honored Bonner as its first recipient. He also received the Distinguished Public Service Award, the highest honor the U.S. Navy bestows on a civilian, and has been named the 2023 Patriot of the Year by Mobile Bay Area Veterans Council.
President Bonner is married to the former Janée Lambert, of Mobile, and they are the parents of a daughter, Lee, and a son, Robins.