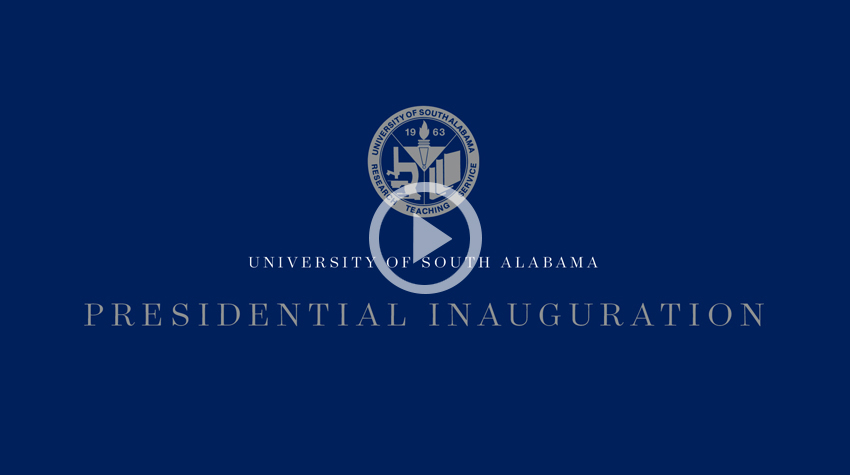 Inaugural Address
President Jo Bonner
September 23, 2022
Governor Ivey, Chancellor Hawkins and Trustee Shumock, thank you.
Your words of encouragement and support – and the service each of you provides to our state, to higher education, in general, and to this university, in particular, – are more than just reassuring. They are genuinely inspirational.
Special thanks to Father John Riggin. Thank you for bringing grace and meaning to our celebration with that moving blessing that set the right tone for our ceremony today. I also appreciate Congresswoman's Sewell's heartfelt good wishes, as well as her friendship of many years. Chairwoman Mitchell, thank you for your steadfast leadership.
It is a special privilege to add my personal welcome to the distinguished guests – elected leaders from throughout the region and state, academic colleagues and their representatives from other institutions, as well as so many friends from the different chapters of our life.
At the top of that list are some of the more than 90,000 alumni who serve as a daily reminder of South's promise. Welcome Home!
Janée and I realize – as you all do – that this is not just a celebration of having a new president – instead, it is a celebration of all things USA, of those who came before us and of the significant contributions and lasting impact this University has had – and will have – on our region, state and nation for years and decades to come.
While gratitude is being extended, please join me in thanking the University of South Alabama Wind Ensemble and our University Chorale.
To our Board of Trustees, our outstanding faculty, devoted staff, incredible students, proud alumni and members of the USA Foundation, I am grateful for your support, and wiser because of your counsel. Thank you all for being here on this most special of days.
I am also extremely fortunate to have the love and partnership of my amazing wife, Janée, and I'm so very glad that many of you have gotten to know her and have welcomed her, as you have me, to the University of South Alabama family.
In a moment, I'm going to ask Janée to stand and be recognized. And I'd like to introduce you to some other members of our family: our son, Robins, daughter Lee, and her fiancé and our future son-in-law, Andrew Friedman. I'm also proud to have my sister, Judy – the first President Bonner in our family – join us today; my brother Jim and his wife, Judy, send their regrets.
Will my family please stand?
In case anyone is trying to keep count, that's Jo, Janee, Jennifer Lee, Josiah Robins, III, Jim, two Judy's, plus my mother, Jean and father, Jo Sr. Even my mother-in-law, Janet, and father-in-law, Jim. We've been getting our J's up in our family for a long time!
What a great day to be on the campus of the University of South Alabama. What a great time to be a South Alabama Jaguar. Can I get a Go Jags?
Nearly 60 years ago, Dr. Frederick P. Whiddon stood in front of the only building that existed on this campus, the one that now bears his name, and dedicated the University of South Alabama. At age 33, he was the youngest University president in America.
It was the culmination of years of hard work and determination by Mobile's leaders. Leaders who wanted more. Who were certain they could do more. Who were ready to take that next, big step to guarantee more.
Until then, the best Mobile had – as far as presence from a public, 4-year university – was the Mobile Center, an extension of the University of Alabama. There were no opportunities for our residents to earn a four-year public degree without going elsewhere.
That simply wasn't good enough.
So they laid a permanent foundation for the University of South Alabama at 307 North University Boulevard.
This was a mission Mobile was ready for – to build a campus, literally from the ground up, that would prove to be of vital importance to the people of Alabama and the Gulf Coast.
The plan was ambitious. It was bold. It took commitment. And – look around – it worked.
Time and again, the University of South Alabama and our supporters have committed to ambitious and bold ideas.
A College of Medicine in 1969. Becoming a charter member of the Sun Belt Conference in 1976.
The birth of Children's & Women's Hospital in 1983, followed by the establishment of the USA Baldwin County campus.
Two comprehensive fundraising campaigns that supported scholarships, research and facilities.
The growth of our academic portfolio, and the creation of an Honors College.
The Mitchell Cancer Institute. MacQueen Alumni Center. Football. Hancock Whitney Stadium.
The decades-long transformation of the University from a proud, local college to a comprehensive, residential research institution that attracts students from throughout the United States and around the world.
Don't forget these numbers 67 – 50 – 63, because your University of South Alabama welcomes students from all 67 Alabama counties, all 50 states and, this year alone, 63 different countries.
Here are a few other numbers that are pretty impressive:
South Alabama has graduated 14 Goldwater Scholars, one of America's preeminent undergraduate awards in the field of natural sciences, engineering and mathematics. Ten of those awards came in the last 10 years.
We've invested more than $400 million in new or remodeled buildings in the last 15 years on this campus alone.
And when it comes to grants and awards, South consistently has reached $100 million annually.
Ladies and gentlemen, this is where we are as I stand before you, humbled to have been selected by our Board of Trustees as the University's fourth president, and heartened by the support of the entire University community. Thank you.
Today, together, we continue South's journey of progress and promise – advancements made possible because of the presidents who came before me – Dr. Whiddon, Gordon Moulton, and Dr. Tony Waldrop – and because of our outstanding faculty, staff, students and alumni.
I am especially proud that Dr. John Smith, who served as interim president not once, but twice, is with us today, along with his wife, Jeanne, as well as members of the Whiddon family and our forever First Lady, Geri Moulton.
When Janée and I first arrived on campus, I made our Board of Trustees and the University community a promise, and that is to learn from you, to hear your ideas and to join with you in building a relationship that is based on mutual respect and shared goals. I pledged to listen, to learn and to lead.
As such, I've spent these first 10 months getting to know you and our University. You've invited me into your classrooms, and to dine with you at the Student Center, and to tour the halls of our hospitals.
I've seen what's possible when we work together to fulfill our mission of making a difference in the lives of those we serve through promoting discovery, health and learning.
I've watched in amazement as one of our College of Engineering satellites was shot into space, to begin gathering data more than 227 miles above earth.
I've witnessed our healthcare providers make miracles happen at USA Health. From the grandfather taken to our emergency department struggling to breath, to the mom fighting breast cancer at the Mitchell Cancer Institute, to the tiniest baby in Children's & Women's NICU, so many patients are given a real chance at survival – and to live a better life – thanks to our incredible healthcare providers and their support teams.
I've looked out on the floor of this Mitchell Center, and up to the rafters as well, and seen some of the biggest smiles as students walked up during Commencement to fulfill a lifelong dream for so many families. I am reminded each day that our students – many the first in their families go to college – are what give life to this campus, and that our faculty and staff help them earn their degree, a first-class ticket to a brighter future.
I've seen and felt the love, pride and support of our alumni, through their generous gifts, their loyal presence at our athletic events, and their dedicated service on our boards. Just last weekend, while supporting our Jaguars out in Los Angeles, I actually met our third graduate. Not someone in the third class of graduates, but the third person to actually receive a degree from this University. And she was beaming with pride over how far we've come and, more importantly, how ambitious our goals are for the future.
Through all this, over the last 10 months, it's hard to not acknowledge something special: there is a renewed energy and excitement on our campus and a new-found focus on looking forward with confidence.
We cannot ignore that the last few years have been difficult. We all recognize that the global pandemic has taken a toll on many of us. It locked us in our homes, disrupted our way of life and made it much more difficult to teach and retain students.
Yet, our campus is bustling again – like it has not in quite some time. It has been particularly noticeable in recent weeks with fall semester underway. Active classrooms. A busy Student Center. The sound of the Jaguar Marching Band.
One of my favorite moments each week is driving across campus with SGA President Camille Bonura in the Presidential Golf Cart. It's a new tradition we started – picking up students and taking them to class. You just have to show your J.
The energy on campus is undeniable. If you attended this year's Convocation, or the first football game, or just arrived today, you know what I'm talking about.
And in hundreds of conversations with our students, faculty, staff and alumni, it is clear – just as it was among early supporters of this great University – that we want more, we are certain we can do more and we are ready to take that next big step.
The University of South Alabama is poised and ready to become the Flagship of the Gulf Coast.
I realize this sounds ambitious. Our plans will, once again, require us to be bold. They will take commitment. But being bold and determined is in our DNA.
And the fact is, America's Gulf Coast – one of the fastest growing areas of the country – needs and deserves a Flagship University.
The University of South Alabama will be the leading academic institution and healthcare provider throughout our region.
We will do this through supporting student access and success; graduate education; research, discovery and creative works; university-community engagement; and excellence in healthcare.
Through renewing our commitment to what is working, and accepting when it is time to move beyond what is not.
Through shared governance, but also shared responsibility and accountability.
As the Flagship of the Gulf Coast, we will be student-minded and student-focused in all our actions. We will aggressively recruit the best and brightest students, and we will never abdicate our responsibility to those earning a degree later in life or to our first-gen students who change the trajectory of their lives, and those of future generations, through a South Alabama degree.
In our deeds and actions, we will ensure that all are welcome at the University of South Alabama and that for everyone, this is a place that feels like home.
As a reflection of our commitment to diversity, equity and inclusion, we recently opened the new Multicultural Leadership Center at the site of the old Alumni Hall.
In addition, I'm pleased to announce Dr. Joél Lewis Billingsley, who has served as our Interim Chief DEI Officer, has agreed to serve in the elevated role of Vice President of Diversity and Community Engagement. I've gotten to know Dr. Billingsley well during the past few months. She's a Mobile native, an incredibly respected academician and she loves this University with all her heart.
When it comes to new student recruitment, we're already making inroads. This fall, we enrolled our most academically talented freshmen class ever. And we're moving additional resources to market to students all along the Gulf Coast.
We're expanding our Start South and our Pathway USA programs, which streamline the process for high school students and those at community colleges to become Jaguars.
And earlier this month, we began using our two new athletics buses to pick up students from area high schools and bring them back to campus for a VIP tour. We have, as you know, so much to offer.
For our current students, we're rolling out initiatives focused on student engagement and academic success to help ensure timely graduation.
Labor Department statistics show that workers with a bachelor's degree make nearly 50 percent more than those who started college but didn't finish. And it's hard to get ahead when you're paying for a college education without a college degree.
So, we're offering more scholarships to our incoming students, and we're helping our students in the final stretch as well. It's a solid investment.
This fall, for the first time, we've launched our second-year experience program, a retention initiative focused on students through their second year and into their third. And we've revived a bridge program for incoming freshman to ease the transition from high school to college.
This is just some of what we're doing, and there is more to come. With the help of Dr. Andi Kent, our provost and executive vice president, I have appointed a committee to take on an ambitious but critical task of proposing a Strategic Enrollment and Retention Plan for our University
Let me be clear: We are committed to growing our enrollment, and students must be given the support they need and every possible chance at success. If not, we will have failed them, and failure is not an option.
As the Flagship of the Gulf Coast, we will make sure we're offering programs to meet market needs – whether it's an undergraduate degree, graduate degree or certification. We're awaiting state approval for a doctorate in occupational therapy, for instance, and are exploring another in exercise science.
Just this fall, we began two undergraduate programs in the new School of Marine and Environmental Sciences under the leadership of Dr. Sean Powers. We were hoping for 20 students; not surprisingly, nearly 40 enrolled. After all, who doesn't want to take classes at the beach with world renowned faculty?
As the Flagship of the Gulf Coast, we will invest in our people – our faculty and staff. The last several months have presented a challenging economic environment for both our University and our employees.
To offer some relief, we responded with an early 3 percent raise for this fiscal year and an additional 2 percent supplement. We also were able to implement various salary adjustments earlier this year.
I understand that our compensation strategy must be long-term in order to continue to attract new employees and keep those who have invested themselves and their careers here at South.
Thanks to Governor Ivey's support, and the support of our Legislature, state appropriations for higher education have been strong. Yet, state appropriations – and fundraising alone – will not keep us competitive. Growing our student enrollment will be critical to sustained efforts to properly compensate our employees.
We have a plan, and we are going to be successful.
I'm incredibly proud of the work our administration has done with the Faculty Senate since my arrival. I offer a special thanks to Dr. Delaware Arif, president of the Faculty Senate, Immediate Past President Beth Sheppard, and the rest of the executive committee for your guidance and patience as I began my new role.
As the Flagship of the Gulf Coast, we will continue to have state-of-the-art facilities to attract students, conduct research and treat patients.
From the new Mapp Family Campus on the Eastern Shore and the Strada Patient Care Center in Midtown, to our main campus facilities – Shelby Hall, Health Sciences, Hancock Whitney, and the Student Rec Center, just to name a few – we're going to make sure our welcome mat is out for everyone.
I often hear from students about our beautiful campus and about the quality of our residence halls. Creating this environment and investing in this infrastructure has taken years of work, and we're not going to let up.
In fact, thanks to the generous donation of an anonymous donor, today I can say we are in the well on our way to bringing our campus a brand new Performing Arts Hall.
We need an upgraded facility for our musicians to perform and for our community to gather. The Mitchell Center is a wonderful building for cheering on the Jags or watching a large concert, but we need a venue for mid-size events. I think you can see the need today.
I'm also fully committed to bringing all of our classrooms and colleges on main campus to this side of University Boulevard.
Obviously, we will need to raise money for all new buildings – and this won't come by increasing tuition, rather by increasing enrollment.
As the Flagship of the Gulf Coast, we will continue to connect with our communities and our alumni. Since January, I've spent a considerable amount of time engaging with civic clubs, speaking at high schools and meeting with elected officials. I can tell you this: There is a tremendous amount of interest and excitement in what's happening at South, and it's no wonder.
South is the most popular choice for students in Mobile and Baldwin counties, more than half of our graduates stay in Alabama after they graduate, and still others find jobs nearby in Mississippi and Florida. Our alumni teach our children, design our bridges, heal our sick and fill our boardrooms.
And if you graduated from another college, that's fine, too. No matter what jersey you have in your closet, everyone loves the red, white and blue.
Finally, as the Flagship of the Gulf Coast and as a university with the only academic health center in our region, we will transform medicine to the unique needs of our community while educating and training the next generation of providers.
The early plans for our University, with a push for a medical school within the first decade, were truly visionary.
The evolution to what we now know as USA Health – with the added creation of Colleges of Nursing and Allied Health, and the connected research – separates South Alabama from most of our peers. Consider this: Half the degrees we awarded last year were healthcare related, and in the last 20 years, healthcare research has been responsible for bringing in more than a half a billion dollars in external funding.
We will continue to grow. In addition to our expanding USA Health footprint – including enhancements at University Hospital and Children's & Women's Hospital – we are educating more physicians to serve our region. This year the University admitted 80 medical students, up from 75, and when the new Whiddon College of Medicine building opens in 2026, we plan to increase to a class of 100.
Thanks to Governor Ivey, Senator Shelby and the USA Foundation, we're well on our way to funding this capital project, which is allowing us to take the step I'm pleased to tell you about today: The Whiddon College of Medicine will be located in a new, state-of-the-art building, not a renovation and addition as had been planned.
It will be constructed at the site of Alpha Hall, join the Health Sciences Building and Simulation Lab as an anchor for our academic healthcare offerings, and give our medical students, faculty and researchers the instruction and lab space that matches the high quality of their education and research.
My friends, when I look out on this group gathered today, I am beyond humbled. I am grateful for the support, not just for me, but much more importantly, for this special place that feels like home.
Let us continue to carry that love and pride forward as we embark on this journey together.
Let us be ambitious. Let us be bold. Let us move forward, together, as the Flagship of the Gulf Coast.
Thank you again, and Go Jags!