Mahan Lecture: Untold Stories of the Enslaved
---
Posted on March 8, 2017
Joy Washington
---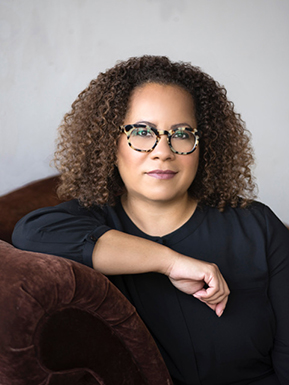 Dr. Erica Armstrong Dunbar As a young girl, Dr. Erica Armstrong Dunbar discovered she loves a good story. Today, she is considered one of the leading historians of her generation on the history of African-American women in 18th and 19th century America. For this year's Mahan Lecture at the University of South Alabama, she will speak on "The Founding of a Nation Through the Eyes of the Enslaved: The Life of Ona Judge," at 7 p.m., March 13, at the Laidlaw Performing Arts Center Recital Hall. The event is free and open to the public.
Dunbar, the Charles and Mary Beard Professor of History at Rutgers University, will share and discuss details from her latest book, "Never Caught: The Washingtons' Relentless Pursuit of Their Runaway Slave, Ona Judge."
"I have always loved reading. It gave me the opportunity to go places in my mind as a child. While in college, I was exposed to African-American history for the first time," Dunbar said. "I am a historian because I want to learn and translate history in order to improve the present and future. This story of Ona Judge reminds us there's always a chance to improve one's life."
Dunbar wanted to specifically tell the stories of black women in the urban north. While she was conducting research in graduate school, she came across a 1796 advertisement in a newspaper where President George Washington and his wife, Martha, were seeking to have their runaway slave, Ona Judge, returned. Judge risked her life, but remained free with the help of other free blacks and abolitionists.
"Dr. Dunbar is one of the premier scholars of her generation. 'Never Caught' is a testament to this. For far too long, enslaved African and African-American women have not been the focus of slavery scholarship until more recently," Dr. Martha Jane Brazy, associate professor of history at South, explained. "Some of the most exciting scholarship in this field is that which illuminates the lives of enslaved women and Dr. Dunbar's book leads the way while also shedding new light on the rhetoric of liberty and the reality of enslavement in early America."
Dunbar earned her bachelor's degree from the University of Pennsylvania, where she majored in history and African-American Studies, and her Ph.D. in American history from Columbia University. She has written numerous books, articles, op-ed pieces and monographs. "Never Caught" was named as a non-fiction finalist for the National Book Award.
Dunbar is noted for making history in 2011 by becoming the inaugural director of the Program in African-American History at the Library Company of Philadelphia, the nation's first library and one of its oldest cultural institutions.
"I wanted to change the outlook of American history and add a more diverse viewpoint," Dunbar noted. "I believe scholarship can drive social movements."
USA's Mahan Lecture is named after Dr. Howard F. Mahan, the founder of the department of history in the College of Arts and Sciences. With the generous support of the University of South Alabama Foundation, the department of history has established an annual lecture in honor of Professor Mahan's enduring contributions to his students, colleagues, community and state.
---