They Met Through Chopin, Now Played on Steinway
---
Posted on March 16, 2020
Thomas Becnel
---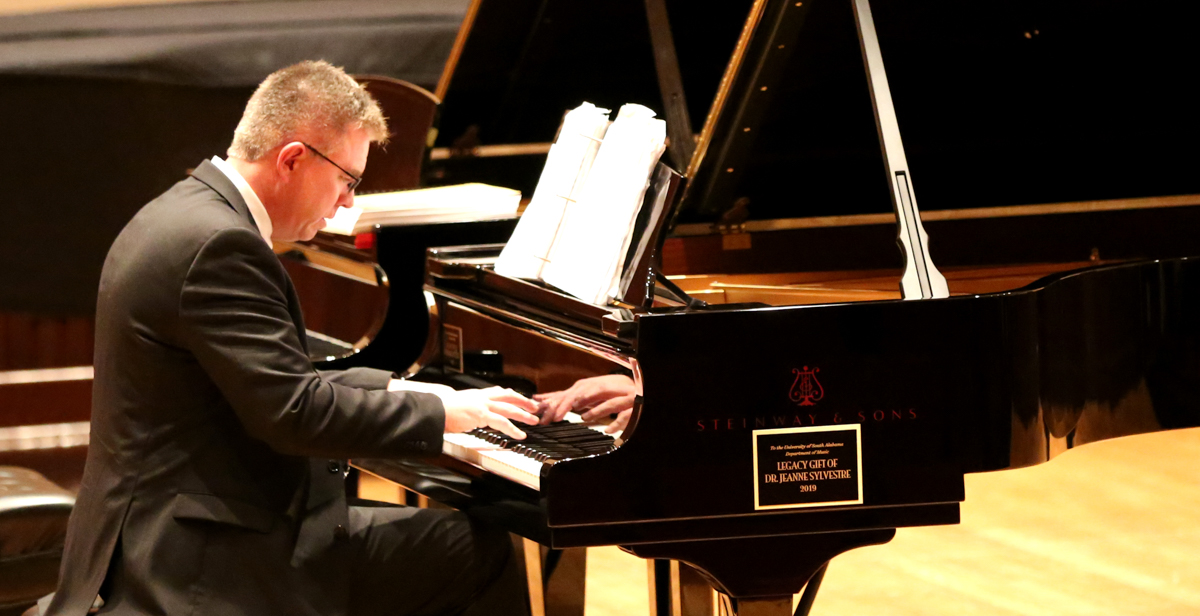 Dr. Robert Holm, professor of music at the University of South Alabama, plays on a Steinway recently donated to the department of music through a legacy gift by Dr. Jeanne Sylvestre, an emeritus professor of accounting.
---
Dr. Jeanne Sylvestre met Dr. Robert Holm through the music of Frédéric Chopin. A pianist and music professor at the University of South Alabama, Holm chose an all-Chopin program for a concert that recently honored Sylvestre's legacy gift to the University. The concert was held Wednesday at USA's Laidlaw Performing Arts Center.
Sylvestre, an emeritus professor of accounting at South, who died in 2018, was a music lover and admired the Polish composer.
"Dr. Sylvestre's service and dedicated work on the USA Foundation Board led her to provide this gift, which was recognized at the concert," said USA Foundation President John McMillan. "The Foundation Board is honored to carry out the vision and legacy of the Sylvestre family. The artistry of Dr. Holm at the concert fulfilled for all of us Dr. Sylvestre's love of music and support of the University."
Sylvestre and her sister, Dr. Diane Sylvestre, both accomplished pianists, and their brother, Lawrence Minto Sylvestre, believed in the uplifting spirit of music. This love of music led Jeanne Sylvestre to provide a gift through the USA Foundation of a Steinway piano, as part of the University music department's All-Steinway Initiative. Sylvestre was preceded in death by her brother, Lawrence, and her sister, Diane, who taught mathematics and statistics at South for 17 years.
"Whenever I played Chopin, Dr. Sylvestre would sit in the chair right next to me," Holm said. "And she'd say, 'When I was a young woman, I used to play Chopin.'"
The two talked about the composer several times, with Holm trying to guess the piece she had played. At one point, Sylvestre said it was an etude. Eventually, Holm decided it must have been Chopin's Opus 25, No. 1.
"It's known as the Aeolian harp etude," he said. "It's a very beautiful piece, and I could see someone at a high-intermediate level playing it. So I went with that one."
Holm told this story during the recital and played the etude on the new Steinway piano.
Sylvestre also provided a legacy gift to the USA Foundation that has endowed chairs in music, accounting, chemistry and computer science at the University and will provide a fund to support graduate education.
Sylvestre was born in Belize, the former British Honduras, and spoke with a British accent. She earned bachelor's and master's degrees in accounting from the University of South Alabama.
After getting a Ph.D. at the University of Georgia, she returned to Mobile and taught at South.
Later, Sylvestre became chair for the department of accounting in the Mitchell College of Business. In 2013, the Faculty Senate named Sylvestre one of 50 outstanding faculty members of the University's first 50 years.
Earlier this year, Holm and his wife traveled to the Steinway factory in Queens, N.Y., to select a 7-foot-long Model B piano, with a list price over $100,000. He got to choose from five pianos displayed in the selection room.
"I narrowed it down to two pretty quickly," he said. "I always play something slow, like
Beethoven's 'Pathetique.' This one, the one I chose, it has the color I like. It's warm and clear. And it has a great ability to sustain."
Since the concert, the new Steinway stands in Holm's office studio next to his old Steinway piano, which was built in 1923.
Dr. Laura Moore, chair for the department of music, said her faculty would like all of the pianos in the department to be Steinway models.
"Steinway is kind of the name in pianos," she said. "If you can tell students we're an all-Steinway school, there's a certain cachet to that."
---
The department of music at the University of South Alabama offers educational and creative opportunities for musicians and music educators. Propelled by an increasing music student population, a newly created graduate degree program and a highly-active concert series featuring accomplished soloists and diverse ensembles, the department continually embraces new artistic experiences that balance the rich history of music with emerging music of the 21st century. Providing opportunities for lifelong learners within our community, the department is an important asset to the University of South Alabama and a valuable resource for the entire Gulf Coast. For more information, visit southalabama.edu/colleges/music. To make a donation to the USA All-Steinway Initiative, contact Anna Parks, Development Officer, at aparks@southalabama.edu or (251) 460-7676, or give online at giving.southalabama.edu/steinway.
---