Helping Students Reach Their Math Potential
---
Posted on March 21, 2016
Joy Washington
---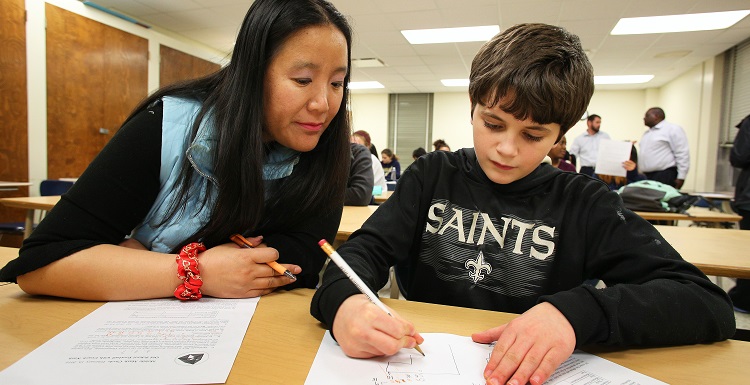 Min Zhu, a University of South Alabama student pursuing her master's degree in math education, helps 8th-grader Ian Robertson of Mobile problem solve during a weekly Math Circle session at South.
---
It's about 7 p.m., and 30 middle and high school students from Mobile and surrounding communities are arriving on a Monday at the University of South Alabama's Instructional Laboratory Building to attend the free Math Circle. There are refreshments and eager students ready to learn despite a full day of attending school.
The weekly Math Circle, an outreach effort designed to offer enrichment outside the typical secondary education curriculum, is held through each fall and spring semester at South Alabama. It's coordinated and managed by Drs. Vasiliy Prokhorov, Cornelius Pillen and Scott Carter, professors in the department of mathematics and statistics in the College of Arts and Sciences. They also work with several graduate student assistants like Min Zhu, a native of Nanjing, China, who's pursuing her master's degree in math education, and Anthony Thames, who received his master's degree in secondary math education in the College of Education at the 2015 spring commencement. Thames is currently serving as an adjunct professor in the department of mathematics and statistics at South.
During the Math Circle session, the students are broken up into groups of two to solve specific math problems with the guidance of the faculty and graduate students. Students also receive one-on-one assistance when needed.
Zhu, a College of Education Noyce Teachers Scholarship Program recipient, is excited to work with the students who attend Math Circle.
"Our students are very gifted," Zhu said. "We are just tour guides for their big adventure in the 'math magic kingdom.' They surprise me every week with their own way of problem solving. As an aspiring math teacher, I have discovered that the Math Circle has no limits."
Thames said it's been rewarding to help middle and high school students press forward and reach their math potential.
"Many students who excel in STEM fields, which are science, technology, engineering and math, may not be in an environment that can help cultivate that talent," Thames noted. "However, with the Math Circle, those students have an opportunity to be challenged and have fun while learning math concepts. We must help those with the talent and drive for math to achieve the goals they set for themselves."
Math Circles are a tradition that started in Hungary more than a century ago and continues to grow stronger worldwide each year. Prokhorov helped develop the Math Circle session at South in 2000. It started as a pilot program held at the Alabama School of Mathematics and Science in Mobile and then was transferred to the South Alabama campus.
"We wanted to create a fun and educational environment for students who love math and wanted to learn more," said Prokhorov. "We received our first $5,000 grant from the Alabama Science Grant Consortium in 2000. And the Math Circle continues to be sponsored by the department of mathematics and statistics at South Alabama."
Since the Math Circle was started at South, it has grown in size and diversity, including more female, African American, Asian and Hispanic students.
"We are pleased to see a more diverse group of students," Pillen said. "It's important our program benefit all students. We encourage an atmosphere of discovery, fun and excitement about mathematics."
The Math Circle provides tutoring and enrichment activities, focusing on helping students improve their critical thinking and problem-solving skills, while also introducing them to more advanced math concepts.
"The Math Circle not only helps the middle and high school students, but it also helps our South students, by giving them a real-world experience in the classroom while they are pursuing their degree," Carter said. "We want our students at South to help middle and high school students think both logically and creatively."
Zhu, who volunteers with local non-profit organizations, understands her role of giving back. She hopes to carry over what she's learning as a graduate student into her classroom one day.
"I want to see my future students enjoy math, and I plan on making it fun and express to them the importance of joining a Math Circle," she said. "My goal is to be a 'star teacher' for my students."
Thames, who also serves and supports his community as a member of Omega Psi Phi Fraternity Inc., wants to not only help students as a future math teacher, he wants to share what he's learned with kids who may not know they could be good math students.
"What I have learned the most is that we as math scholars have a responsibility to help students that show talent in math," Thames said. "We want them to mature as math students. My experiences at South have already afforded me the opportunity to help young students achieve their goals. And now, I am better prepared for my future career as a math educator."
And what does Mobile's Ian Robertson, an 8th-grade homeschooled student, think about South Alabama's Math Circle?
"The Math Circle at South has been very interesting," he said. "I have learned a lot about logic and how to relate math to the real world."
New students are welcome to join the South Alabama Math Circle. For more information or to register for the sessions, call (251) 460-7293 or e-mail Dr. Cornelius Pillen at pillen@southalabama.edu.
---