New Student Government Leaders Elected
---
Posted on April 6, 2018
Joy Washington
---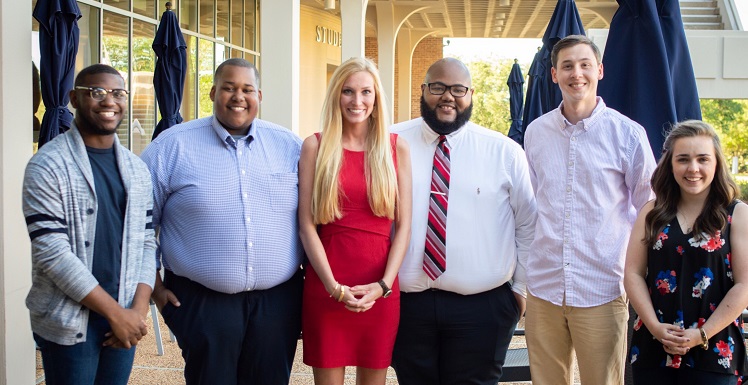 South recently elected next year's Student Government Association officers. They are, from left, Jordan Griffin, chief justice; Shaun Holloway, vice president; Grace Newcombe, president; Broderick Morrissette, attorney general; Caleb Santa Cruz, treasurer; and Breanna Healy, student at large.
---
Students recently gathered at the University of South Alabama Amphitheater to hear the final results of South's Student Government Association 2018-2019 election for new leadership.
After two days of voting, the results have been announced and Grace Newcombe, 21, a junior political science major from Huntsville, Ala., has been elected president along with her executive officers.
"I am excited to be elected as the next president of South's SGA," Newcombe said . "I am looking forward to working on behalf of the students."
Newcombe is a graduate of Madison County High School. Since studying at South Alabama, Newcombe has been an active member of South's SGA, Phi Mu Sorority, Political Science Club, College Republicans, Mortar Board and the National Society of Collegiate Scholars. She has been named to the President's and Dean's lists. She is the daughter of Howard and Rhonda Newcombe.
Other officers are:
SGA officers protect and advance students' interests as well as promote the welfare of the student body. The organization operates as a constitutional democracy and is comprised of executive, judicial and legislative branches. The new leaders officially take office after South's spring commencement on May 5.
For more information about the USA Student Government Association, call (251) 460-7191.
---