Spanish, International Business Major 'Exceeded All Expectations'
---
Posted on May 9, 2020
Thomas Becnel
---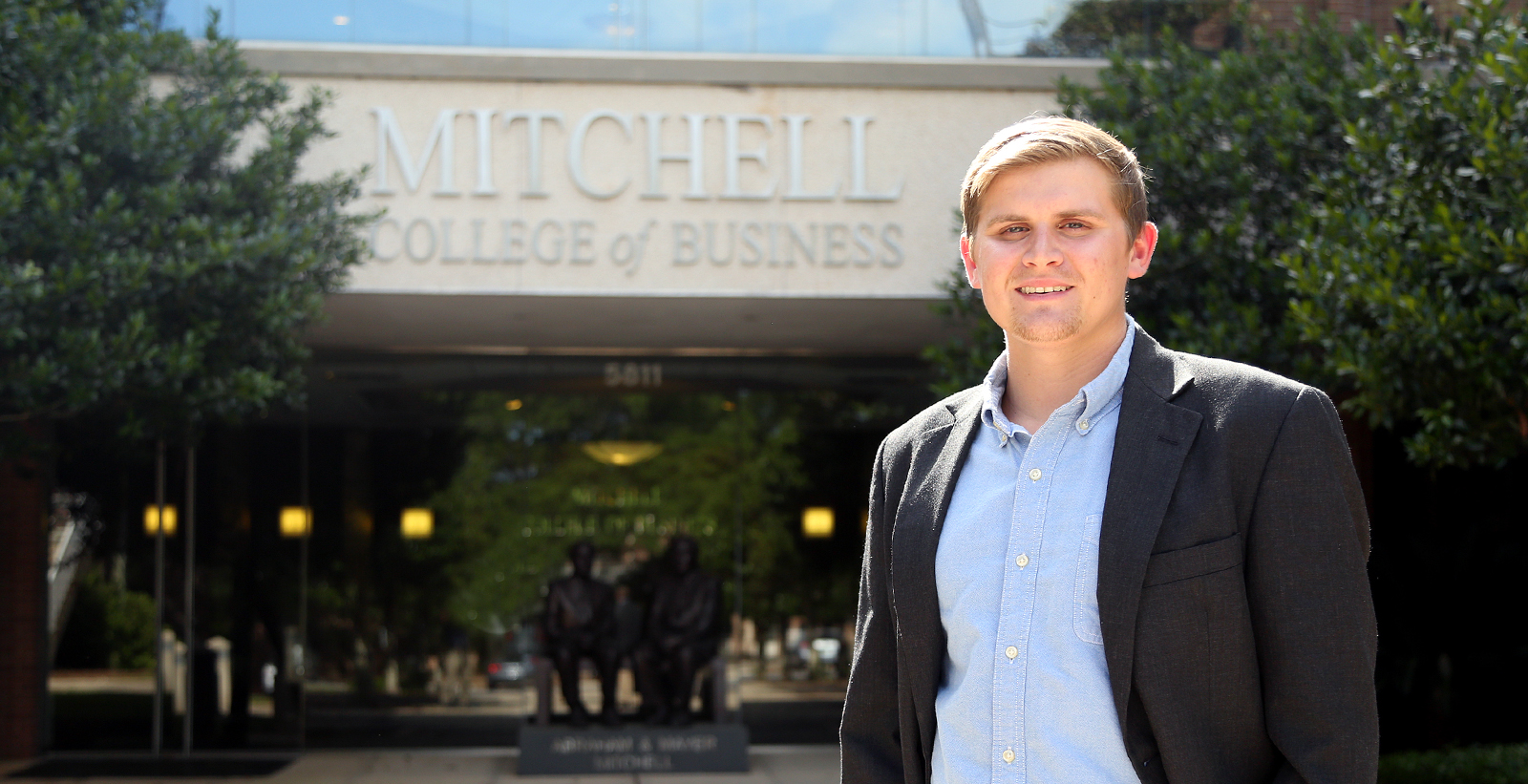 Jack Stover, a summer graduate completing a double major in international business and Spanish, has kept an active schedule during his time at the University of South Alabama. "My extracurricular activities have been just as important to me as my academic work," he says.
---
When Jack Stover wasn't busy with a double-major of international business and Spanish, he served as president of his University of South Alabama fraternity while also completing corporate internships in Mobile and study programs in Spain, France and Indonesia.
Things could have been even more hectic for the summer 2020 graduate, but Stover learned something during his first year at the University of South Alabama.
There weren't enough hours in the day to do everything he wanted to do. His strengths were energy and ambition. He needed a little patience and perspective.
"You've got to have some time to decompress and free yourself," Stover said. "You have to be able to say 'no' sometimes. I started to distance myself, turn down positions and concentrate on my classes in the Mitchell College of Business."
Dr. Bob Wood, dean of the College of Business, remembers when Stover was a high school student applying to become a Mitchell Scholar.
"I expected big things of him from the beginning, but he's exceeded all expectations," Wood said. "He's taken every opportunity offered to him, and made plenty of opportunities on his own. He's done it all here."
At South, Stover became a Mitchell Ambassador. He did internships with Airbus and Austal USA. He became the first student from Alabama to receive a fellowship for a summer program run by the United States-Indonesia Society.
Stover still has two classes left at South that he will finish this summer, but he's already started working part-time at Navy Federal Credit Union. He's part of a human resources team that finds talent for hard-to-fill roles within the company. Later this year, he hopes to live and work in Pensacola.
He eventually would like a career in international business. Next year, he plans to take the Foreign Service Officer Test. Someday, he might join the State Department.
"That's my ultimate goal," he said. "I'd love to work abroad in international policy."
Stover comes from Rainbow City, Ala., near Gadsden in north Alabama, where his mother still lives. His father is an attorney who now works in Fairhope.
"He instilled a work ethic in me," he said. "'Never stop achieving' is what I always heard."
At South, Stover finds time for Greek life and getting outdoors. There are no mountains near Mobile, but he walks downtown and hikes in state parks. He often visits New Orleans, home to his favorite rock group, the Revivalists.
"I've seen them 13 times," he said, "including the last three New Year's Eves."
Stover's favorite classes at South have included introduction to international business, taught by Dr. Alex Sharland, a marketing professor, during his first year. Later on, Dr. Zoya Khan, an associate professor of Spanish, convinced him to upgrade his minor in foreign language to a double-major.
For a senior thesis, Stover compared and contrasted the novels of Ernest Hemingway, who often wrote about Spain, and the poetry of Federico Garcia Lorca, who spent time in the United States.
"It was kind of Spain through American eyes," he said, "and America through Spanish eyes."
At South, Stover worked at the Center for Real Estate and Economic Development, led by Dr. Reid Cummings, an assistant professor of finance. He belongs to Beta Gamma Sigma, the international business honor society, and Phi Sigma Iota, the foreign language honor society.
Serving in student government, then leading Kappa Sigma fraternity, offered a different kind of education.
"My extracurricular activities have been just as important to me as my academic work," he said. "Just building soft skills. How to become an effective leader. How to become an effective communicator. I can hold a conversation with a 70-year-old alumnus just as easily as a 22-year-old buddy."
Stover enjoys contacts in the worlds of academia, business and politics. He belongs to crisscrossed networks of friends and colleagues, students and professors, mentors and advisors.
"I have too many contacts," he joked. "Sometimes I have trouble staying in touch with everyone."
What's funny to Stover, now, is the fact that he almost went to college in Florida. He had turned down a scholarship offer from South, then changed his mind and called to ask if he could reconsider.
He could. He did. He found great success in Mobile.
"It was a wild ride," Stover said, "but now that it's all said and done, I had the best possible college experience."
---