A Passion to Serve
---
Posted on May 26, 2021
Lance Crawford
---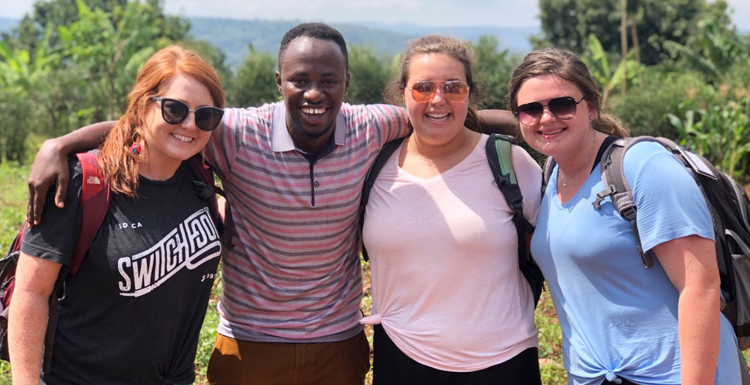 From L-R; Haley Borin, Tuyishimire Neza David, University of South Alabama students Mason Redmond and Catie Martin on a church mission in Gahara, Rwanda in June 2019.
---
Volunteering comes naturally to Catie Martin, a recent graduate of the University of South Alabama. She's been doing it for most of her life.
"I grew up in a community and family that taught me that if you have the ability to help someone else then you should do it," said Martin a psychology, speech and hearing major who graduated in the spring.
As a freshman at South, Martin said her sorority put a great emphasis on volunteering. Then in the fall of 2018, the USA Office of Community Engagement launched South Serves, a web-based volunteering and service-learning platform that links the USA campus family with hundreds of organizations across the region. Getting involved with South Serves allowed Catie to expand her ability to serve.
"South Serves is such a great way to see all of the volunteering opportunities in the area," she said.
Martin logged more than 290 hours of community service, including in Gahara, Rwanda, a village where she spent 10 days on a church mission. She is one of 12 seniors who logged at least 100 hours through South Serves.
In the past year, though COVID-19, introduced challenges, nearly 650 South students put in volunteer hours through South Serves.
The seniors who put in more than 100 hours are Martin, Kajal Patel, a biomedical science major; Aly Nguyen, biomedical sciences; Emily Cleveland, biomedical sciences; Tia Nickens, secondary education; Mary Hunter Davis, biology; Tori Barranco, communications; Julia Deakle, speech and hearing; Julia Marion, biology; Giulianna Escobar, biology; Logan Etheridge, accounting; and Lindy Pilkington, psychology.
"The hours milestone that we acknowledged for our seniors is reflective of our students' engagement with and investment in our community, said Laurie Childers, volunteer coordinator in South's Office of Community Engagement. "Our students are using their time and talents to collaborate with organizational partners and to positively impact fellow community members."
On occasion, students may be directed to a particular opportunity because of a class or a student organization they are involved with, but for the most part how and when students volunteer is up to them. They enter their hours into the South Serves portal, and those hours are verified by the hosting nonprofit or community agency, campus department or student organization.
Lindy Pilkington compiled more than 295 hours before graduation, serving as a tutor for children at St. Mary's Home and as a peer mentor for PASSAGE USA, a two-year University program for young adults with learning disabilities Both experiences were rewarding and helped her learn patience, she said.
In February 2020, she answered a need for rape crisis advocates through Lifelines Counseling Services and has been volunteering monthly with them since.
"I am fortunate to have the opportunity to see people in some of their most vulnerable states and to be trusted at that moment," Pilkington said. "Because of this, it has been my favorite volunteer experience. This sounds odd due to the somber nature of it, but the ability to help another person on one of their worst days is the best feeling in the worst way."
Martin, the student who worked in East Africa, said her mission group first visited landmarks to learn about the Rwandan genocide of 1994 and the people she would be serving. They brought supplies to a village school and worked with women to bring their crafts back to the United States for sale, with the profits going back to the Rwandan women.
"I am very thankful to attend a University that makes community service opportunities so accessible to their students," Martin said.
---