Three South Professors Named Fulbright Scholars for 2023-24
---
Posted on June 8, 2023
Lance Crawford
---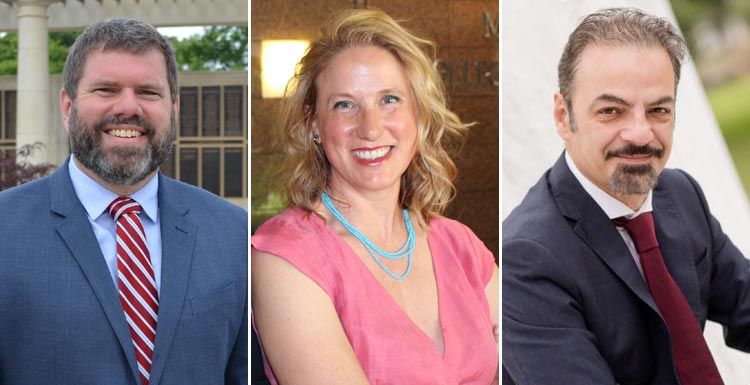 Three University of South Alabama faculty members have been selected to the prestigious Fulbright Scholars Program and will spend the upcoming academic year abroad. From left, Dr. Philip Habel, professor and department chair, political science and criminal justice, will work in Poland; Dr. Christina Wassenaar, assistant professor of management, will work in the Republic of North Macedonia; and Dr. Ermanno Affuso, assistant professor of economics and finance, will work in the Slovak Republic.
---
University of South Alabama faculty members Dr. Ermanno Affuso, Dr. Philip Habel and Dr. Christina Wassenaar have received Fulbright Scholar Program awards for the 2023-2024 academic year from the U.S. Department of State and the Fulbright Foreign Scholarship Board.
The trio of South professors are among approximately 800 U.S. citizens who will teach or conduct research abroad for the upcoming academic year through the prestigious and competitive Fulbright U.S. Scholar Program.
Fulbrighters, as they sometimes referred to, engage in cutting-edge research and expand their professional networks, often continuing collaborations started abroad and laying the groundwork for future partnerships between institutions.
This is the second time in three years Affuso has been awarded a Fulbright. He was named to the Fulbright Specialist program in 2020. A Fulbright specialist can visit foreign institutions twice within four years for up to 42 days each time. Because of the COVID-19 pandemic, Affuso couldn't lecture at the Technical University of Kosice in the Slovak Republic until last summer, when he learned he was eligible for the Fulbright scholars award which would allow him to return to that university to teach and conduct research.
"It is my greatest academic accomplishment," said Affuso, an assistant professor of economics and finance at South. "I will spend this coming fall semester conducting research and represent the United States and the University of South Alabama as an academic ambassador."
Wassenaar, an assistant professor of management in the Mitchell College of Business, will be working in the Republic of North Macedonia at the Saints Cyril and Methodius University in Skopje to study peace creation.
"I'm so happy to have been chosen as part of the U.S. Fulbright Scholars Program for the coming year. It's an incredible honor," she said. "My colleagues at the university in Skopje and I have already been working closely with each other, as well as with several representatives at the State Department, to ensure that my time with them is useful in fulfilling their needs, as well as setting up the infrastructure that will be integral in my research program."
Habel received a Fulbright Distinguished Scholar award and will spend the 2023-2024 academic year teaching undergraduate and graduate courses and conducting research at Maria Curie-Skłodowska University in Lublin, Poland.
"I am both honored and elated to be named a U.S. Fulbright Distinguished Scholar, serving as a cultural ambassador for the United States and representing the University of South Alabama abroad," said Habel, professor and chair in South's Department of Political Science and Criminal Justice. "I am especially grateful to the senior leadership of our University for supporting my application."
Prior to starting his duties in Poland, Habel will serve as a visiting fellow at the Collegio Carlo Alberto in Turin, Italy. The next 12 months will be a family affair as he'll be joined by his wife, Sara, and daughters, Liana, 12, and Kahrin, 10.
"We are grateful to the Fulbright program for its generous support for the families of awardees," Habel said. "We recognize that there will be some challenges, but we also know that there will be many wonderful cultural experiences."
---