'Emerging Scholars' Link Environmental, Human Health
---
Posted on August 7, 2017
Angela Levins, DISL
---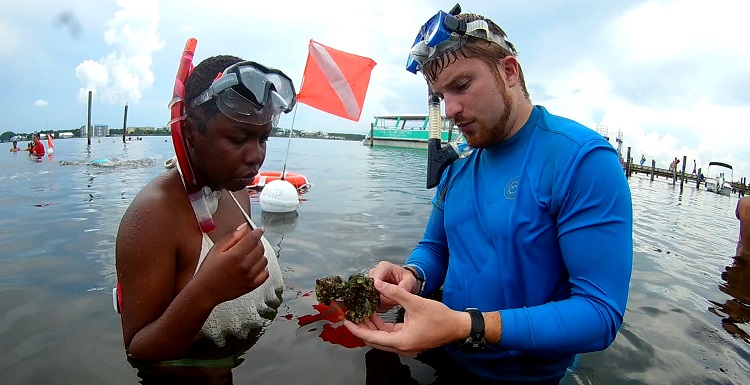 Autumn Baxter, Davidson High School, listens as Chris Flight of the Dauphin Island Sea Lab talks about what she found while snorkeling in the grass beds at St. Andrews Park in Florida. Photo courtesy of DISL.
---
Seven Mobile County high school students studied the links between environmental and human health this summer as Emerging Scholars with the University of South Alabama.
The students spent two weeks at USA learning about environmental impact on health, including speech-language, psychological and hearing effects, while working with faculty in the Colleges of Allied Health Professions and Arts and Sciences, which gave them opportunities to explore potential careers in health and social sciences. They also took field trips to clinics and other facilities with health-related offices.
For four additional weeks, the students were part of residential classes in marine sciences at the Dauphin Island Sea Lab.
"The Emerging Scholars program has been a tremendous experience allowing us to bring this opportunity to local high schools and students for the fourth year in succession," said Dr. Ishara Ramkissoon, associate professor of speech pathology and audiology.
Participants were Sharon Sawyer, Satsuma High School; Autumn Baxter, Davidson High School; Nathaniel Beverly, Alma Bryant High School; Jackson Reimer, Murphy High School; Reagan Robinson, Davidson High School; Brooke Graham, Davidson High School; and Rance "Mac" McElroy, Baker High School.
"I learned a lot in a short amount of time," Sawyer said. "This opened my eyes to careers I didn't know existed. It's given me a lot more options in the science field where I want to end up."
While at the DISL, students listened to lectures and took tests on a number of areas in marine science, heard from resident faculty about their research, snorkeled in seagrass beds, went behind-the-scenes at New Orleans' Audubon Aquarium of the Americas, cruised aboard the lab's research vessel, visited ecosystems on the island, conducted a number of lab activities and developed and completed a research project.
At the program's conclusion, students gave oral presentations about their projects. They will present them again at the Emerging Scholars Fall Professional Development event held at a Mobile County high school.
"I studied snails for my research project," Sawyer said. "It was interesting to learn how this tiny species is able to avoid predators by going up and down a grass stalk, finding their niche and how they adapt."
The sessions also gave the students new friendships and life lessons.
"I definitely got to be in touch with the ocean more," said Baxter, a Davidson senior. "It opened my eyes to new things and new people."
"Punctuality. No procrastination. Use your time wisely. Get your assignment done the day you get it," Sawyer added.
To learn more about the Emerging Scholars Program, contact Ramkissoon at ramkissoon@southalabama.edu.
---