South Mentors Offer Support, Friendship and Hope Through the Collegiate 100 Program
---
Posted on November 2, 2016
Joy Washington
---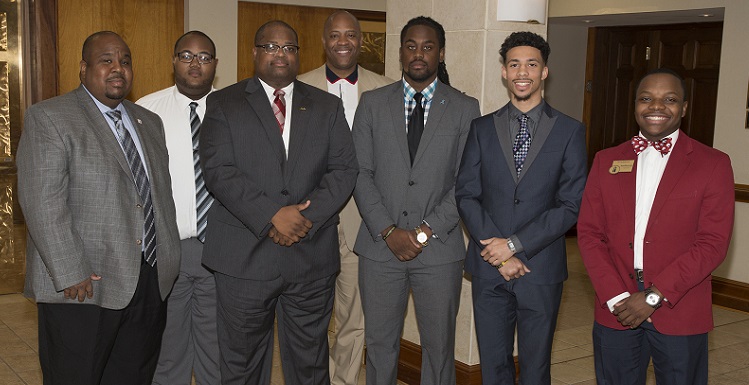 University of South Alabama Collegiate 100 members gather with their mentors from the 100 Black Men of Mobile. From left are Dr. Andre Green, mentor and associate dean in the College of Education; Broderick Morrissette; Marlon Jones; Collegiate 100 mentor and adviser Dr. Michael Mitchell, vice president for Student Affairs and dean of students; Jerod Coleman; Derek Pickett and JuWan Robinson.
---
As a first-generation college student, JuWan Robinson wanted to be sure to take full advantage of all the experiences and opportunities at South. When he heard about the Collegiate 100, a student group with the mission of encouraging and motivating African-American men at USA to build and use leadership skills, he knew he had found an organization that would serve him well — and a group through which he, in turn, could prepare to serve his community.
But Robinson, a senior secondary education major from Bessemer, Ala., got even more than he expected from the Collegiate 100. Through the organization, he connected with USA Vice President for Student Affairs and Dean of Students Dr. Michael Mitchell, who has since become both a friend and a trusted adviser.
"It has been a wonderful, yet unexpected, experience to be mentored by Dr. Mitchell," Robinson said. "Since I will be pursuing a career in student affairs after graduation, Dr. Mitchell has been the perfect mentor for me. We are in contact daily. As a first-generation college student, having a successful black male as a constant resource has been exactly what I have needed."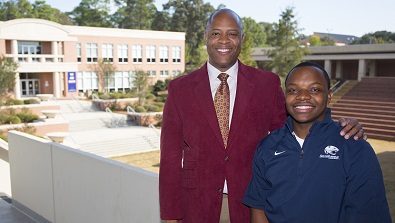 USA Vice President for Student Affairs and Dean of Students Dr. Michael Mitchell, left, has become a friend and trusted adviser to JuWan Robinson, an education major.
---
That's precisely the vision of the organization. Founded in 2013 at USA, the Collegiate 100 is an offshoot of 100 Black Men of Greater Mobile, the local chapter of a national organization that seeks to empower future leaders in the African-American community. Each member of the Collegiate 100 is mentored by a member of the 100 Black Men of Greater Mobile, which uses the national 100 Black Men slogan, "Real Men Giving Real Time," for the program.
And they give a lot of time. Most of the 100 Black Men have multiple mentees at South. In addition to JuWan Robinson, Mitchell also is a mentor to Carl Thomas Jr., a sophomore business marketing major from Calvert, Ala., and Zachary Rusley, a freshman criminal justice major from Montgomery.
"It was a natural fit for us to mentor the Collegiate 100," Mitchell said. "We were supported by our national organization, and the goal is to help these young men reach their full potential while they are studying at South Alabama."
The 100 Black Men are focused on helping the young men in South's Collegiate 100 be successful. They talk about self-discipline and respect, and share the importance of education, academic excellence and achievement, as well as personal responsibility.
"I joined South's Collegiate 100 chapter because I knew this organization would give me a great platform to exemplify all the qualities of a great leader," said Roderick Robinson, president of South Alabama's Collegiate 100 chapter and a senior biology major. "The mentoring program works very well in our chapter by providing us much-needed guidance. We are paired with our mentor based on our major or career goal, which gives the guys an opportunity to network and receive guidance about their future careers."
The mentors, who include College of Education Associate Dean Dr. Andre Green, have one-on-one time and group social gatherings with the young men. They meet to enjoy sporting events, or have speakers visit to share their individual stories of sacrifice, success and survival. Green said mentoring is a critical transformative vehicle for young people.
"We want these young men to be full of hope and have a real-life experience with mentors who have the knowledge and wisdom to share," Green said. "It's important that we are visible and present in the lives of these young men. They need to know how to adapt to change and issues they will face in life. We also talk with them about the importance of work/life balance."
Green is mentoring Randy Bumpers, a sophomore mechanical engineering major from Jackson, Ala.; and Jerod Coleman, a junior secondary education major from Columbus, Ga. Coleman said he joined the Collegiate 100 to make a difference in the community. He wants to be a professor one day, and he looks forward to building a relationship with Green, who will help him navigate the education profession.
"The mentoring program for the South Alabama Chapter of Collegiate 100 works so well because the 100 Black Men of Greater Mobile are taking time out of their schedules to guide and show us the way of the world," Coleman said. "I am late to the idea of having a mentor, but over the past four years of college, the importance of mentorship has been a sign of hope for me, especially within the African-American community."
Rufus Hudson, president of the 100 Black Men of Greater Mobile, emphasizes the importance of the partnership that has been built with South.
"We are pleased to have Mike and Andre as members, along with the support of South Alabama," Hudson said. "This is our third year mentoring the young men, and we are establishing a great relationship with South's Collegiate 100 chapter. We share our profiles with the young men, and they can request us as a mentor based on their desired professions."
For JuWan Robinson, the connection he's made at South is something he expects to last long after he graduates.
"Dr. Mitchell will continue to be a resource for my professional development," Robinson said. "The 100 Black Men of Greater Mobile are full of successful professional men like Dr. Mitchell who are willing to shape and mold us to reach our full potential, while giving us hope."
---