Students, Faculty and Alumni Gather on College Tailgate Row
---
Posted on November 9, 2022
Thomas Becnel
---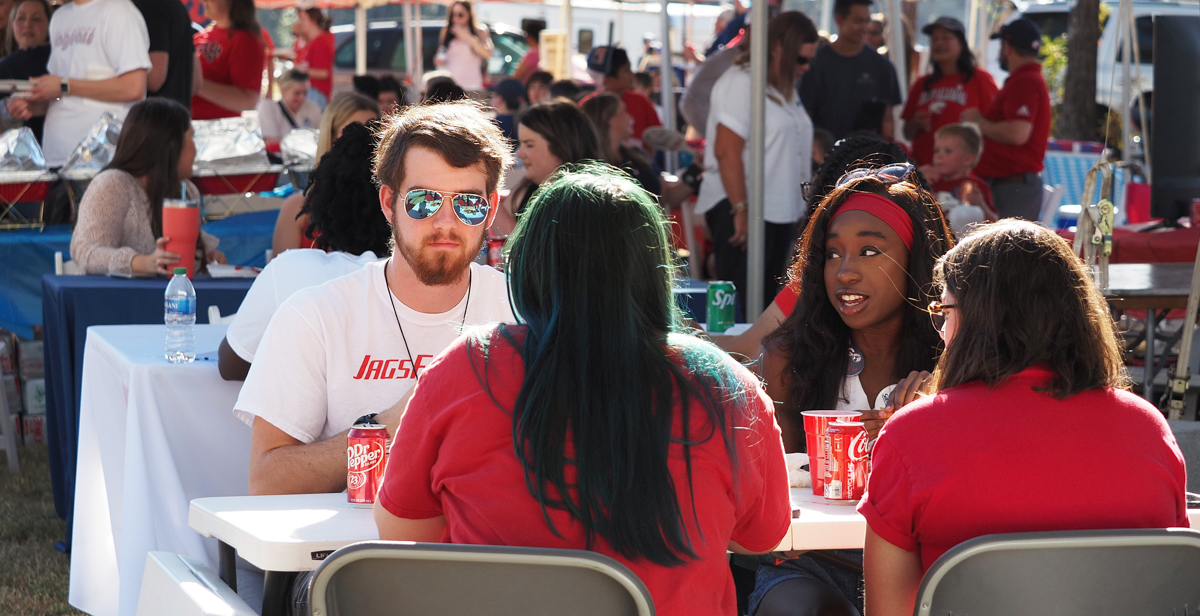 Pre-game parties on College Tailgate Row serve as career opportunities and casual meeting places for University of South Alabama students and alumni.
---
On College Tailgate Row outside Hancock Whitney Stadium, Airbus sponsors the College of Engineering tent, where Airbus interns, employees and managers mingle with students hoping to become Airbus interns, employees and managers.
Many wear blue polo shirts with patches that celebrate the company's 15 years in Mobile.
"We've been coming here for years," said David Trent, site director for Airbus. "We want to get closer to students in the College of Engineering. We hire a lot of our interns and engineers here. I can count six or eight of them right now.
"The whole recruiting process can be a little mechanical now with everything online. It helps to have a face to match with the name."
Paige Palazzo, one of those Airbus interns from the University of South Alabama, is a junior majoring in mechanical engineering. For her, tailgating mixes food and fun with old-fashioned networking. The football atmosphere takes some of the pressure off meeting prospective employers.
"It's a little less intimidating," Palazzo said, "than a formal interview or meeting."
On Saturday afternoons, she also gets a kick out of seeing her professors step outside the classroom in shorts and T-shirts.
"Usually, we only see them wearing business clothes," Palazzo said, laughing. "It's good to get to know the person behind the teacher."
Many students at South take a stroll down College Tailgate Row as part of their pregame routine. It doesn't take long for a drink, a snack and a chat. People play cornhole or toss footballs behind the tents.
Becca Lemar, a freshman from Slidell, Louisiana, joins the College of Education and Professional Studies party before football games. She's just starting her college career and gaining experience.
"I've never done tailgating before," Lemar said. "Sometimes I'm nervous around a lot of people I don't know, but once I start talking to people, it's hard for me to stop."
Some tents draw big crowds. Some departments order catered food from local restaurants. Others offer homemade dishes and a potluck menu.
At the College of Arts and Sciences, the buffet often includes pakoras – spicy Indian fritters.
"The mathematics department is very international," said Dr. Eric Loomis, associate dean for the College of Arts and Sciences. "We've got a big Indian contingent and a big German contingent. Each tailgate we do has a different department hosting it, so we get something different each time. It's kind of neat."
During Homecoming, which featured a pregame parade, the Honors College and the College of Education and Professional Studies came together for a shrimp boil. People peeled while they talked. Conversation included football predictions and South news, along with the exact amount of spice necessary for the perfect boil.
Paige Vitulli, chair of the Department of Integrative Studies, wore a red dress to support the Jaguar football team. She believes in tailgating for students and faculty. The more comfortable people are with one another, the easier it is to form committees, write grants and hire graduate students.
"It's an opportunity for everybody," Vitulli said. "And it's the unintended consequences of just being out here. People come up and talk to us all the time."
Making an Impression
Keira Ross, a chemical engineering graduate from South, now works for ExxonMobile near Houston.
At South, she served in the Student Government Association and led several engineering clubs on campus. Everyone knew her name. She was one of the most respected students in her department.
One of her best career moves, though, came on a Saturday afternoon before a Jaguar football game.
That's where Ross met Jim Moore, then president of the USA National Alumni Association, who became one of her biggest boosters. He helped Ross secure her first internship at Phillips 66, which led to her first full-time job at ExxonMobile.
"My wife and I met her at a tailgating party for the College of Engineering," Moore said earlier this year. "We talked to a lot of bright students that day, but when we left, I asked my wife, 'OK, which student impressed you the most?' And she said, 'Oh, hands down – Keira.' And I said, 'Me, too.'"
Savoring Saturday Afternoons
One of the first tents on College Tailgate Row belongs to the Mitchell College of Business, where students learn the importance of communication, collaboration and relationships.
"Mitchell Means Business," a sign on the tent says. "Tailgating Is Serious Business."
Dr. Al Chow, who teaches business analytics at the Mitchell College, is a proud tailgating chef from Lafayette, Louisiana. He knows his way around a charcoal-heated Dutch oven known as "the Cajun microwave." He savors Saturday afternoons and talking with anyone and everyone who crosses his path.
He's given some thought to the ingredients that go into a successful tailgating party.
"You've got to have good food and something to drink," Chow said. "You have to have some entertainment. And you've got to have good people."
A good party, he thinks, is the best thing tailgaters can provide for companies looking at prospects and students looking for opportunities. Everyone can relax. Fun can be liberating.
Near the opposite end of College Tailgate Row is a tent for the School of Marine and Environmental Sciences.
Dr. Sean Powers, director of the newest school at South, said the tailgating party was actually arranged by the Marine Science Student Association.
"Our students are doing everything," Powers said. "They specifically wanted the faculty and graduate students here."
Felicity Bryant, treasurer of the association, said networking is important to members of the group. Saturday afternoons can bring together students and scientists.
"There's a lot of lab work in marine science," she said, "so it's important for our students to meet professors and make those connections."
---