South Students Share Research at Annual Undergraduate Symposium
---
Posted on November 10, 2022
Thomas Becnel
---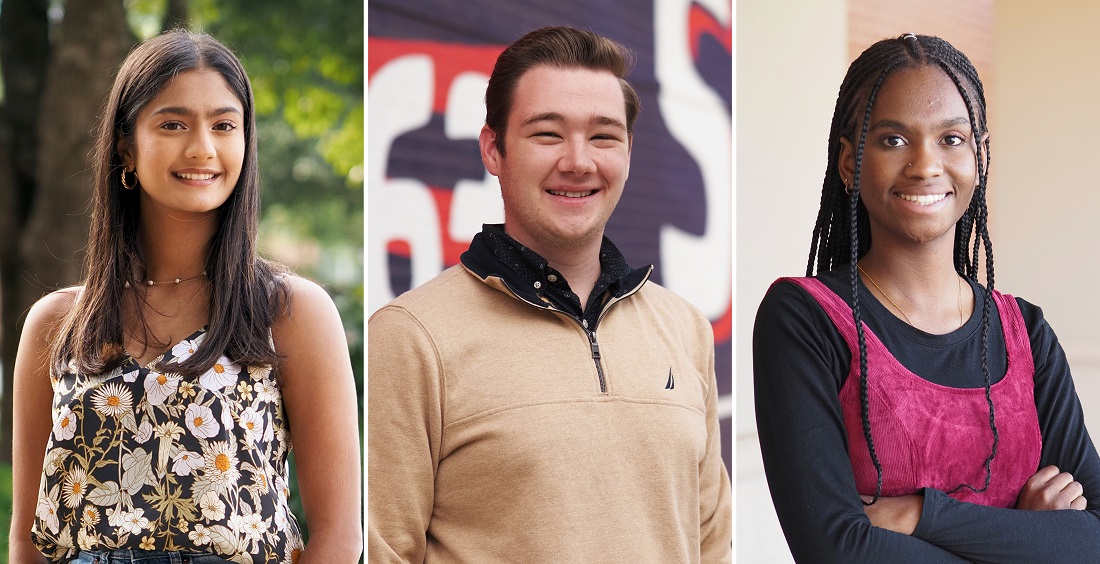 University of South Alabama students, from left, Shubhangi Singh, Nicholas Flynn and Destinie Diggs recently presented their research at the 24th annual Undergraduate Research Symposium. Singh won the Best Poster Award from the Phi Kappa Phi honor society.
---
Shubhangi Singh, a sophomore at the University of South Alabama, jokes that she has a love/hate relationship with medical research.
"It can be frustrating, and I think any researcher would tell you that," she said. "It almost never goes the way you planned."
When things do work out, though, the results can be satisfying.
Singh won the Best Poster Award from the Phi Kappa Phi honor society at the 24th annual Undergraduate Research Symposium in October. Her major at South is international studies, with an emphasis on global health, and a minor in biomedical sciences. Her research project was on the differences in tumor vascular density between smoking and nonsmoking cancer patients.
When Singh began her project with SURF, a Summer Undergraduate Research Fellowship, she ran into roadblocks and spent weeks just trying to collect enough samples to get started.
"I was pretty upset, but I talked with my mentor, Dr. Santanu Dasgupta, and I had a great support group of people around me in the lab that really helped," she said. "So just keep going, that might be the moral of the story here."
More than 70 South students kept going, did research and produced poster displays for the Undergraduate Research Symposium. Danielle Flores, a chemical engineering student, also received an award for her research. She studied the quantification of Western diet and physical activity effects on drosophila simulans hearts using novel edge-detection software.
Those giving oral presentations included Josephine Jalkh, who studied calcium signals in human airway muscle cells, and Katie West, who studied thin striped hermit crabs and the impact of rising sea temperatures.
Big Data and Bit Truncation
Most of the symposium projects were in the fields of science, engineering and medicine.
Nicholas Flynn, a junior from Metairie, Louisiana, did a project on turning Big Data from social media marketing into smaller pieces of useful information. He's majoring in information technology, but did his research with professors from the Mitchell College of Business.
"I was recruited," he said, laughing. "They were looking for someone with a bit of a computing background to do the data scraping for the project. I was going to be in Mobile for the summer, working at the alumni center, so it kind of worked out with SURF."
Flynn's computer concentration is in digital forensics and networking, but he thinks the business project offered valuable experience.
"It's a good foot in the door for research," he said. "A good start to doing real-world applications."
From Garage to Lab
Destinie Diggs, a sophomore from Daphne, Alabama, did a computer engineering poster. Her project was about designs to make mobile video systems more power-efficient by using video bit truncation based on ambient luminance. The idea, basically, is to reduce power consumption by reducing video quality in bright environments, when people can't see the difference on their devices.
"It sounds kind of complicated," Diggs told an audience at the Undergraduate Research Symposium, "but it's really pretty simple."
In high school, the 19-year-old had done science projects on drones and robots. Before she even started her freshman year at South, she began working with Dr. Na Gong, Warren Nicholson Professor of Electrical and Computer Engineering, who does nationally recognized research in artificial intelligence, circuit design and power-efficient systems.
"Very daunting," Diggs said. "Definitely a big jump from doing projects in my garage to working in a real lab. I learned a lot, I will say that."
A Research Family
Singh grew up in Mobile and participated in the International Baccalaureate program at Murphy High School. Her parents, Dr. Ajay Singh and Dr. Seema Singh, are prominent researchers at the USA Health Mitchell Cancer Institute.
They've supported her academic career in all its forms. In high school, Singh thought about becoming a lawyer or an engineer, before deciding on international studies.
At South, Singh is part of the Southerners program of student ambassadors for the University. She's a member of the Honors College, where she's doing a senior thesis. And she's enrolled in the Early Acceptance Program for students interested in attending the Frederick P. Whiddon College of Medicine.
Her career hopes include becoming a physician scientist who continues to do research.
Singh plans to do more projects at South. At the Undergraduate Research Seminar, someone suggested adding a category – former smokers – to her study of smokers and nonsmokers.
"That's something I might do," she said. "But there are a lot of ideas I have right now."
---