Empowering Sexual Assault Survivors
---
Posted on November 30, 2020
Joy Washington
---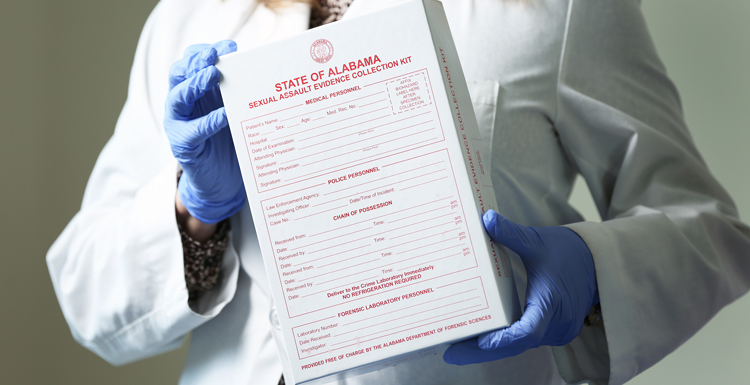 The 3-year, $493,244 grant will provide support for USA and a campus interprofessional team to increase awareness and establish a campus-wide outreach program for Sexual Assault Nurse Examiners.
---
The College of Nursing at the University of South Alabama is one of eight institutions nationally to receive federal grant funds to empower students who are sexual assault survivors.
Dr. Heather Hall, dean of the College of Nursing, said the grant will provide support for the College and a campus interprofessional team to increase awareness and establish a campus-wide outreach program for Sexual Assault Nurse Examiners, or SANEs, who are specially trained nurses. USA will receive a total of $493,244, from the Office of Justice Programs' Office for Victims of Crime, OVC, over a three-year period.
"I am proud of the College of Nursing faculty members who are leading the collaboration of an interprofessional team of faculty and health care providers to ensure a SANE program is offered to students enrolled at South Alabama," Hall said. "This grant also provides an opportunity to develop highly skilled nurses to serve as a resource and support for sexual assault survivors and to hold offenders responsible for their actions."
Hall said funding through this grant will also support the development and implementation of a program that will provide free medical forensic care, SANE exams, advocacy, and counseling to any South Alabama student who reports experiencing sexual assault and consents to services.
Project Director Professor Dr. Candice Selwyn, assistant professor of community/ mental health nursing, and Project Co-Director Dr. Carolyn Dolan, professor of community/mental health nursing, joined forces to apply for the grant.
"I have had the privilege of working with Dr. Carolyn Dolan on her HRSA-funded Advanced Nursing Education Sexual Assault Nurse Examiners program for the past two years," Selwyn noted. "She and I pulled together an outstanding grant team of faculty from nursing and the campus community. With input from both campus and community-based collaborators, I led the development and submission of the grant proposal. "
The other faculty members supporting this grant initiative are Project Faculty Dr. Ashley Marass, associate professor of Nursing; Project Faculty Dr. Allison Rudd, Director of Operations of USA's Simulation program; Project Faculty Dr. Sarah Koon-Magnin, associate professor of criminal justice, in Arts and Sciences; and Project Faculty Dr. James "Tres" Stefurak, associate dean and director of Graduate Studies in Education and Professional Studies.
The funds will increase the capacity of the interprofessional team to also include the Student Health Center, the University Counseling and Testing Center, and the USA Police Department. The community partner is the Rape Crisis Center, operated by Lifelines Counseling Services. These collaborating partners will provide necessary services to sexual assault survivors. The team members will also participate in extensive training services with a compassion-focused mission.
Selwyn will oversee all activities necessary to achieve South's overall goals of establishing a multipronged, trauma-informed, campus-based SANE program to provide holistic acute and long-term services to sexual assault survivors on campus.
"This effort will include expanding the College's capacity to train, mentor and retain SANEs along the Gulf Coast," Selwyn explained. "The trauma-informed sexual assault response program will include medical forensic care within the Student Health Center. We will also establish a campus sexual assault marketing campaign aimed at reducing the stigma of reporting assault and seeking help."
The strength of this program is its interprofessional team approach.
"The beauty of belonging to a group of academic professionals is manifested by their willingness to collaborate with the community at large," Dolan expressed. "Dr. Selwyn's project relies on an interdisciplinary approach. This collaborative model will include the greater community as a key stakeholder of victim service provision, both on-campus and in the community."
Dolan said the SANE program will decrease barriers to care for students experiencing this type trauma by delivering easily accessible, comprehensive service post-sexual assault in a familiar setting.
"As co-director, I will oversee all clinical patient services and will collaborate with Dr. Selwyn," Dolan said. "The practice procedures must be in place, and I will help ensure the new clinical services follow current guidelines and legal requirements for best practice."
Selwyn and her team members are also establishing an advisory board consisting of USA administration, faculty and community partners to oversee activities of the sexual assault response program.
In 2018, Nursing received a $1.1 million federal grant from the Health Resources and Services Administration to train more SANEs to serve in the field of health care, especially in areas with medically underserved and rural populations.
---