FedEx Internship Leads to Job Offer
---
Posted on December 10, 2019
Thomas Becnel
---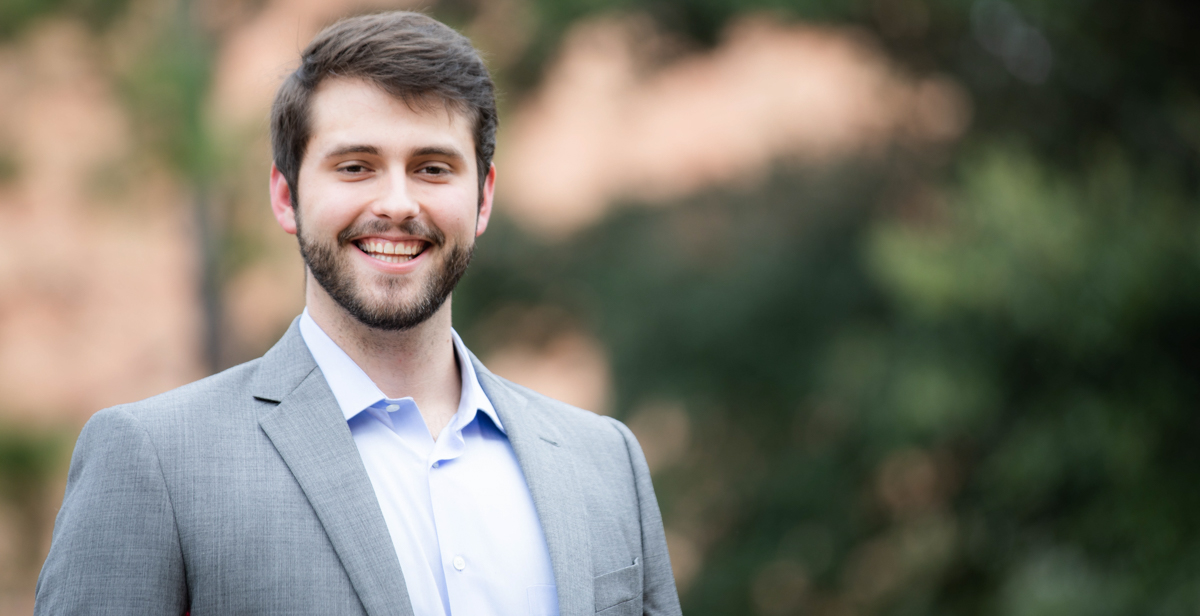 Carson Davidenko will begin a career at FedEx after an internship where he shadowed a senior adviser. "I didn't even know what to think when they first offered me the internship," Davidenko said, "but my dad, he basically said, 'Hey, listen, kid, this is a big thing.'"
---
Just two years ago, Carson Davidenko changed majors at the University of South Alabama, ending his dream of becoming a doctor and beginning to wonder where a business degree might take him.
Now he's ready to graduate after turning a summer internship into a budding career at FedEx.
Davidenko will talk about his experience as the speaker at the Mitchell College of Business's Dec. 13 graduation ceremony.
"You have to seize all the opportunities available to you," he said. "FedEx has been a trampoline for me getting to do all of this. I'm still applying things I learned a year ago in Memphis."
As a pre-med student, Davidenko had shadowed different physicians. When he turned to business, he studied a small shipping company in his hometown of Panama City, Fla. This led him to apply for a summer internship with FedEx.
That job turned out to be working for John A. Smith, who had just become president and CEO of the FedEx Freight division. After one semester of business classes in college, Davidenko found himself at the upper levels of a Fortune 50 corporation. Soon he was riding on company jets to conferences across the country.
"It really is comical – so far out there," said Davidenko, 22. "I didn't even know what to think when they first offered me the internship, but my dad, he basically said, 'Hey, listen, kid, this is a big thing.'"
Pi Kappa Phi President
Davidenko's grandfather was an oral surgeon. When he began looking at colleges, Davidenko's parents urged him to visit USA, where after his undergrad he would be able to apply to the USA College of Medicine.
"South Alabama wasn't even on my radar until my mom made me come and take the tour," he said. "Now, hindsight being 20/20, I feel blessed and grateful this was my decision."
Davidenko enjoyed college life at South, where he became president of the Pi Kappa Phi fraternity, but finally decided medicine wasn't for him.
"I woke up one morning, midway through my junior year, and called my mother and told her I was going to change my major," he said. "I didn't want to disappoint my family, but they were fully behind me and supportive once I made the call."
Davidenko doesn't believe, though, that his pre-med years were wasted.
"The rigor of the program, taking classes like organic chemistry, physics and calculus, really helped me," he said. "The work ethic you have to develop greatly aided my success in the business field. I was prepared for a tough transition, a lot of 18-hour semesters, but the MCOB team helped me tremendously."
Dr. Alvin Williams, chair of the marketing and quantitative methods department, worked with him on a new course of study. So did Jay Hunt, an instructor in management who was also a chapter adviser for his fraternity.
The prospect of a FedEx internship was daunting for Davidenko.
He bought some off-the-rack suits. He found an apartment in Memphis. He began competing with interns from MIT and the Wharton School at the University of Pennsylvania.
Davidenko was in the right place at the right time with a new management team. An eye-opening experience. He had to sign non-disclosure agreements, so he can't talk about details, but he did get to play a small part in the future of FedEx Freight.
"I was actually paired on a day-to-day basis with one of Smith's senior advisers," he said. "I was going to meetings for him, taking notes for him, reporting back to him. I learned so much in those three months. You know, you can finally take the concepts and ideas you've been taught and apply them to real-world situations."
Hurricanes and Logistics
When he returned to Mobile from Memphis, Davidenko kept busy with Pi Kappa Phi. Then came Hurricane Michael. His parents stayed at his apartment while the storm surged through Panama City.
"It was kind of surreal," he said, "to see your hometown destroyed on television."
Davidenko had a year of school left, but wanted more practical experience, too. In Memphis, he noticed that even top executives had operations experience. So he contacted FedEx and landed a full-time job locally as a management trainee in a logistical center off Interstate 10 in Theodore.
He took online classes at USA while working every kind of shift. The 5 a.m. to 2:30 p.m. schedule wasn't so bad, but 11 p.m. to 9 a.m. was brutal.
Now Davidenko is graduating and planning a move to Memphis for his next job with FedEx Freight. His message to his fellow graduates is one of optimism and perseverance.
"Whatever you do," he said, "keep moving forward."
---