An Interest in the World Began at Home, Grew at South
---
Posted on December 10, 2019
Joy Washington
---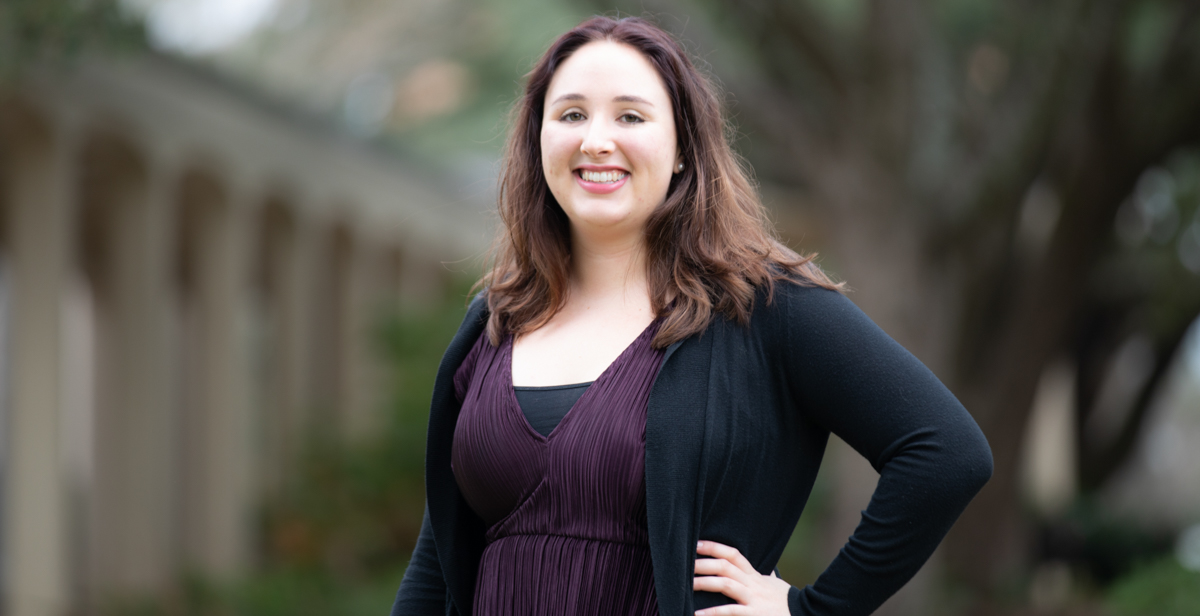 Marylyn L. Gafford said her interest in a globally focused career began at home. "Once we started hosting exchange students," she said, "I knew I wanted a more global career."
---
An unexpected decision to host an exchange student from Brazil led Marylyn L. Gafford, now 21, to want to pursue a degree in foreign languages and literature with a concentration in Spanish and Russian at the University of South Alabama.
Gafford, a Murphy High School graduate, is now preparing to graduate on December 14 with her bachelor's degree. She marvels on the profound experience she has had as a student at South.
"I had taken Spanish in high school, because I loved it and my family hosted exchange students throughout my high school years," Gafford explained. "Before that experience, I wasn't a globally minded person. But once we started hosting exchange students, I knew I wanted a more global career. After I graduated from high school, I started traveling abroad to visit my friends who had stayed in my home. I decided to study foreign languages with a focus on Spanish and international studies at South. By my sophomore year, I was interested in learning a second language, which was Russian. USA's Russian program has an accelerated course, where you can take two courses in one semester. I really enjoyed it. I decided to change my concentration from international studies to Russian."
Gafford said having the exchange students in her home opened her mind to understand how people from all over the world are more similar than they are different. What she loves the most is helping other students learn the languages at the USA Language Resource Center.
"As a Spanish tutor for the past two years, I have had a great experience with sharing my love for traveling abroad and getting to know people who live in Spain and Russia. As a tutor, what I do is similar to teaching. But it's one-on-one instruction, and I also lead group review sessions and helped with homework."
Gafford has had a fun and beneficial experience as a student at South. She is also thankful to her professors for being supportive.
"My professors have been beyond helpful and nice. I had a very personal education. I didn't feel like a number. My professors have given me opportunities to do presentations, translations and work different internships. And I also enjoyed serving as the 2018-2019 president of Phi Sigma Iota International Foreign Language Honor Society. I am also a USA Presidential Scholar."
Although living and working abroad is in Gafford's future, she wants to take time to write creatively again. Once Gafford turned 16, she started working. While studying at USA, she focused on her assignments and didn't do any creative writing or reading outside of school work. She is interested in writing short stories and screenwriting for film. It's possible a novel may be in her future.
But as graduation approaches, Gafford has made a compassionate decision regarding her next life-move.
"I really wanted to teach English abroad to really solidify my language skills," she said. "Although I have spent two months each in Spain and Russia, it would be better if I could live there for a longer period of time. My plan was to get on a plane, teach and live abroad and possibly do some freelance writing when I am not teaching. But now I need to be home in Mobile to help my family."
Gafford's dad, John, was diagnosed this past April with ALS, which is Amyotrophic Lateral Sclerosis, also known as Lou Gehrig's disease. It's a progressive, neurodegenerative disease that causes muscle weakness, paralysis and ultimately, respiratory failure.
"My dad needs help at home," she said. "Since I am in a transitional moment with graduation approaching, I can continue to stay home and be here to help my mom, Leslie, and family with my dad. My plan was to go to college, live at home and save my money so that I could work and live abroad. But I will help care for dad, pursue freelance writing opportunities, and make some decisions about my future. While at USA, I have been so busy studying. It's been about work and school. Now, I get to slow down, be present with my dad and enjoy pursuing writing as my passion. Graduate school is possibly in my future as well. We will see what happens. I am very aware that this time in my life will never come again."
---