Language Resource Center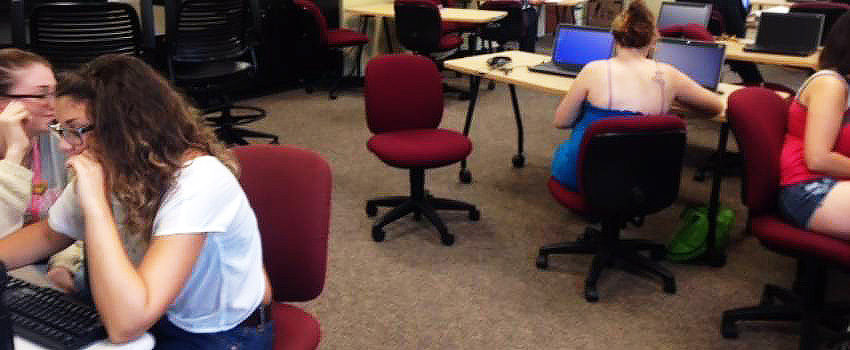 "You can never understand one language until you understand at least two." Geoffrey Williams
Welcome to the Language Resource Center
Want a conversation partner? Want to hone your writing skills in your target language? Want to hang out with kindred spirits interested in learning more about the world, its people, its languages and its cultures, just like your are? Come on over to the Language Resource Center. At the LRC you will find friendship, motivation, conversation, laughter and exploration with like-minded enthusiasts of all things related to world languages and cultures.
Mission Statement
The LRC strives to provide an open educational collaborative space of technology and learning resources that facilitate and advocate the research, teaching, and study of the world's languages and cultures.
General Information
Location: The LRC is located on the 3rd floor of the HUMB , room 337 .
Want to work at the LRC? We only accept applications for LRC tutors and langauge consultants during November for spring semesters and April for fall semesters. Please, check back here in April 2020 to apply for Fall 2020 employment. We are looking for native-speaker students of French, German, Russian, and Spanish with a desire to help others learn about their culture and language.

Hours: We are open on class days Fall and Spring and also for select hours on exam days.
The hours for the LRC for Fall 2019:
Monday - Thursday 9:00AM - 5:00PM
Friday 9:00AM - 12:00PM
See the schedule for tutors for Fall 2019 here.
Please note that only students currently enrolled in LG/LGS courses are allowed to utilize the resources in the LRC. All students in the LRC must follow the rules of the LRC as approved by the director.

Director: Dr. Nicholas Gossett