Tutoring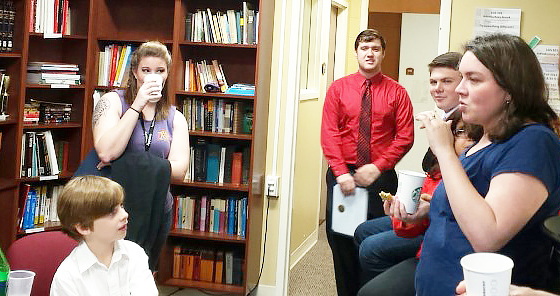 Advanced juniors and seniors of French, German, Spanish and Russian offer tutoring services to all students of foreign languages in the Language Resource center. This is a free service offered by the department. The Foreign Languages tutors hold regularly scheduled office hours to provide extra help and practice. Please look for posted signs that announce their schedules or click the link below for the current schedule. Take advantage of this free service early on, especially if you are having difficulty with some aspect of the language.
Time is reasonably limited with each student, and if there are several students from the same level, expect to be tutored simultaneously.
Students often request proofreading of compositions, and this is an appropriate request. However, the student must present an already written draft of the composition. It is not appropriate for the tutor to phrase the composition for the student. When proofreading, the tutor will not red-line nor correct the individual mistakes that the student has made, but will demonstrate to the student the general areas that need work and where he/she needs to pay more attention to grammar and vocabulary.
Most of the workbooks have answer keys available for students to check their own work, so it is not necessary for tutors to check many of the workbook exercises. However, specific questions about the exercises and/or assistance in understanding assignments are appropriate requests of tutors.
TUTORING LOCATIONS:
Tutoring takes place in two locations: the front lobby of HUMB 337 and in one of the two tutoring rooms located to the right and left of the hallway leading into the main lobby.
Want to work at the LRC? We only accept applications for LRC tutors and langauge consultants during November for spring semesters and April for fall semesters. Please, check back here in April 2018 to apply for Fall 2018 employment. We are looking for native-speaker students of French, German, Russian, and Spanish with a desire to help others learn about their culture and language.