SAILL Advisory Board
James Davis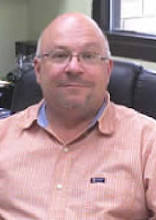 Dr. James Davis holds a joint position as a Professor of Chemistry and Research Director for the SAIL Laboratory. He is an internationally renowned expert on ionic liquids, liquefied salts which melt at low temperatures and function as solvents. His research record has recently earned him the prestigious title of Fellow of the Royal Society of Chemistry. Such recognition is not surprising. Indeed, since 1998 Davis and his research group have published 100 papers and abstracts. He says this published work has been "cited by others almost 10,000 times," and his group has "nine issued patents in the field and have a couple of others pending."
Dr. Davis came to the University of South Alabama as an Assistant Professor in August of 1995 after previously teaching Chemistry at Brandeis University. When he started at USA, there was no established research expectation for faculty members. Davis says he was hired to "excel in teaching." Soon, however, research requirements for faculty members were established, and Davis had to set up a viable research program to achieve tenure and promotion. Dr. Davis started researching salt compounds with "very low melting points," which dovetailed fortuitously with emergent research on ionic liquids. His success soon followed. Indeed, Davis and his research team are leaders in this field of chemistry.
---
John Usher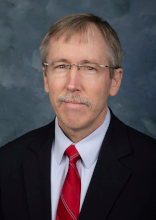 Dr. Usher currently serves as Dean of Engineering at the University of South Alabama. He also serves as an ABET program evaluator for industrial engineering and is a registered professional engineer in Mississippi. Prior to joining USA, he served for eight years as Department Head of Industrial and Systems Engineering at Mississippi State University (MSU). He began his career at MSU in 1989 as an Assistant Professor moving through the ranks to full Professor before serving as Head. He received his Ph.D. in Engineering Sciences at Louisiana State University, where he earned master's degrees in Chemical and Industrial Engineering. He has a bachelor's degree in Chemical Engineering from the University of Florida.
John's research interests focus on production systems and systems simulation, modeling, and analysis, with applications in both manufacturing and transportation. His work has resulted in over $7 million in funding from such agencies as USDOT, the Department of Homeland Security, the US Navy, and NASA. He has published numerous papers in technical journals and conference proceedings and edited several books. John continues to serve on the editorial staff of several journals.
---
Kevin West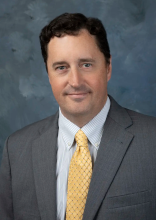 Dr. Kevin West is a Professor of Chemical and Biomolecular Engineering at the University of South Alabama. He earned a Ph.D. from the Georgia Institute of Technology and a B.S. from the University of Virginia, both in Chemical Engineering. Before joining USA in 2008, he was a post-doctoral fellow in the Department of Chemical Engineering and Materials Science at the University of Minnesota.
Kevin's research focuses on the application of solution thermodynamics to develop environmentally benign and energy efficient chemical processes, particularly processes involving supercritical fluids and ionic liquids. His work on ionic liquids is highly collaborative with Dr. Jim Davis (Chemistry) and Dr. Brooks Rabideau (Chemical Engineering), among others, through the South Alabama Ionic Liquids Laboratory (SAILL). Recently, the group has focused on developing an understanding the molecular-level interactions that govern reaction and separations processes in complex mixtures. Kevin has been PI or Co-PI on over $7 million of externally funded research, has been recognized for excellence in research and undergraduate teaching and has served as President of the USA Faculty Senate.
---
Andrzej Wierzbicki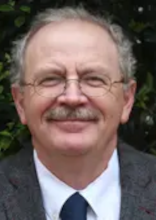 Andrzej Wierzbicki holds a joint position as Dean of the College of Arts and Sciences and Professor of Chemistry at USA. Additionally, he serves on the SAIL Laboratory Advisory Board. Dr. Wierzbicki has published more than 100 research papers in professional peer-reviewed journals and book chapters on various topics of chemistry and physics, and he has presented and contributed to more than 200 research presentations at international, national, and regional meetings. His published work has appeared in professional journals such as Nature, Proceedings of the National Academy of Sciences, Journal of the American Chemical Society, Biophysical Journal, Journal of Physical Chemistry, Physical Review, and Surface Science. His current research on biological aspects of the interaction between proteins and crystal surfaces is supported by grants from the National Science Foundation and the National Institutes of Health.
Dr. Wierzbicki joined the University in 1993 as a faculty member in the department of Chemistry, earning the rank of professor in 2001. He was chair of the department from 2001 through 2008 and before becoming interim dean of the College of Arts and Sciences. He was later appointed dean of the college. Wierzbicki received his master's of science in physics and his doctorate in chemistry from A. Mickiewicz University in Poznan, Poland. Wierzbicki's extensive postdoctoral experience includes training at the University of Florida, Emory University, Georgia State University, the University of Alberta, and Dalhousie University.