Research Communications, Development and Learning Staff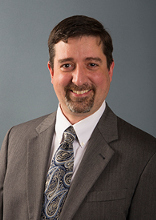 Matthew Reichert
Assistant Vice President for Research
(251) 460-6628
reichert@southalabama.edu
Matthew Reichert joined the Office of Research and Economic Development as Assistant Vice President for Research in February 2019. He has been with the University of South Alabama since 2010 and is also an Associate Professor in the Department of Chemistry. Prior to joining the University, Dr. Reichert was an Assistant Research Professor at the U.S. Naval Academy.
In addition to guiding the Research Communications, Development and Learning unit within ORED, Matthew also teaches Organic Chemistry and maintains an active research group, where he mentors research students and has active research funding from various agencies. His research group focuses on the synthesis of ionic liquids and their applications, and has most recently ventured into the field of additive manufacturing.
He received his B.S. in Chemistry from Berry College and his Ph.D. in Chemistry from The University of Alabama. He is an active member in the American Chemical Society and represents the local section at national meetings as a councilor. He is also a member of the Electrochemical Society. On campus, his service has included a term as Faculty Senate president. As the faculty advisor for the Student Affiliate of the American Chemical Society, he helps plan outreach events including Chem Scouts, Girls Exploring Math and Science workshops, and Boy Scout Jag Merit Badge Jubilee workshops.
---
Angela Jordan
Assistant Director of Research Development
(251) 460-6507
ajordan@southalabama.edu
Angela Jordan has been with the Office of Research and Economic Development since November 2016. Her focus is on ORED internal competitions, limited submissions, faculty development programming, and research communications. In addition, Angela also provides support to the Office of Research Innovation, serving as Operations Manager for RAMP, the Real Advice Mentoring Program.
She started out at South doing proposal development for USA's School of Computing for three and a half years. She has worked on many proposals, including the planning grant and full proposal for USA's successful application to become part of an NSF Industry/University Cooperative Research Center for Advanced Research in Forensic Science. She helped write the grant for, and assisted with the kickoff of, the NSF I-Corps Site at USA.
Currently, she is pursuing a Ph.D. in instructional design at USA's College of Education, with an interest in faculty training and interdisciplinary collaborations. She holds an ABD for a PhD in English literature from Indiana University and has a BA in English with a concentration in fiction writing from Northwestern University. At Indiana University she taught English for five years.
She is an active member of the National Organization of Research Development Professionals. On campus, she participates in the American Association of University Women, and serves on the planning committee for the annual Girls Exploring Math and Science half day workshop.
---
Bryant Smilie
Proposal Editor
(251) 460-6333
resdevlearn@southalabama.edu
Bryant Smilie joined the Office of Research and Economic Development as Proposal Editor in May 2020. He was brought into the department as part of the newly created Proposal Editor Graduate Assistantship, where he works on academic research proposals being prepared for submission to external funding agencies.
He recently graduated from the Virginia Military Institute, where he received a B.A. in English, Rhetoric, and Humanistic Studies. While attending the Institute, Bryant was a member of the English honors society, Sigma Tau Delta, and part of the Institute Honors Program. In addition to his academic work, Bryant also acted as a student consultant to faculty efforts to publicize and promote the major, and acted as a cadet representative for meetings with job candidates for tenure-track positions in English.
Currently, he is pursuing a M.A. in English at the University of South Alabama and focusing on a concentration in British and American literature. He is interested in the role rhetoric plays in contemporary civic education and plans to pursue a career in higher education.