USA Mail Hub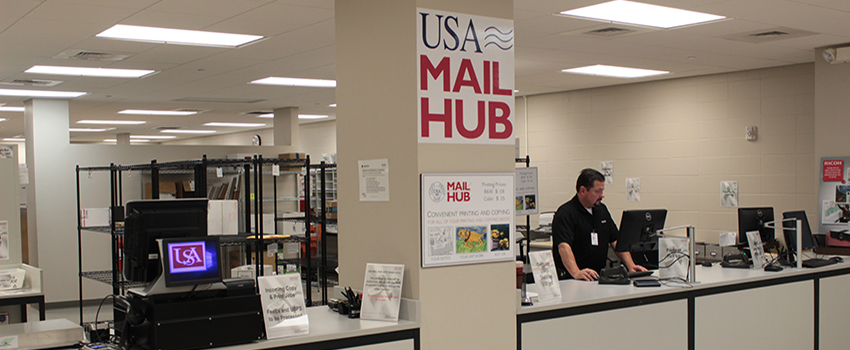 USA Mail Hub is managed by Ricoh Americas Corporation and provides mail services for the campus, students, faculty and staff. University of South Alabama students and employees will have access to an array of new mailing, shipping, copying and printing options and technologies at the USA Mail Hub facility, which will be fully operational at the opening of the Fall 2015 semester.
USA Mail Hub is located in the Student Center, and will offer upgraded retail space that includes automated electronic notifications for student letters and packages, shipping options using all major carriers, printing and copying services, as well as mailing and shipping supplies. When the center is fully operational, student mail at USA Mail Hub will no longer be stored in mailboxes, rather it will be sorted into a high-density rolling and racking system.
Departmental mail pickup and delivery service is provided by means of an established route. USA Mail Hub processes all departmental mail, domestic and foreign. Cash, credit/debit cards are accepted.
All students who live on campus are required to have a personal mail box to receive mail. Mail is not delivered to the Residence Hall Rooms. For more information, contact USA's Ricoh representative at mailhub@southalabama.edu, or call (251) 414-8191.