Majors and Minors Home
About the Major
The biomedical sciences program prepares students for health-related careers by providing core scientific content instruction, encouraging critical thinking, and supporting independent research and study abroad. It nurtures lifelong learners dedicated to enriching the scientific and healthcare community.
Jobs in Biomedical Sciences
Biomedical researcher
Physician
Pharmacist
Optometrist
Public/global health educator
Related Programs
Aspiring Children's Cancer Doctor Knows Very Well How Her Patients Feel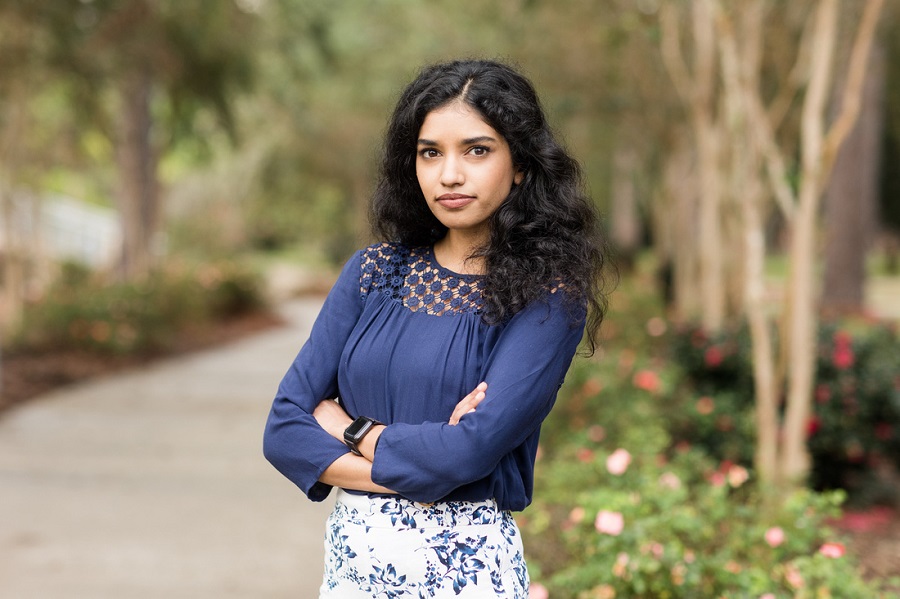 A shattering experience as a teenager put Pooja Revanna on her career path — and created an obstacle that made it more difficult for her to achieve her goal.
Revanna underwent chemotherapy and radiation therapy for acute lymphocytic leukemia — cancer of the blood and bone marrow. "I'm doing great now," she said, "but the three years following the diagnosis were pretty awful." She suffered septic shock and pneumonia. She was highly sensitive to the chemo, so it hit her like a hammer blow every time.
She decided to become a pediatric hematologist/oncologist, treating children with blood disorders and cancers. She qualified for an early medical acceptance program at the University of South Alabama, where she majored in biomedical sciences.
Medicine runs in Revanna's family: Her mother is a family physician, practicing in Jacksonville, Alabama, and then Birmingham. Revanna remembers strangers approaching in the grocery store, thanking her mother for the care she gave them.
"I can tell the patients, 'I know what you're going through,' and be an inspiration for them. I can give them hope."
During her studies at South, Revanna did research at the National Cancer Institute and in Birmingham through the Cancer Research Experiences for Students (CaRES) program. She did medical volunteer work through the South chapter of Alpha Epsilon Delta, a national health pre-professional honor society. She helped found a bioethics team that competed in national conventions.
But she started having trouble keeping up with fellow students. Her grades slipped. She worried, "Am I not smart enough to be a doctor?"
It turned out that the chemo and radiation had changed her brain, making it hard for her to focus. With counseling and medication, she excelled her senior year and made it into med school at South.
After all that, she understands how the children she treats are feeling. She knows they're putting their faith in her. "I can tell the patients, 'I know what you're going through,' and be an inspiration for them. I can give them hope."
Did You Know?
---
Biomedical sciences offers three concentrations: biotechnology, pre-professional health sciences, and public and global health.
The program also offers an international medical service learning course called Partners in Caring: Medicine in Kenya.
Biomedical sciences students have research opportunities with faculty in the Pat Capps Covey College of Allied Health Professions, the College of Medicine and USA Health.
Contact:
Nancy Dunn
Academic Advisor
Department of Biomedical Sciences
(251) 445-9260