Majors and Minors Home
About the Major
Chemistry majors study all the traditional areas of chemistry and participate in original research in the chemical sciences. Many externally publish or present their work. They find careers as chemists and in many other fields that require problem-solving.
Jobs in Chemistry
Chemist
Science teacher
Physician/medical professional
Lab technician
Patent lawyer
Related Programs
Chemistry Undergrad Takes Full Advantage of Research Opportunities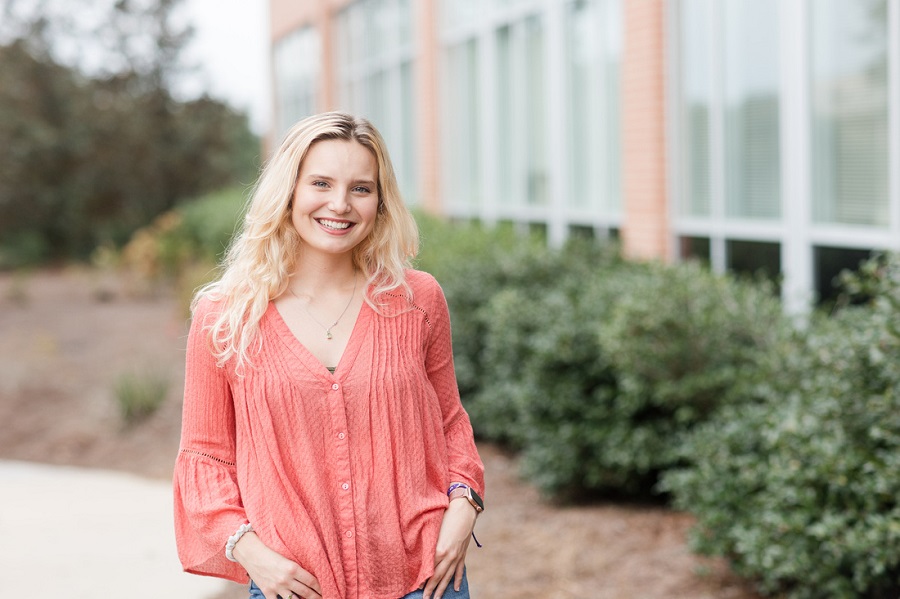 Courtney Glenn was working on four research projects at once for the University of South Alabama chemistry department. "It gets hectic, but I really enjoy all of them," she said.
Glenn, who is from nearby Semmes, Alabama, was synthesizing an HIV-1 integrase inhibitor drug to combat the virus while doing two additional projects in chemistry education. "I also work on organometallic research where we use a phosphine ligand that was developed in this lab and conduct Buchwald-Hartwig amination cross-coupling reactions to see our ligand's potency."
Like every other undergraduate chemistry major at South, Glenn had the opportunity to conduct research with a faculty mentor. She just took advantage a bit more than most.
"My ultimate goal is to become a professor and conduct research in chemical education," she said. Her interest in education came from talking to fellow students. "When you say, 'I'm a chemistry major,' they make a face," she said. As a teaching assistant for a general chemistry lab, she learned that she could sweeten that sour attitude.
"I want to help students. I want them to change their perception of chemistry."
"When I was able to teach other students taking the course and help them, I realized this is what I really want to do. I want to help students. I want them to change their perception of chemistry."
The department's interest in improving chemistry education led it to inaugurate student-led recitation sessions for the General Chemistry I class. Glenn was one of the initial recitation leaders. For an hour each week, she reviewed material that the teacher had presented.
"I think recitations have really helped students," she said. "They're not scared to ask a question of me because I'm another student. I'm not the professor."
At South, Glenn loves conducting chemical reactions and educating fellow students. She hoped to build a career involving both. "I think I like people a little bit more," she said with a laugh. "People talk back to me."
Did You Know?
---
Because of small class sizes and opportunities to participate in undergraduate research, chemistry majors at South get individualized attention from department faculty members.
Chemistry majors have opportunities to work in a lab as a paid student assistant or an Office of Undergraduate Research fellow.
A Bachelor of Science in chemistry is one of the most marketable science degrees. It can lead to graduate programs that often pay tuition and a salary, and to careers in fields as diverse as pharmaceuticals, marketing and sales, government, healthcare and law.
Contact:
Dr. Jason Coym
Chair, Associate Professor
Department of Chemistry
(251) 460-7431
Curriculum and Degree Requirements