Majors and Minors Home
About the Major
International studies is an interdisciplinary major that allows students to combine coursework in several areas, including foreign languages, geography, history and political science, to investigate our interconnected world and think critically about global issues and challenges.
Jobs in International Studies
International businessperson
International educator
Lawyer
English as a second language teacher
Communications specialist
Related Programs
International Studies Offers Flexibility in Class Schedules, Careers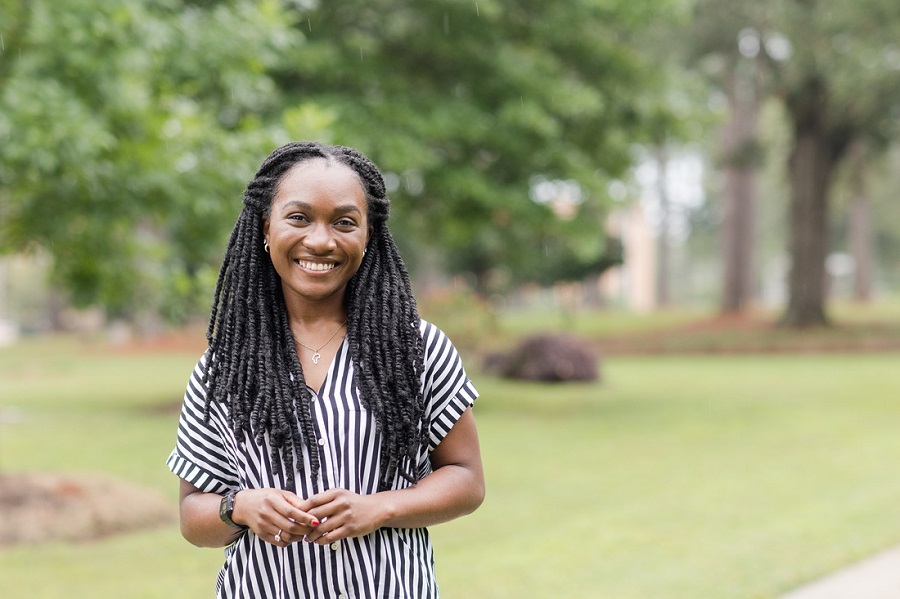 Before Grace Sekaya even came to the University of South Alabama, she had already embarked on international studies of her own. Her father moved the family to Gadsden, Alabama, from the West African country of Togo when she was young.
"My dad served as an international pastor, so we went to all the international festivals," she said. By the time she graduated from high school, she had visited four continents.
South seemed like a good fit from her first visit during her college search. "I just felt like it was a very comfortable atmosphere, but at the same time I could meet a different person each day."
Her timing was perfect. A global health concentration in international studies opened her freshman year, and that aligned with her long-term plans.
"You're able to really cultivate cross-cultural communication skills."
"I'm really interested in getting an M.D.-MPH (doctor of medicine-master of public health degree)," Sekaya said. "Hopefully one day I'll be able to partner with different nonprofits and work onsite providing medical care."
International studies draws from so many academic fields that students can customize their classes, she said. "I was able to kind of create my own schedule over the four years. I really enjoyed that flexibility."
Her fellow students' career choices fascinated her. One international studies major planned to attend law school. Another recent graduate works in interior design. "So even though we take a lot of the same classes, and we see a lot of each other, all of our paths are completely different."
Sekaya, the 2021-22 Student Government Association president, recommends international studies to everyone. The program is also available as a minor. "You're able to really cultivate cross-cultural communication skills, which are important now more than ever. And you get an appreciation of culture, not only of your own culture but also of other people's. I think that's a truly beautiful thing."
Did You Know?
---
Majoring in international studies, with six concentrations from which to choose, prepares students for a wide variety of career possibilities.
The program has faculty affiliates from 12 departments across three colleges at South and allows students to combine numerous academic interests.
Graduates are ready to enter the private or public sector, locally or abroad, with the skills needed in a globalized world.
Contact:
Dr. Christine Rinne
Associate Professor of German, Director of International Studies
Department of International Studies
(251) 460-6746
Curriculum and Degree Requirements