Majors and Minors Home
About the Major
South's philosophy program trains students to become rigorous and ethical thinkers, debaters, writers and problem-solvers by examining the moral, social, political, aesthetic and religious dimensions of human existence.
Jobs in Philosophy
Physician
Professor
Religious leader
Lawyer
Businessperson
Related Programs
Student Says Practical Values of Philosophy Add Up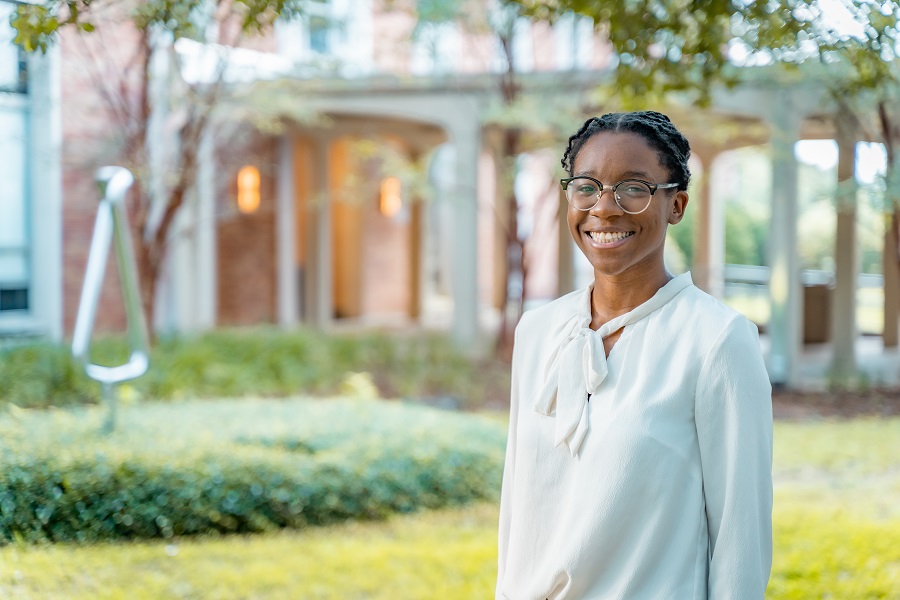 "A lot of philosophers are mathematicians," observed Jahdia Feurtado. That list would include, among others, Aristotle, René Descartes, Blaise Pascal, Bertrand Russell — and Jahdia Feurtado, a University of South Alabama double major in mathematics and philosophy.
The two disciplines have more in common than you'd think, said Feurtado (who pronounces her first name "juh-DYE-uh"). "I've actually taken math classes that have taught the same things as some of my philosophy classes." And her first-ever philosophy class explored symbolic logic, which uses symbols and mathematical variables instead of language to increase the precision of logical expressions.
Feurtado is from Saraland, just north of Mobile, so South was practically her hometown university. Also, "They gave me the best scholarship."
"It helps you to think more logically, to solve more problems."
She's happy with her choice of universities. "I genuinely love the philosophy department at South," she said. "All of the people are nice. They're understanding. They'll help you if you need help. They are really good people."
She contended that learning philosophy has great practical value. "It helps you to think more logically, to solve more problems," she said. "It's definitely helped me with my writing, with figuring out different arguments to support my positions, with seeing different points of view.
"I think that's something you need in all careers."
Feurtado hoped to test that theory by working in the financial industry after graduation. She planned to learn the business by working for a financial services company, then eventually strike off on her own as a financial advisor.
That job requires not only financial acumen but also additional skills, including a philosopher's ability to fairly examine others' beliefs, to help them understand flaws in those beliefs and to cut to the heart of an issue. "Just for problem-solving in general," Feurtado said, "I think philosophy helps tremendously."
Did You Know?
---
Philosophy majors at South tend to score well on medical school exams and are accepted to prestigious medical schools.
Philosophy majors from South are accepted into Ph.D. philosophy graduate programs including those at The University of Edinburgh, Purdue University and the University of Georgia.
Philosophy majors at South tend to score well on the law school exams on their way to careers in law.
Contact:
Dr. Kevin Meeker
Professor and Chair
Department of Philosophy
(251) 460-6248
Curriculum and Degree Requirements