Majors and Minors Home
About the Major
Awareness and appreciation of history are important ingredients of a well-rounded education. Studying history fosters experiences in such areas as research, writing and critical thinking that prepare students not only to be scholars or teachers of history but also to thrive in many other careers.
Jobs in History
Educator
Lawyer
Librarian
Museum curator or archivist
Governmental, nonprofit or business researcher/writer
Related Programs
Studying History Hones Skills that Apply to 'Almost Everything'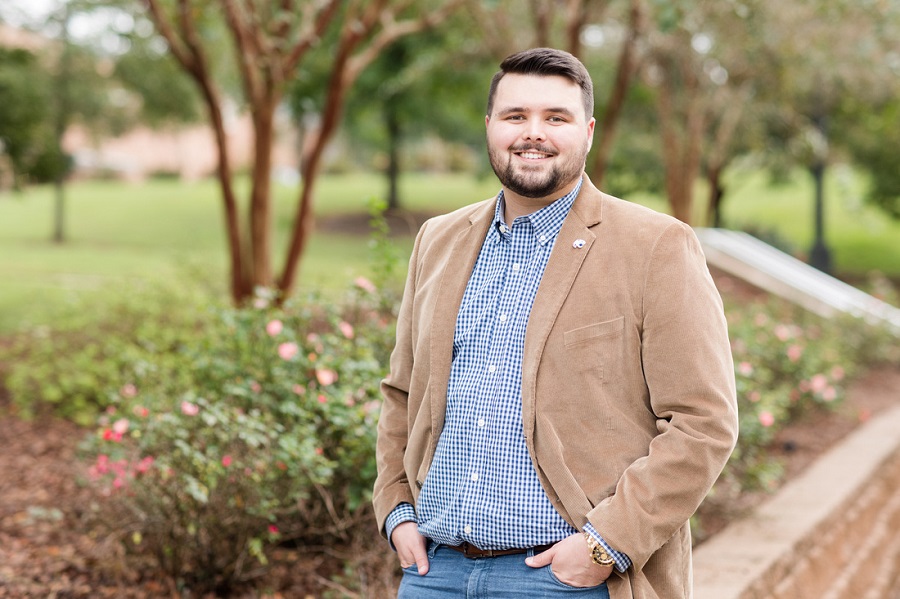 Since graduating from South in 2019 with a history degree, Kaleb Nailer has worked as an international trade compliance analyst at Ingalls Shipbuilding. "I apply what I learned at the University of South Alabama in almost everything I do," he said.
Ingalls builds ships for the U.S. Navy and Coast Guard in Pascagoula, Mississippi, less than 20 miles east of Nailer's hometown, Ocean Springs. The compliance office vets anything imported or exported to make sure that everyone follows the many applicable laws and regulations.
"If you haven't done a thorough enough review, the company could end up taking on immense penalties," Nailer said. "In addition, there are ways you can apply critical thinking to save the company money.
"It has many challenges, but I really enjoy it."
"History's not so much about finding what's concrete as it is the pursuit of the fullest understanding."
Studying history combined his lifelong love for the subject with practical concerns: He thought that developing a historian's skills in research, reading comprehension, writing and formulating arguments would prepare him for law school (still a possible future career path).
"History's not so much about finding what's concrete as it is the pursuit of the fullest understanding," he said. "That's where it departs from that classic perception of it just being the regurgitation of dates and facts."
Nailer described South as "a school that is state-of-the-art at this point. It's much newer than many of the other schools in this region."
He said his professors encouraged camaraderie among students and offered him "a very personable relationship" while at the same time challenging him to give his best academically.
"I feel like the faculty at the University of South Alabama really gave me the keys to succeed," he said. "And they gave me the keys to keep learning as I proceed in my life."
Did You Know?
---
The department of history has an award-winning, active and approachable faculty and cultivates an open and supportive atmosphere for students.
History majors can choose from multiple internship and study-abroad opportunities.
The department offers a diversity of classes in American, European and world history.
Contact:
Dr. David Messenger
Professor and Chair
Department of History
(251) 460-6210