Majors and Minors Home
About the Major
The program serves those with an interest in global awareness, cultural diversity, human evolution and variation, the ancient past, and a holistic understanding of human behavior. Students explore archaeology as well as biological, cultural and linguistic anthropology.
Jobs in Anthropology
Cultural resource manager
Museum curator
Forensic lab technician
Zoo director
Nonprofit or advocacy group administrator
Related Programs
Long Involved in Creek Culture, Tribe Member Turns to Anthropology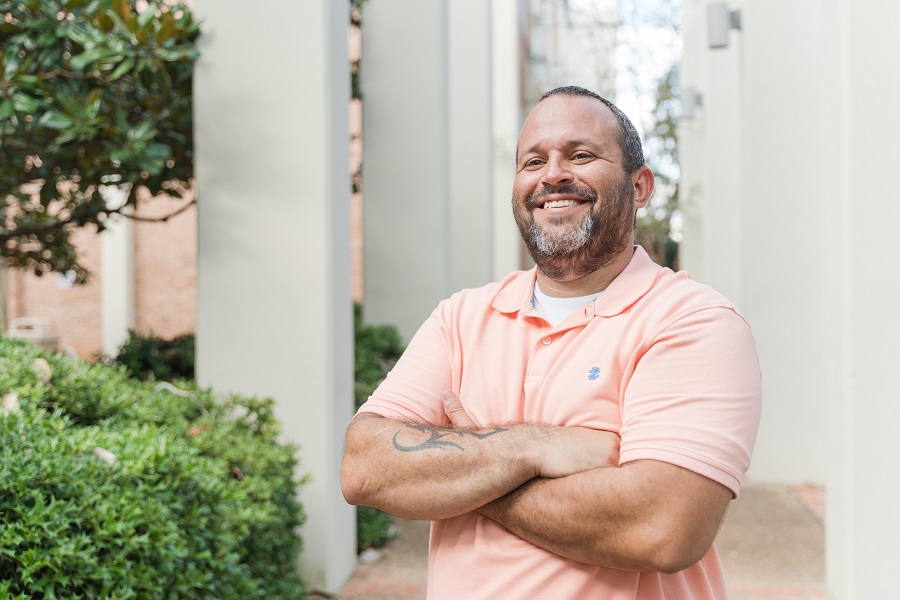 After graduating from high school in Atmore, Alabama, William Bailey went to work. He eventually spent 16 years in law enforcement, as a corrections officer and, later, as a police officer for his tribe, the Poarch Band of Creek Indians.
Then, at age 37, came an opportunity. "I've always been involved in my culture and Creek traditions," Bailey said. A job came available at the Tribal Historic Preservation Office. But there was a not-so-bad catch. "The stipulation was that I had to get a bachelor's degree in anthropology. And they would pay for my tuition."
The University of South Alabama, an hour and 20 minutes away, had a highly rated anthropology program with close ties to the tribe. So Bailey chose USA. His first class was an archaeology field school out in the woods, taught by Dr. Erin Nelson. He loved it. In fact, he decided to focus his anthropology studies on archaeology.
Student and teacher learned from each other about the Creek tribe. "While she and I were carrying on conversations about historical Southeastern cultures and Creek cultures," he said, "I was also talking to her about modern Creek culture, the way we live now."
"I've become really good friends with a lot of younger students just because of talking with them, coaching them along."
For a later archaeology field class, Nelson asked Bailey to be a teaching assistant. "I've become really good friends with a lot of younger students just because of talking with them, coaching them along," he said.
Two years after Bailey enrolled, his teenage daughter joined him at South to study performing arts and business. "She's excited about it," he said. (He and his wife have two other children, an older son and a younger daughter.)
Her father's happy experience at South certainly influenced his daughter's choice. "I really enjoy going to school there," he said. "I never thought I'd enjoy school."
Did You Know?
---
The Bioanthropology Lab has opportunities for students to work with a wide range of skeletal materials and casts.
The Center for Archaeological Studies conducts projects across the Gulf Coast region. Students can become involved in field and lab research.
The USA Archaeology Museum provides tours for thousands of people each year and offers a great internship opportunity for students.
Contact:
Dr. Philip Carr
Professor
Department of Sociology, Anthropology and Social Work
(251) 461-1948