Majors and Minors Home
About the Major
The sociology major is ideal for students with broad interests and imagination. It cultivates a global perspective and the kinds of critical-thinking, analytic and research skills that today's employers seek. Industries and organizations highly value a sociology degree.
Jobs in Sociology
Educator
Counselor
Lawyer
Doctor or other healthcare worker
Public policy specialist
Related Programs
Pre-med Student Says Sociology Studies Will Make Her a Better Physician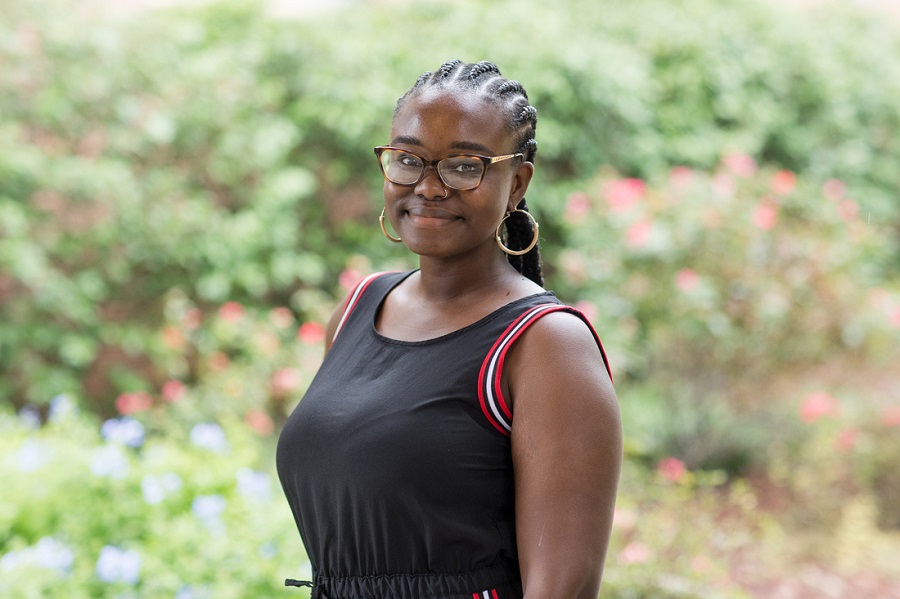 As a pre-med student who was starting to think her major in life sciences might not be the best fit, Priscilla Agyemang took the class Introductory Sociology. "I just fell in love with it," she said. "I decided that semester to change my major."
She and her friends avidly follow and discuss news and societal trends on social media. "I have these debates and arguments with people I know all the time. The fact that there was a whole major about that made me think, 'Yeah, this is where I need to be.'"
Agyemang's parents are from Ghana, and she lived there for a time as a child. (Her last name is pronounced AJ-uh-min; the first syllable rhymes with "badge.") Later, living in Pensacola, Florida, "I knew people who had a connection to South, and they told me how good a school it was."
The University lived up to the billing. Not surprisingly, she particularly liked the sociology faculty and curriculum. One of her favorite courses, Social Problems, covered many of the same issues she and her friends discussed all the time — with the bonus that "it was in an actual class, and I was getting credit for it."
"With me having that sociology background, I'll be able to make better connections with my patients."
She also got to help the sociology department chair with a research project that focused on motivators to becoming a community health advocate.
Despite the change in majors, she still planned on medical school and a career as a pediatrician. Sociology — the study of human society — will help her be a better physician, she said.
"I think it's important to have doctors that are aware of our society and of our world and are more attuned with the people that come in. With me having that sociology background, I'll be able to make better connections with my patients."
Did You Know?
---
South's sociology department ranks high in externally funded research, providing opportunities for both graduates and undergraduates to participate in scholarly research.
The department's low student-to-faculty ratio allows students extensive access to and attention from nationally recognized faculty.
Relationships forged by faculty engagement in community service facilitate supervised internships and field experiences with a variety of community partners.
Contact:
Dr. Christopher R. Freed
Associate Professor
Sociology, Anthropology and Social Work Department
(251) 460-6348