Majors and Minors Home
About the Major
Communication studies encompasses critical thinking with a keen understanding of interpersonal, intercultural, organizational and public communication. Students can choose to study human and organizational communication or rhetoric and culture.
Jobs in Communications
Human resources manager
Recruiter
Sales director
Healthcare counselor
Nonprofit director
Related Programs
Communication – Just What the Doctor Ordered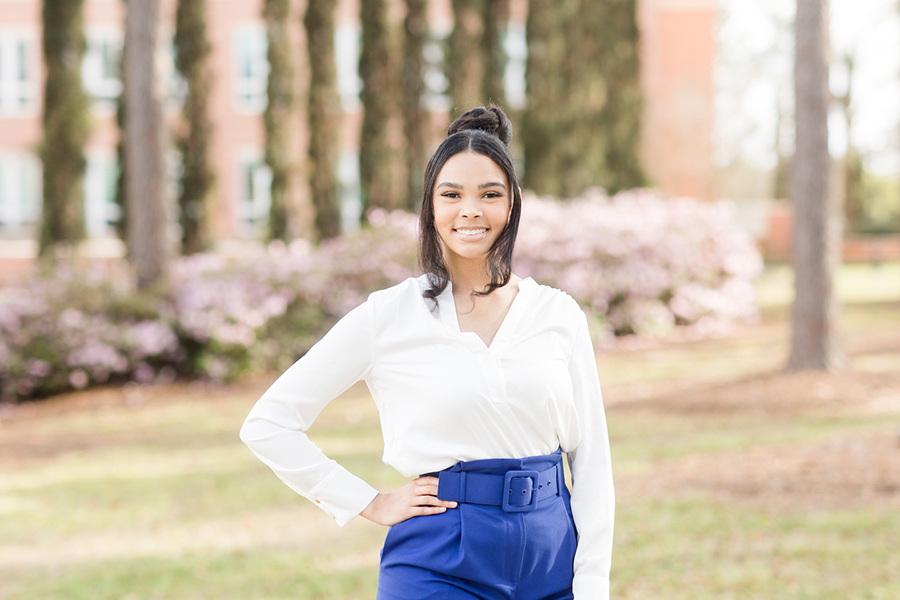 Kaitlyn Riggins plans to attend medical school and become a doctor, but she chose to major in communication studies and do social media research as an undergraduate at the University of South Alabama.
"I wanted to do a major I liked," she said. "Not a lot of people think of communication and research, but this is something we use every day without even thinking about it. It's interesting to study this thing that's so crucial to our lives."
For her senior thesis, Riggins is exploring health misinformation about birth control on platforms such as Tik Tok. Her adviser, Dr. Pavica Sheldon, chair of the Department of Communication, has written three books about social media.
"These days," Riggins said, "Tik Tok is often used as an information service. There are lots of videos promoting herbal remedies and misconceptions about birth control, or birth control causing infertility. And what people see on social media, they believe."
Riggins grew up north of Montgomery in tiny Eclectic, Alabama, pop. 1,193. The town got its name from its founder, Dr. M.L. Fielder, a practitioner of what was called eclectic medicine, which focused on physical therapy and botanical remedies.
"I want to be the best physician I can be. ... I want to hear what you have to tell me."
"Ironic," Riggins said, given the topic of her research project.
She attended Benjamin Russell High School in Alexander City, where she was a straight-A student. At South, she is a student in the Honors College.
Riggins chose South because of the Early Acceptance Program to the Frederick P. Whiddon College of Medicine. She's vice president of the Minority Association of Pre-Medical Students. She's active in the Black Student Union and Alpha Kappa Alpha Sorority Inc.
In Mobile, she volunteers at Victory Health Partners, which provides medical care for those not covered by health insurance. In Eclectic, she often shadowed the only physician in town. Rural medicine is one of her interests.
Which brings Riggins back to communication, particularly with people who don't have many health alternatives.
"I want to be the best physician I can be, not just with medicine, but catering to your needs, physically, mentally, holistically," she said. "I want you to be comfortable. I want to hear what you have to tell me."
Did You Know?
---
Employers identify the ability to verbally communicate with others inside and outside the organization and the ability to create and edit written documents as among the top 10 skills they seek when hiring new college graduates, according to the National Communication Association.
The Department of Communication offers study abroad programs during the summer semester.
Communication Studies majors have opportunities to complete internships, which allow students to apply classroom knowledge in professional settings, gain exposure in their chosen career field, build professional connections and gain hands-on experience.
Lambda Pi Eta (LPH) is the National Communication Association's official honor society. To be admitted, undergraduates must have completed 60 semester credit hours and have an overall GPA of 3.0.
Contact:
Dr. Pavica Sheldon
Chair, Professor
Department of Communication
(251) 380-2800