Majors and Minors Home
About the Major
Training in journalism provides students with the tools to tell stories, serve the public and make a difference. Students learn to report, interview and write on deadlines. Many journalists go on to careers in business, nonprofits and government.
Jobs in Journalism
Reporter
Editor
Videographer
Social media coordinator
Public affairs representative
Related Programs
Student Journalist Joins Vanguard of New Media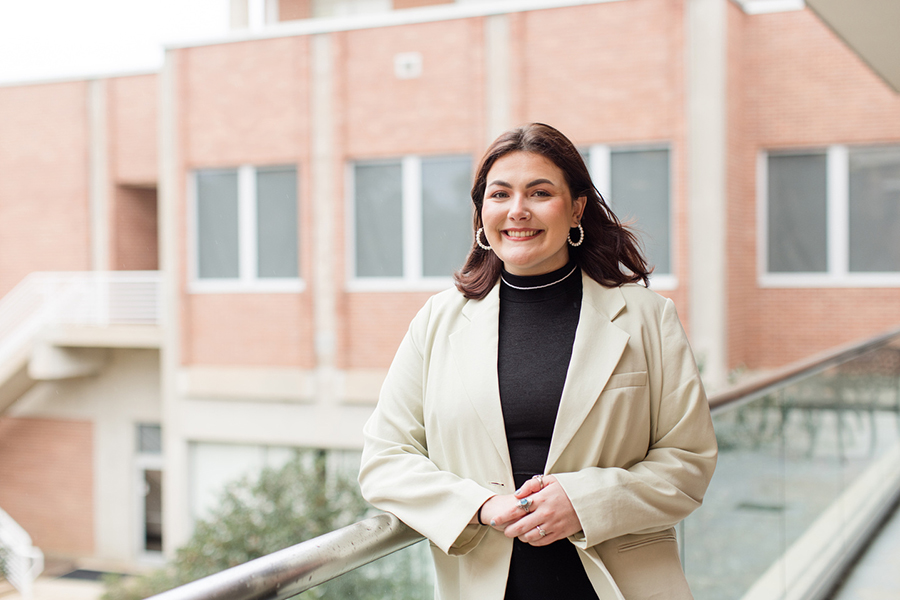 Gracie King wrote for Due South magazine even before she became a communications major and editor-in-chief of The Vanguard student newspaper.
Journalism turned out to be a great way to learn more about her classmates, professors and the University of South Alabama. Reporting suits King. Stories take her around campus, off campus and into the city of Mobile.
"That's my favorite part of the job," she said. "I love talking to people, hearing stories and asking questions. I feel like communications is an amazing place. You get to branch out and meet people in all of the different colleges and departments."
King, who attended Oak Mountain High School near Birmingham, is a paddler who worked as a trip leader for Outdoor Adventures in the Department of Campus Recreation. She dreams of working for National Public Radio or doing social media for the National Park Service. She jokes about trying stand-up comedy.
"I love talking to people, hearing stories and asking questions."
Her training at South includes traditional reporting and editing, along with producing social media stories and video packages. Her mentors include professors who've had careers in multimedia journalism and have written textbooks about social media.
"I don't want to focus on one medium," King said. "I'd like to be a well-rounded journalist. I like to write, edit and take photos and video, all of it."
Leading The Vanguard staff became a test of her management skills. She felt the pressure of deadlines and meeting the standards of previous editors. She worked to provide a good learning environment.
When young students ask about journalism, King shares her enthusiasm.
"I tell them there's a place for everyone," she said. "There really is. If you've got an idea, you can turn it into something."
Did You Know?
---
South journalism graduates have landed internships and first jobs at ESPN+, The Bama Buzz and Mobile Bay Magazine, along with television stations along the Gulf Coast.
Journalism students may choose between broadcast and multimedia concentrations.
USA President Jo Bonner studied journalism before beginning a career in public service and higher education. He started out as a congressional aide and communications manager, then served 10 years in the U.S. House of Representatives.
Contact:
Dr. Delaware Arif
Digital Journalism Professor
Department of Communication
(251) 380-2800