Majors and Minors Home
About the Major
Marketing provides a way for companies to communicate to competitors, customers and vendors. Students learn digital marketing, data analytics and market research. They also acquire the increasingly demanding technical skills required to excel in today's rapidly changing business environment.
Jobs in Marketing
Social and digital media analyst
Sales manager
Product development manager
Marketing researcher
Advertising and promotions specialist
Related Programs
Surprise! Marketing Turns Out to Be 'Totally Me'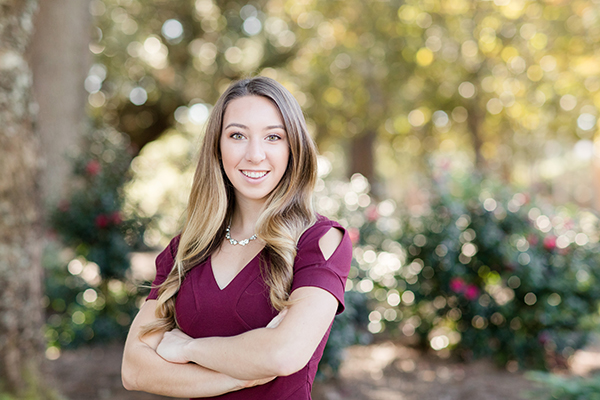 Josie Albin didn't exactly find marketing as her major. It found her.
She came to South unexpectedly. In high school, she represented Kansas at the national finals of the Distinguished Young Women scholarship program, held in Mobile. "I completely fell in love with Mobile and just everything down here — the culture, the climate, the people that I was meeting."
She received a Mitchell Scholarship and entered South with 50 dual-enrollment credits from high school. As a freshman, she got a call from the college's Marketing and Communications Office.
"They asked if I would help them with marketing, especially digital marketing. I said, 'Yeah, I'm happy to do it.'"
"Mobile surprised me, marketing surprised me, but both in the best of ways."
At first, she worked mostly on social media. Fairly routine. "I was really excited when they asked if I would start writing some content, because writing is something that I absolutely love. They did a really good job of finding my strengths and interests and playing to those."
Soon Albin realized that "marketing was totally me, through and through." A summer job in Kansas working on a U.S. Senate campaign confirmed it. "It was all marketing too, just applied in a different way."
So she became a double major in marketing and finance (the latter because of a finance class at South that inspired her). In addition to taking marketing classes, she continued managing social media and creating marketing content as an intern for the college. "I have recently been doing a lot of recruitment and outreach."
Long term, "the intersection between marketing and politics" interests Albin. So does pursuing a graduate degree, preferably an MBA.
"Mobile surprised me, marketing surprised me, but both in the best of ways. I couldn't have planned it any better."
Did You Know?
---
Spending around $650 billion annually, the marketing and advertising industry is experiencing higher job growth than the average for all occupations.
There's money in marketing. The U.S. Small Business Administration recommends that companies spend 7% to 8% of gross revenue for marketing and advertising.
The rise in social media and digital marketing has created a demand for marketing managers and mixed-media specialists. The industry is projected to add approximately 19,000 jobs by 2029, according to the U.S. Bureau of Labor Statistics.
Contact:
Dr. Alvin J. Williams
Chair, Interim Dean
Department of Marketing and Quantitative Methods
(251) 461-1792
Curriculum and Degree Requirements